Note: Solar Choice is not a solar installer and has no financial or other incentives to promote any product brand over another. This review represents Solar Choice's opinion and we recommend you do your own research as well.
Overview of SAJ– Company History
Guangzhou Sanjing Electric Co., LTD (trading as 'SAJ') is a Chinese company focusing on renewable energy conversion, transmission and storage solutions and motor drive and control technology. It was established back in 2005 with a registered capital of 50.4 million RMB making them a comparatively smaller inverter manufacturer.
SAJ's sales and distribution efforts have traditionally focused domestically in China with 20 branch offices, over 80 service centres and all of their manufacturing facilities. They have now expanded across the world, setting up service centres in Australia, India, Germany, Belgium, Turkey and Brazil.
SAJ Australia Pty Ltd was set up recently in 2019 and is currently operating out of an office in Melbourne, Victoria.
A Brief Rundown on Solar Inverters
A solar system's inverter is the point at which the DC electricity produced by solar panels is turned into grid-compatible AC electricity.
String inverters (such as SAJ's product range) have traditionally been the standard in the solar industry. They send the power produced by solar panels to a central inverter that changes it from the DC electricity to the usable AC electricity that powers homes.
On the other hand, Microinverters, convert DC to AC electricity at each panel and allow for monitoring and power regulation at the panel level. This is useful for homes that are located somewhere with shading from clouds, trees, or other buildings.
SAJ Inverters – Point of Difference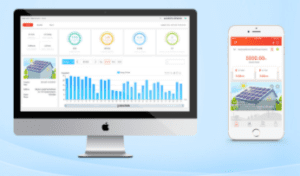 SAJ's Suntrio Plus inverter series, targeted at commercial solar projects, won the TüV Rheinland "All Quality Matters" Award for Commercial Use in 2018. The R5 Series Rooftop Solar Inverter, won the TÜV Rheinland "All Quality Matters" Award for the PV Inverter for Home Use Category in 2019, although this has now been superseded by their R6 inverter series.
SAJ's inverters come with access to their monitoring platform at no cost. The SAJ eSolar Web Portal enables solar consumers to access real-time monitoring, remote configuration and email notifications. This type of functionality is now common place across most inverter manufacturers.
Perhaps most notably with the SAJ inverters is their very sharp prices as an emerging brand in the Australian market. They do not have the proven track record for reliability of some of the brands that have been established in Australia for a longer period.
SAJ Inverters Available in Australia
The majority of SAJ's Inverters (under the name of Guangzhou Sanjing Electric Co Ltd) are approved by the Clean Energy Council for the Small-scale Renewable Energy Scheme, which is Australia's home solar rebate program.
R5 Residential Solar Inverters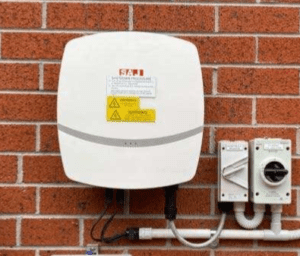 SAJ's residential solar inverter range features single phase inverters from 3kW to 8kW and three phase inverters from 3kW up to 20kW in capacity. The most commonly used 5kW single phase inverter has a input range up to 7.5kW and a maximum efficiency of 98.1%.
The inverter cools itself with natural convection which avoids the need for a noisy fan and is has moisture ingress protection of IP65 making it suitable for indoor or covered installation locations. The standard warranty with the product is 5 years but is extendable up to 25 years.
Suntrio Plus Commercial Solar Inverters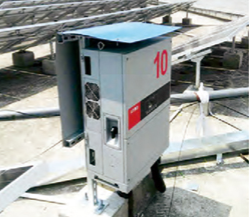 The commercial Suntrio Plus range features three phase inverters from 25kW to 60kW in capacity. All sizes have 3 MPPT inputs so the product is suitable for roof spaces with a maximum of 3 different orientations. The inverters have built-in DC switches avoiding the need for separate hardware to be installed. The inverter has harmonic distortion of under 3% and is able to adjust the factor by 0.8 leading to 0.8 lagging.
The commercial inverter is much larger with their 40kW inverter being 80cm by 55cm by 28cm and weighing 68 kilograms. Similarly the commercial range of solar inverters comes with a standard 5 year warranty which is extendable up to 25 years.
H1 Hybrid Solar Inverters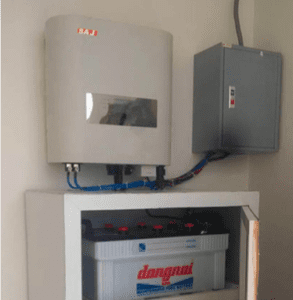 SAJ's H1 series are hybrid inverters – meaning they are designed to convert DC power to AC as well as charge a battery. Their hybrid series comes in 3kW to 6kW meaning they are suitable for small to medium residential size systems. The inverters are designed to operate in island mode if there is a blackout which means you can continue to receive power from your solar and battery system.
The inverter can charge lithium batteries with a voltage range of 42V to 58.5V with a max charging current of 100A for their 5kW and 6kW models. The product comes with a standard warranty of 5 years and is not extendable.
SAJ Solar Inverter Costs
Based on Solar Choice's database we have provided the below-average costs as an indicative guide of the wholesale costs of SAJ Solar Inverter. These prices are only available to solar installation companies, not to end customers.
| | |
| --- | --- |
| SAJ R5 5kW 1 Phase | $559 to $599 |
| SAJ R5 10kW 3 Phase | $1,099 to $1,199 |
| SAJ R5 15kW 3 Phase | $1,399 to $1,499 |
Keep in mind that inverter costs generally only run between 10-20% of your total system, so often it is worth investing in a high-quality inverter given this will have a large impact on the efficiency and performance of your Solar Power project.
Compare quotes from up to 7 installers in your area now.
SAJ Inverter Efficiency
An important aspect of getting the most value out of a solar inverter is to choose an appropriately sized inverter to optimise the solar panel system efficiency. To read about the importance of inverter sizing and system efficiency click here.
Residential inverter efficiency standards are generally 95 to 98 per cent. SAJ inverters meet these standards and have at least 97.8% max efficiency for their residential R5 range and extending up to 98.9% for the 60kW commercial solar inverter.
The three phase 8kW inverter (SAJ R5-8K-T2-AUS) is commonly used in larger residential projects and has a 98.6% max efficiency, making it one of the industry's more efficient residential inverters.
SAJ Inverter Warranties
In Australia, all CEC approved SAJ inverters come with a standard 5-year manufacturer's warranty. Most inverters in Australia come with either a 5 or 10 year warranty included which leaves SAJ towards the shorter end. Customers do have the option of purchasing an additional years of warranty (up to 20 additional years) from SAJ within the first 18 months of purchase.
SAJ is currently offering a promotional "5+5 Years Warranty Program" which offers Australian customers a free 5 year extension to their warranty. This only applies to R5 single-phase inverters which are purchased through SAJ authorised distributers after June 2019 and before January 2022.
If customers experience any warranty-related issue, the original installer who installed the system should be the first line of support for replacing or repairing the product. However, SAJ also suggests that customers who can no longer contact their original installer should fill out their online warranty claim form on the website or contact them at their Australian office:
SAJ Australia Pty Ltd
Add: 17 Silicon Pl, Tullamarine VIC 3043, Australia
E-mail: info@saj-electric.com Tel: +61 3 8353 1112
SAJ Solar Inverters Pros and Cons
Pros
The maximum efficiency rating of SAJ inverters compares favourably against much of their competition
SAJ have set up an Australian office in Tullamarine, VIC and are able to service their warranty claims locally
Cons
Compared to other Chinese brands in the Australian market SAJ have only been around for a short time (since 2019)
Comparison SAJ Solar Inverter Specifications (common models)
5kW Inverter

SAJ R5-5K-S2

5kW Inverter (3 phase)

SAJ R5-5K-T2-AUS

10kW Inverter

SAJ R5-10K-T2-AUS

Rated AC Power Output
5kW
5kW
10kW
Maximum Continuous Output Current
24A
8.4A
16.7A
Phases
Single-phase
Three-phase
Three-phase
Number of MPPTs
2
2
2
Maximum DC Power
7.5kW
7.5kW
15kW
Maximum Inverter Efficiency
98.1%
98.3%
98.6%
Dimensions
389*367*143 mm
429*418*177 mm
429*418*177 mm
Weight
12.2kg
19kg
19kg
Warranty
5 years
5 years
5 years
Operational Temperature Range
-25°C to 60°C
-25°C to 60°C
-25°C to 60°C
Made in
China
China
China
So, is SAJ a good solar inverter brand?
Whilst only being in Australia for a short period of time, SAJ have set up a local office and a clear and straight-forward warranty claim procedure that many of their Chinese competitors have not. The price they are selling the products at, puts them at the cheapest side of the market.
Technically speaking their residential inverter range stacks up to what is expected in the market, so the question comes mainly to their reliability. Like buying from most new companies, there is more risk in selecting SAJ over the mainstay European inverters like Fronius or SMA or Chinese-brands with a longer history.
Example of a large-scale SAJ Inverter Solar Project
SAJ inverters were deployed on a 4.5MW solar farm in Shijiazhuang City, China. The picturesque hill-side installation features SAJ's Suntrio Plus commercial solar inverters.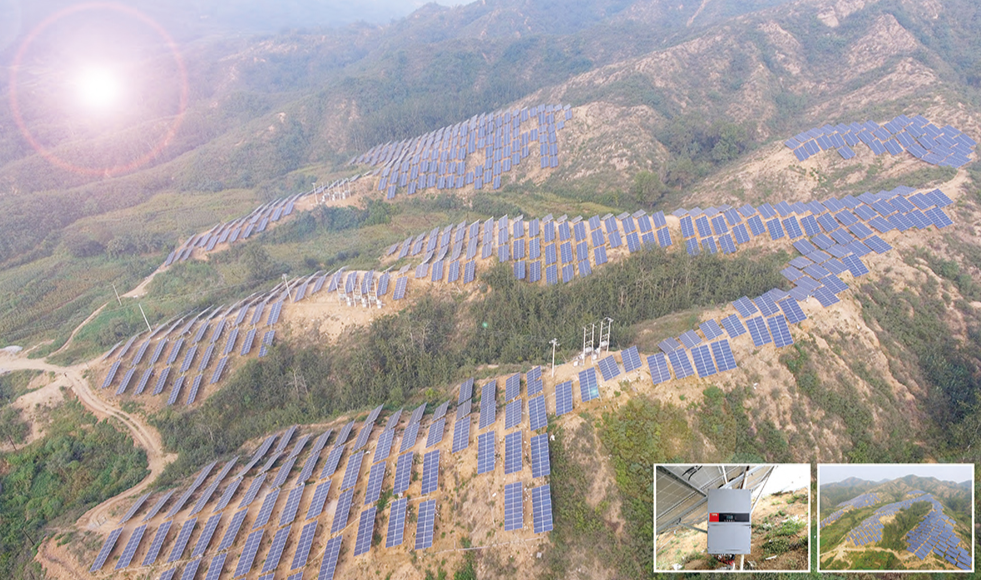 Read more product reviews from Solar Choice
Compare quotes from up to 7 pre-vetted installers in your area now.
Since 2008 our knowledge and sophisticated software has allowed over 300,000 Australian households and businesses to make a well-informed choice on their solar & battery installer.
Reviews from Australians who have installed SAJ Inverters
Rated 5.00 from 4 reviews
29th August 2023
Dylan
VIC - 3064
5kW system
Lesser known brand, but reliable with an excellent warranty and decent user interface.
21st March 2023
Neil
VIC - 3107
4kW system
Seems to work well, simple app/internet connection to track output etc. Would be great if you could see when it is actually exporting back into grid etc. but not sure if any inverter has this ability....
13th December 2022
Gary
NSW - 2229
8kW system
Once again I know nothing about Inverters to comment
23rd August 2022
Frank
WA - 6065
6kW system
Mid priced unit. Excellent warranty.