Company History – GE Solar Inverters
The General Electric brand has a 125-year history and is a well-known brand across household appliances, healthcare products, financial services and the aviation sector. The company has hit financial troubles in recent times leading to several job cuts and a restructuring dividing the company into three separate units. One of these units will be home to GE's renewable energy product suite which includes wind turbines, grid solutions, hydropower, storage and inverters.
GE launched their solar inverters in 2021 which the Australian market being the first cab off the rank. The inverters are manufactured by GoodWe under an exclusive licensing agreement. It was reported that GoodWe were selected after a rigorous selection process assessing criteria such as technical capabilities, global coverage, and financial stability from a shortlist of 32 manufacturers.
In the residential space, GE offers single and three-phase solar inverters ranging from 3kW to 20kW in AC output. There are also GE-branded options for commercial-scale solar projects and hybrid solar and battery solutions.
A Brief Rundown on Solar Inverters
A solar system's inverter is the point at which the DC electricity produced by solar panels is turned into grid-compatible AC electricity. Typically there are 2 approaches to inverters – either string inverters or micro-inverters
String inverters (including most of GE's product range) have traditionally been the standard in the solar industry. They send the power produced by solar panels to a central inverter that changes it from DC electricity to usable AC electricity that powers homes. GE also manufactures hybrid string inverters which provide the ability to charge a battery as well as use solar power immediately as created.
Micro-inverters, generally a more expensive solution, provide a small inverter for each solar panel that is installed. This means that each panel operates individually which creates more visibility over performance and can offer some advantages in partly shaded conditions.
GE Inverters – Points of Difference
As GE Inverters are manufactured by GoodWe, they share many of the unique selling points of the GoodWe inverter range.
Range of Hybrid Inverter Options
GE has a good range of hybrid inverters which can enable households to DC-couple their solar system with a battery. Some battery solutions come with an inverter built in which eliminates the need for a hybrid inverter, however, a hybrid inverter will always increase the battery options available.
Multiple MPP Trackers
Maximum Power Point Trackers (MPPTs) dictate how many different roof orientations a string inverter can handle. If panels on the same MPPT are tilted differently they will only perform as well as the lower-performing panel which will impact output throughout the day. All GE's residential inverters come with a minimum of 2 MPPTs meaning they can handle two different roof orientations. GE also has 5 single-phase inverter options ranging from 5kW to 10kW which include 3 MPPTs that can tackle more complex roof spaces without the need for micro-inverters or optimisers.
DC Oversizing
DC oversizing refers to installing more solar panel capacity than the output potential of the inverter. At face value, this seems like a design like this could be wasting some power, but after factoring in efficiency losses and acknowledging that solar panels will never output their nameplate watt rating, oversizing by 33% can be a cost-effective design and is permitted by the Clean Energy Council's guidelines. Oversizing beyond 33% can be advantageous if you have a battery installed and can store surplus DC energy.

GE's Inverter Range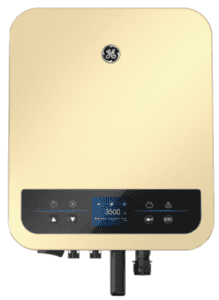 Small Single Phase Inverter (GEP 3-5kW)
Despite its reduced size, this petite model is capable of 150% DC oversizing meaning you can install more solar panel capacity than the AC rating of the inverter (although the Clean Energy Council guidelines limit you to a maximum of 133% oversizing). While the 5kW inverter is rated to an output of 5,000 watts it can be overloaded by 110% to 5,500W. The inverter has a rated maximum efficiency of 98.3% which is competitive with the leading solar inverter brands.

Large Single Phase Inverter (GEP 5-10kW)
The impressive step-up of this single-phase model from the smaller series is the additional MPPT input with a total of 3. As discussed above this can give solar designers much more flexibility to tackle multiple orientations on complex roof-spaces or minimise the impacts of shading. The inverter will kick in early in the morning with a start-up voltage of just 80V. This larger model can be DC oversized to 200%, although in Australia we can't take advantage of this as the Clean Energy Council's guidelines suggest a maximum of 133%.
This series has a slightly lower maximum efficiency ranging between 97.6% to 97.8% depending on the model – which we would still consider to be a good rating.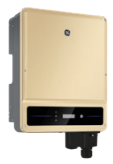 Three Phase Inverter (GEP 4-20kW)
GE's three-phase inverters range from 4kW to 20kW which can cater to small residential installations and through to small business applications. This inverter series features the same capabilities in DC oversizing and AC overloading by 110%. The maximum efficiency for the 3-phase models is rated at 98.3% for most models and 98.4% for the 12kW, 15kW and 20kW models.
Single Phase Hybrid Inverters (GEH 5-10kW)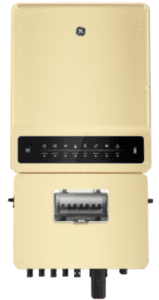 This series is similar to the GEP 5-10kW range however it is a hybrid inverter meaning the solar power can be used to directly charge a battery or inverted to AC power to power the house or export to the grid. This is crucial functionality for customers wanting to install a DC battery or someone wanting to keep their options open in the future. This series also features industry-leading 4 MPPTs on the 8.6kW and 10kW models making it pretty much the only option for complex roofs with more than 3 different orientations, without going to micro-inverters or DC optimisers.
How Much Does a GE Solar Inverter Cost?
GE inverters are manufactured in China and have reached a significant scale of production meaning they can offer cost-effective prices.
Indicative pricing
| | |
| --- | --- |
| GE Solar Inverter Model | Indicative Price Range |
| GE 5kW Single Phase (GEP5.0-1-10) | $1,000 – $1,300 |
| GE 8.5kW Single Phase (GE-GEP8.5-1-10) | $1,500 – $1,800 |
| GE 10kW Single Phase (GE-GEP10-1-10) | $1,700 – $2,000 |
Keep in mind that inverter costs generally only run between 10-20% of your total system, so often it is worth investing in a high-quality inverter given this will have a large impact on the efficiency and performance of your Solar Power project.
Compare solar quotes from up to 7 local installers now.
GE Inverter Efficiency
An important aspect of getting the most value out of a solar inverter is choosing an appropriately sized inverter to optimise the solar panel system's efficiency. To read about the importance of inverter sizing and system efficiency click here.
Residential inverter maximum efficiency standards are generally 95 to 98 per cent. GE's inverter range all features towards the top end of exceeding these market expectations with rated maximum efficiencies ranging from 97.6% up to 98.4%.
GE Inverter Warranty Offer for Australian Customers
GE's warranty document states that their standard 5-year warranty can be extended to 10 years if the product is successfully connected to GE's monitoring system. Assuming you have a wifi connection nearby this should not be an issue and your installer will likely set this up for you. A 10-year warranty would make the GE Inverter comparable to the better warranties in the market.
In terms of claiming the warranty, GE directs all customers to their manufacturing partner GoodWe. GoodWe have an office located in North Sydney which you can contact at (02) 8415 9833 or by emailing support.au@gesolarinverter.com. Generally, the first point of call for a customer when something goes wrong is to contact the company that installed the system.
You can read more about GE's Australian warranty policy here.
The Pros and Cons of GE's Solar Inverters
Pros
Cons

Backed by a well-known brand name
Manufactured by a very large and well-known manufacturer with a proven record

Only been manufactured since 2021 so not many reviews/feedback from customers
No independent testing or industry awards for this inverter yet
Comparison of Common Residential GE Solar Inverters
| | | |
| --- | --- | --- |
| | GE Single Phase 5kWGEP5.0-1-10 | GE Three Phase 8kWGEP8.0-3-10 |
| Rated AC Power Output | 5,000W | 8,000W |
| Maximum Continuous Output Current | 25A | 12.8A |
| Maximum DC Input | 7,500W | 1,100V |
| Number of MPPTs | 2 | 2 |
| Maximum Inverter Efficiency | 98.3% | 98.3% |
| Dimensions | 336 x 400 x 124 mm | 415 x 511 x 175 mm |
| Weight | 11kg | 20.5kg |
| Warranty | 5+5 Years | 5+5 Years |
| Operational Temperature Range | -25°C to 60°C | -25°C to 60°C |
| Made in | China | China |
Compare solar quotes from up to 7 local installers now.
So, Should I Buy GE inverters?
Despite being a late entrant to the Australian market in 2021, the company has established a local office and support service for inverters for Australian customers. GE solar inverters are manufactured by long-standing Chinese inverter company Goodwe which does add some credentials to their offering, although are priced at a premium compared to inverters offered by GoodWe.
GE's global brand should provide confidence to customers that they will receive a good quality product, backed by a helpful support service. For this reason, we believe GE inverters are a safe investment for prospective buyers.
Example of a project with GE solar inverters: Big Watermelon
Installed in 2021 the site of the big watermelon in Wantirna South, Victoria was one of the first commercial GE Solar Inverter projects in Australia. The 99kW (DC) project utilises 2 x 50kW three-phase GE solar inverters.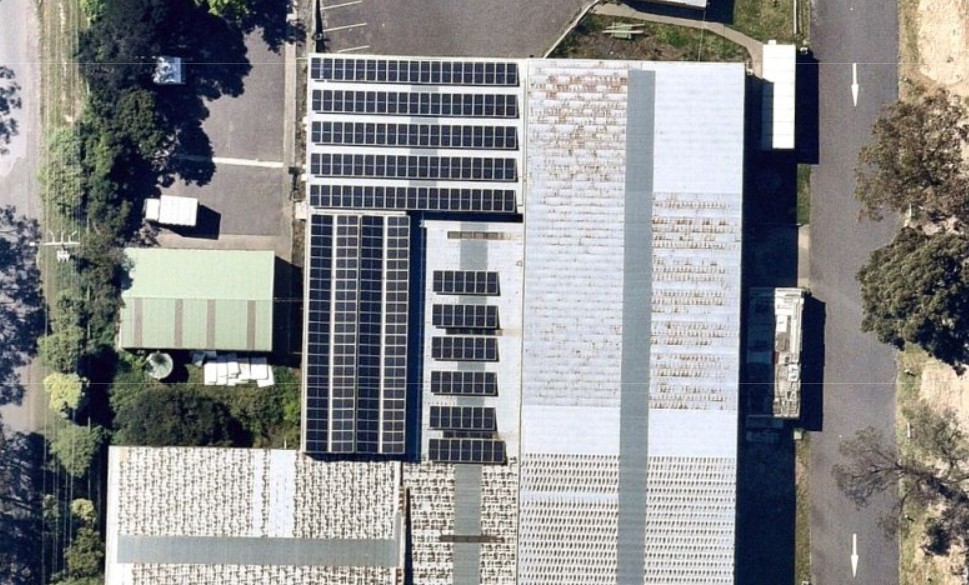 Read more product reviews from Solar Choice

Latest posts by Jeff Sykes
(see all)
Reviews from Australians who have installed GE Inverters
3rd August 2023
Graeme
VIC - 3260
6kW system
Working well with easy to read display panel.