Bosch is a German multinational engineering and technology company that was founded in 1886. The company is one of the largest automotive suppliers and also provides a wide range of products and services in various industries, such as building technologies, energy and mobility solutions.
Formerly Bosch offered a small-range of solar inverters in the Australian market. At the time of writing there are no Bosch inverters that have been approved by the Clean Energy Council for sale in Australia and eligible under the STC scheme. To our knowledge, Bosch is no longer operating in the Australian solar market.
Bosch BPT-S Solar Inverter Series
Single-phase inverters for residential solar applications
Bosch's BPT-S line of single-phase string inverters consists of four models for solar PV systems sized at 3kW, 3.68kW, 4kW and 4.6kW (AC output) – ideal for most residential solar PV systems.
Key Features Include:
Integrated data logging with online monitoring portal – So that customer, installer and manufacturer alike can monitor performance and troubleshoot problems from afar.
Flexibility in design and performance – Wide maximum power point (MPP) range of 170V to 600V, combined with improved MPP tracking procedures allow for high yields and easier system design.
Safety – Innovative service switch automatically checks for errors on both the DC and AC side of the system, disconnecting the inverter in the event of an error message.
PowerCool cooling concept – Optimises heat distribution of the inverter, allowing for a longer overall lifespan.
Easy setup with Bosch's e.Key – Touchless radio frequency identification (RFID) technology allows the installer to set the relevant parameters for Australia with the swipe of a card, ruling out any fault in the settings.
Sleek design.
Download a spec sheet: BPT-S 3-4.6 (pdf)
Compare quotes from up to 7 installers in your area now.
Bosch BPT-S 5 Hybrid Solar Battery
4.4kWh – 13.2kWh of battery storage capacity
Bosch's BPT-S 5 Hybrid Battery is an award-winning energy storage solution designed for the residential market. The refrigerator-sized unit can be equipped with up to 13.2kWh of storage capacity – enough to allow an average-sized household to become mostly grid-independent. Globally, Bosch has sold several hundreds of the BPT-S 5 Hybrid Batteries and Australia is a key and growing market for Bosch Power Tec.
Key Features Include:
Integrated energy management system
The Hybrid system consists of a 5kW solar inverter, a battery converter, a battery management system and a lithium-ion battery bank which can be sized between 4.4 and 13.2kWh of capacity, plus an energy management and control panel with a colour touchscreen display.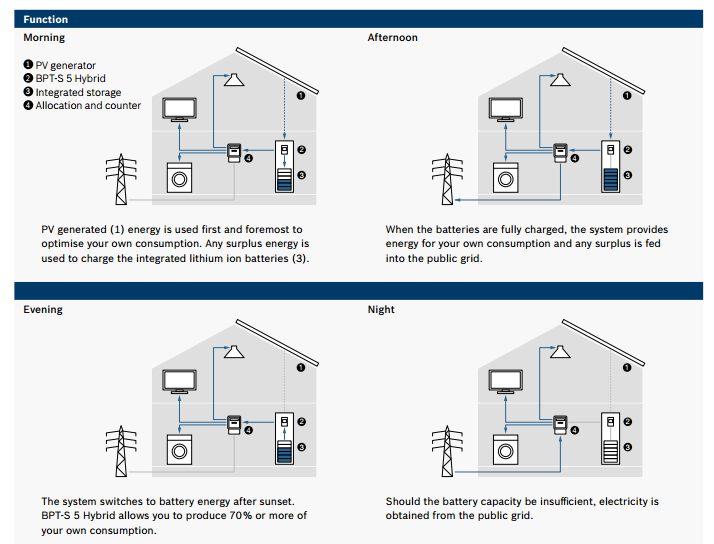 Programmable, intelligent use of solar PV, batteries and the grid
Allows the user to maximise their savings by avoiding the purchase of expensive grid electricity. The system decides where to source and direct electricity most cost-effectively according to four pre-programmed 'modes' for morning, afternoon, evening and night.
Maximising self-consumption of solar PV
The BPT-S 5 Hybrid can help to increase solar self-consumption for a typical household of four from 30% up to 70%. A high charge performance of 5kW means that a household of this size could even achieve total grid independence in the summer.
Intelligent system management and display
The Hybrid system comes with a touch-screen display that shows current and historic household energy consumption and production, while also ensuring the ongoing health and maintenance of the system. The system may also be monitored online via Bosch's e.Web and e.UserApp.
Download a spec sheet: BPT-S 5 Hybrid (pdf)
Download the brochure: BPT-S 5 Hybrid (pdf)
Bosch Solar Inverters Pros and Cons
Pros
Have a local office and support team
Manufactured in Germany
Excellent monitoring service usable via desktop or mobile
Cons
Small amount of market share in Australia
About Bosch Power Tec
Year founded: 2011
Global headquarters: Boeblingen, Germany
Headquarters in Australia: Melbourne
Manufacturing plant locations: Germany
Read About Home Battery Government Schemes Across Australia
South Australia, New South Wales, Victoria, and Australian Capital Territory all currently have a home battery scheme in place.
The South Australian Home Battery Scheme enables eligible South Australian residents to receive up to $4,000 per installed battery.
The New South Wales Home Battery Scheme offers an interest-free loan up to $9000 for eligible households looking to install a solar battery.
The Victorian Government under the Solar Homes Program provides to those eligible, a maximum discount of $4,174 off the battery sale price. The next release of battery rebates is on the 2nd of September 2020.
The Australian Capital Territory Government under the Next Generation Energy Storage program provides a rebate of $825 per kilowatt (kW). An average household with a 5kW system would be eligible for approximately $4,000.
Read more product reviews from Solar Choice
Compare quotes from up to 7 pre-vetted installers in your area now.
Since 2008 our knowledge and sophisticated software has allowed over 300,000 Australian households and businesses to make a well-informed choice on their solar & battery installer.