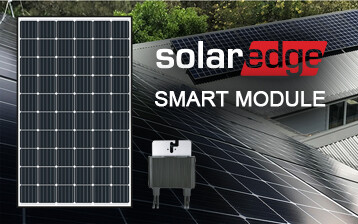 Note: Solar Choice is not a solar installer and has no financial or other incentives to promote any product brand over another. 
Overview of SolarEdge – Company History
Established in 2006, SolarEdge started as an inverter manufacturer, developing a DC optimized inverter solution that offers clear benefits in photovoltaic (PV) systems when compared to the more traditional string inverter approach. In March 2015, SolarEdge had an initial public offering on the NASDAQ with 7,000,000 shares of its common stock at a price to the public of $18.00 per share, raising $126 million.
In 2010, the company shipped an estimated 250,000 power optimizers and 12,000 inverters – amounting to a total generation of 50 megawatts and 70% of the power optimizers market.
In 2019, SolarEdge launched their solar panel range, named 'Smart Modules', which have their SolarEdge optimisers integrated to the module. The built in optimisers attempt to improve the speed of installation removing the need to install an device on each panel. SolarEdge has partnered with a tier 1 manufacturer to produce the panels – on their website is states they work with JA Solar, Axitec, Axsun, Luxor, Kyoto Solar and DMEGC.
SolarEdge now has over 2,400 employees globally with a monitored site in over 130 countries. The headquarters are located in Israel with offices all over the world including the USA, Germany, France, Japan, China, India, and Australia.
Key Indicators
| | |
| --- | --- |
| | Solaredge Solar Panels |
| Bloomberg Tier 1 Ranking | No |
| PV Evolution Labs Top Performer | No |
| Office location in Australia | Yes |
What is a Bloomberg Tier 1 Solar Panel?
Bloomberg's infamous tier 1 ranking is NOT a measure of Solar Panel quality in any way. It is simply an indication of the bankability of the manufacturer based on publicly released information on the financial health of the company. This should give you an idea if the company is a large, well-known manufacturer.
Likely due to their smaller size, SolarEdge Solar is not on the current Bloomberg Tier 1 list
See full list of Bloomberg Tier 1 Solar Panels
What is PV Evolution Labs Top Performer?
PV Evolution Labs with support from DNV GL independently test solar panel reliability. The tests are voluntary, with solar panel manufacturers paying to participate in the testing. This testing process is internationally renowned and is an accurate reflection of the solar panel's performance.
SolarEdge Solar Panels have not featured in PV Evolution Labs Top Performers lists.
See full list of PV Evolution Labs Top Performing Solar Panels
Why is office location in Australia Important?
Most solar panel manufacturers entering the Australian market first set up their distribution channels and worry about customer service later. This has led to many unhappy customers who are left trying to contact Chinese head offices to claim on their 10-year product warranty.
Relying on your solar installer is not always an option as since 2011 we've seen over 700 residential solar installers (including the large ones) go out of business well within the lifetime of the systems they are installing. 
SolarEdge has an office in East Melbourne under the name of SolarEdge Technologies (Australia) PTY LTD.
How Much Do SolarEdge Panels Cost?
Based on Solar Choice's database we have provided the below-average costs as an indicative guide of the wholesale costs of SolarEdge solar panels. These prices are typically only available to solar installation companies who are buying at volume, not to end customers. Note the pricing below puts SolarEdge panels at the premium end of the market.
| | | | |
| --- | --- | --- | --- |
| Description | Module | Price Range | Price (per watt) |
| SolarEdge 360W MonoPerc 120half-cells | SPV360-R60LWMG | $237–$252 | $0.66–$0.70 |
| SolarEdge 365W MonoPerc 120half-cells | SPV365-R60LWMG | $248–$263 | $0.68–$0.72 |
| SolarEdge 370W MonoPerc 120half-cells | SPV370-R60DWMG | $259–$274 | $0.70–$0.74 |
Compare quotes from up to 7 installers in your area now.
SolarEdge Solar Panels – Points of Difference
The main point of difference for SolarEdge's solar panels in that they have integrated their power optimisers into the panel. Most of the benefits of this are received by the installer who should be able to reduce the time required to install, who should in turn be able to pass through some savings to the client.
Some of the benefits of power optimisation vs string inverter solution
Resilience to roof shading through optimised energy output of each individual panel
Quicker site mapping to the monitoring platform and easier maintenance
Automatic panel-level voltage shutdown protecting people and property
Currently 36 of SolarEdge solar panels are approved by the Clean Energy Council (listed under the name of SolarEdge Technologies Ltd) for the Small-scale Renewable Energy Scheme – Australia's home solar rebate program.
SolarEdge Warranty
Solar panels come with a product and performance warranty. The product warranty is designed to cover manufacturing faults in the panel that leads to damage or malfunction and is typically 10 years for most solar panel manufacturers. Most SolarEdge panels offer 12 years product warranty which is above the average compared with other manufacturers who offer 10 years.  However, for R60DWMG-SPV375 and R60DWMG-S, SolarEdge only offers 15-year product warranty.
The performance warranty guarantees a certain level of output for the lifetime of the panel – typically guaranteeing 80-82% of the nameplate output after 25 years. SolarEdge offers 25 years performance warranty for all ranges with a guaranteed output of 84.8% after 25 years tilting them towards the premium end of the market.
Read more about SolarEdge's warranty terms and conditions.
Comparison of SolarEdge Solar Panel Specifications (common modules)
SolarEdge Smart Panel

SPV355-R60LWMG

SolarEdge Smart Panel

SPV370-R60DWMG

Cell Number
120 Cells
120 Cells
Cell Type
Monocrystalline PERC
Monocrystalline PERC
Power Output
355W
370W
Nominal Power Voltage
33.8V
33.95V
Panel Efficiency
19%
19.8%
Dimensions
1776 x 1052 x 40 mm
1755 x 1038 x 40 mm
Weight
20.7 kg
21.3kg
Product Warranty
12 Years
15 Years
Operational Temperature Range
-40℃ to +85℃
-40℃ to +85℃
So, Should I Buy SolarEdge Solar Panels?
The SolarEdge Smart Panels tick a lot of boxes when comparing features against other tier 1 solar panels. Based on the average pricing we've seen this looks to be an expensive option and as they can only be paired with a SolarEdge inverter it is suitable for customers who are looking to pay a bit more for a premium product.
The one downside of the Smart Panels is that at a similar price point you could get a REC, Sunpower or Solarwatt solution with comes with an attractive 25-year product warranty. If the installers are able to pass on some savings from the reduced time it actually takes to install the panel (with the optimisers already built in) then this may become a more attractive option.
Read more product reviews from Solar Choice
Compare quotes from up to 7 pre-vetted installers in your area now.
Since 2008 our knowledge and sophisticated software has allowed over 180,000 Australian households and businesses to make a well-informed choice on their solar & battery installer.
Reviews from Australians who have installed SolarEdge Panels
Rated 4.38 from 8 reviews
18th November 2022
Andrew
-
6kW system
18th August 2022
David
-
10-15kW system
Installed but not connected.
14th July 2022
Beryl
VIC - 3280
5kW system
They seem to be working well, and they do look good.
18th February 2022
Peter
WA - 6532
6kW system
Unfortunately made in China
17th February 2022
Graham
NSW - 2575
10-15kW system
I had optimisers fitted to all of my panels, they make excellent power for us.
14th February 2022
John
NSW - 2444
10-15kW system
Solahart Black 370W. So far performing very well even on overcast days.
12th February 2022
Bernie 2
ACT - 2614
8kW system
I'm quite amazed at the efficiency of my 21 x SolarEdge Smart 370W panels. No matter about the level of cloud cover or what our overnight power consumption has been, there have been very few days when our battery charge level hasn't been restored to 100% well before noon.
11th May 2021
-
10kW system
Monitoring app is excellent. Having the panels indiviually isolated will be a great benefit