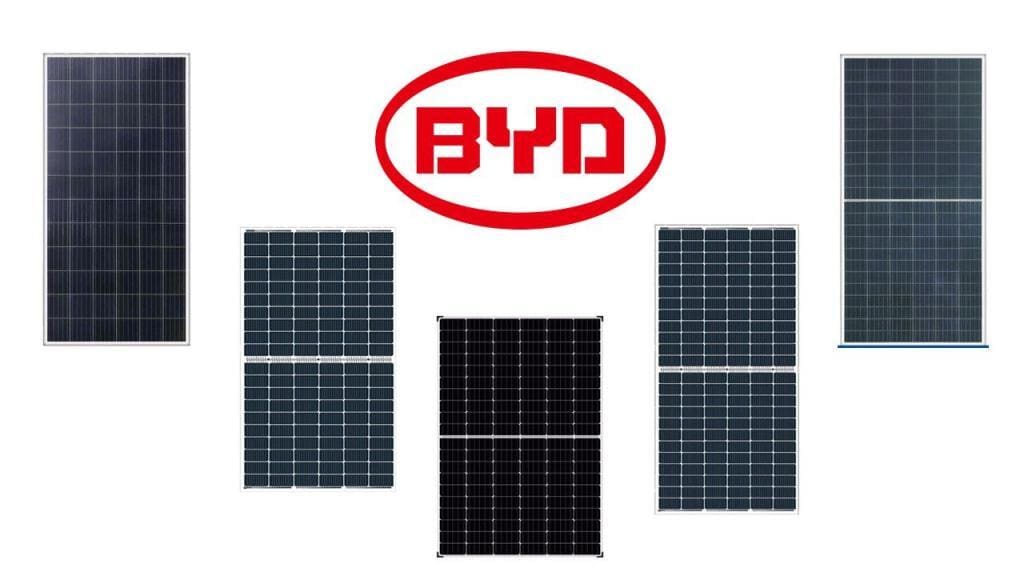 Overview of BYD – Company History
BYD stands for "Build Your Dream". It is a Chinese manufacturing company headquartered in Shenzhen, China, founded by Chuanfu Wnag in February 1995. Currently in Australia BYD is best known for their solar batteries, however the company also manufactures commercial and passenger electric vehicles, rail transport and solar panels.
In 2002 and 2011, BYD is listed on the Hong Kong and Shenzhen Stock Exchanges, respectively, with revenue and market capitalization each exceeding RMB 100 billion. It currently has more than 225,000 employees in total. Whilst being an unquestionably large company, renewable energy (including batteries) forms 7% of the total product revenue. In fact there is no mention of Solar Panels on BYD's website which focuses on their other product range.
BYD entered the Australian solar market in 2013 and currently have an office based in Lane Cove, NSW. They operate photovoltaic module production plants in China and Brazil with their annual production capacity noted as 1.5GW in 2016 which would characterise them as a small to medium scale solar panel manufacturer.
Key Indicators
| | |
| --- | --- |
| |  BYD Australia Pty. Ltd.Solar Panels |
| Bloomberg Tier 1 Ranking | No |
| PV Evolution Labs Top Performer | No |
| Office location in Australia | Yes |
What is a Bloomberg Tier 1 Solar Panel?
Bloomberg's infamous tier 1 ranking is NOT a measure of Solar Panel quality in any way. It is simply an indication of the bankability of the manufacturer based on publicly released information on the financial health of the company. This should give you an idea if the company is a large, well-known manufacturer.
BYD panels are not in the Bloomberg Tier 1.
See full list of Bloomberg Tier 1 Solar Panels
What is PV Evolution Labs Top Performer?
PV Evolution Labs with support from DNV GL independently test solar panel reliability. The tests are voluntary, with solar panel manufacturers paying to participate in the testing. This testing process is internationally renowned and is an accurate reflection of the solar panel's performance.
BYD panels are currently not ranked in the PV Evolution Labs Top Performers
See full list of PV Evolution Labs Top Performing Solar Panels
 Why is office location in Australia Important?
Most solar panel manufacturers entering the Australian market first set up their distribution channels and worry about customer service later. This has led to many unhappy customers who are left trying to contact Chinese head offices to claim on their 10-year product warranty.
Relying on your solar installer is not always an option as we've seen many residential solar installers (including the large ones) go out of business well within the lifetime of the systems they are installing. 
BYD currently has offices located in 11/9 Chaplin Drive, Lane Cove, NSW, 2066, Australia under name of BYD Australia Pty. Ltd.
Compare quotes from up to 7 installers in your area now.
BYD Solar Panels Available in Australia
Currently, 40 of BYD solar panels are approved by the Clean Energy Council (listed under the name of BYD Company Limited) for the Small-scale Renewable Energy Scheme – Australia's home solar rebate program.
However, the below 2 solar panel models are currently all that is available at the time of writing this article:
BYD PHK-30-SERIES

The PHK-30-Series includes 5 busbars and a half-cut solar cell that adopts new technology to improve the solar panel efficiency of modules, offers a better aesthetic appearance, making it suitable for rooftop installations.
It has 120 polycrystalline solar half cells. Polycrystalline solar cell technology is well known to be cost-effective but not as efficient as monocrystalline. As a result the rated module efficiency is 16.61% for which we would characterise as below the average for most solar panels.
The solar panel is topped with 3.2mm sheet of tempered glass with AR coating and is compatible with MC4 Connector. These features ensure that this module is available to work with the most current BOS in the PV installation industry.
BYD MHK-30-SERIES

The MHK-30-SERIES also includes 5 busbars and a half-cut solar cell that adopts new technology to improve the efficiency of modules, offers a better aesthetic appearance, making it perfect for rooftop installation.
The 120 monocrystalline solar cells sees an improved cell efficiency of 19.03% which is towards the average of current solar panel technology.
The power range for this panel is from 290W to 320W depending the model.
BYD Warranty
Solar panels come with a product and performance warranty. The product warranty is designed to cover manufacturing faults in the panel that leads to damage or malfunction and is typically 10 years for most solar panel manufacturers. All BYD panels offer a 10-12 year standard product warranty which is towards what would be considered the minimum expectation of the solar panel market.
The performance warranty guarantees a certain level of output for the lifetime of the panel – typically guaranteeing 80-82% of the nameplate output after 25 years. BYD Solar offers 25 years performance warranty for all ranges with a guaranteed output of 80% (for polycrystalline modules) and 80.2% (for monocrystalline modules) after 25 years which again leaves them at the minimum expectation of the market.
Whilst having an Australian office, BYD's warranty document states that you would need to contact Gavin Tong at their Chinese office to claim warranty.
"In the event that Customer claims any warranty service which is covered by this
Warranty, customer shall immediately notify BYD in writing through below contact
information:
Tel: +86-21-5777-8888-32252
E-mail: gavin.tong@byd.com
Manufacturer:BYD(Shangluo)Industrial Co.,Ltd.
Website: http://www.byd.com.cn
Address: No.999 Xiangjing Road, Songjiang District, Shanghai. 201611, P. R. China"
Given there is no solar panel or warranty claim information on BYD's website, if your solar installer is no longer around, this may present a challenge for Australian consumers.
BYD Solar Panels Pros and Cons
Pros
BYD are diverse and have 4 main clusters of business which are Auto, IT, New Energy Products and Monorail
BYD are the largest supplier of rechargeable batteries in the world
Premium solar panels have a 30 year linear performance warranty
Cons
No Australian office
Do not feature on the PV Evolution Labs list as a top performing solar panel
Do not feature in the Bloomberg Tier 1 ranking
Comparison of BYD Solar Panel Specifications (common modules)
BYD PHK-30-SERIES

BYD275PHK-30

BYD MHK-30-SERIES

BYD315MHK-30

Cell Number
120 half-cut cells
120 half-cut cells
Cell Type
Polycrystalline
Monocrystalline
Power Output
275Wp
315Wp
Nominal Power Voltage
31.94V
33.50V
Panel Efficiency
16.61%
19.03%
Dimensions
1669 x 992 x 35 mm
1669 x 992 x 35 mm
Weight
18.9 kg
18.9 kg
Product Warranty
10 years
10 years
Operational Temperature Range
12 Years
25 Years
Operational Temperature Range
-40℃ to +85℃
-40℃ to +85℃
So, Should I buy BYD Solar Panels?
We would consider BYD solar panels to be aimed at the budget end of the market. The solar panels they are currently offering in Australia measure up towards the lower end of the market in terms of technical specification. Compared to most small-scale solar panel manufacturers, BYD might present a more bankable option as a bigger company with a strong and stable presence in several other markets.
If within your means and budget, we would recommend spending a bit more money to target a Bloomberg tier 1 solar panel manufacturer with a bigger company focus on producing high quality solar panels and a better warranty claim process for Australian consumers.
Example of a BYD Commercial Solar Project
The only example listed on BYD's website of a solar project in the Australian market is the power station with a rated power of 75.01MW in Queensland. The project is the result of cooperation between BYD and Childers solar Pty Ltd, The project uses BYD PV module 330phk, located in Queens, Australia 4660 Isis River, Lanzhou.
Read more product reviews from Solar Choice
Compare quotes from up to 7 pre-vetted installers in your area now.
Since 2008 our knowledge and sophisticated software has allowed over 180,000 Australian households and businesses to make a well-informed choice on their solar & battery installer.