Diamond Energy is a Victoria-based national electricity retailer focusing on serving customers who have solar panels. and ensuring that the process of grid connection and afterwards is as smooth and efficient as possible. The company has been providing electricity from renewable sources to their customers since 2007, and has added 3500 home solar PV systems to its generation/retail portfolio to date, with this number still growing.
Choosing the right electricity retailer for solar power
Selecting the right electricity retailer is crucial to ensure customers get the most out of their solar pv system investment. The process of connecting a solar system to the grid is highly specialised, so it is advisable that customers fully understand peak and off-peak pricing, solar feed-in tariffs, hidden fees and charges, and the retailer's ability to efficiently service a customer's setup and ongoing requirements.
What does Diamond Energy offer its customers?
Diamond Energy is set apart from other electricity retailers primarily in 2 ways: 1) They offer better deals for customers with solar PV systems, and 2) They balance customer consumption with generation sourced from low-carbon, renewable energy sources.
Diamond Energy Customer Service
All of Diamond's retail customers have grid-connected solar PV systems, and the company aims to help these customers get the best out of their solar investments. With solar, the one of the keys to improved return on investment is to get grid-connected and start generating electricity as soon as possible after installation. The ideal electricity retailer to deal with would be one who provides a professional, experienced, dedicated team who actively follow up on all paperwork, including feed-in tariff paperwork, and who are knowledgeable about the process of managing meter changeover. Diamond Energy offers all of these things to its customers.
The company also promises:
-One of the highest Solar Feed-in Tariffs (including GST and dependent on qualification as per government legislation), with a top-up of 8 cents per kilowatt-hour available (read more below), plus solar-specific retail electricity rates
-No hidden costs to access Feed-in Tariffs (some retailers may charge up to $10 each time credit is paid out to customers)
-Diamond Energy only deals with solar customers
-Friendly, Australia-based, solar-specific customer care staff
-Feed-in Tariffs over $50 paid in cash every quarter
-3% direct debit discout with no paper bills (excluding discounts on any additional charges)
-Australian owned and operated, supporting regional communities
-Free web portal, offering remote monitoring capability available (for SA and QLD customers)
Victoria Transitional Feed-in Tariff: 33c/kWh and no hidden fees
Officially, Victoria's Transitional Solar Feed-in Tariff guarantees customers of electricity retailers with 5000+ customers will be paid a minimum of 25c for every kilowatt-hour (kWh) that they feed into the electrical grid. Some electricity retailers offer a premium on top of the minimum rate in order to attract customers with solar power systems. Diamond Energy, who also offered an additional premium on the state's now defunct Premium Solar Feed-in Tariff, currently offers 8c/kWh above the mandated 25c rate, meaning a total of 33c for each kilowatt-hour exported to the grid.
Diamond Energy's 100% renewable generation portfolio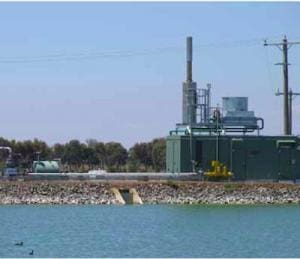 Diamond Energy's Biogas Plant in the Goulburn Valley
The balance of Diamond's generation capacity comes from a variety of other renewable energy sources. The company owns and runs bio-gas to renewable energy plants (pdf) in Tatura and Shepparton, which convert methane from wastewater into renewable energy and have a total capacity of about 1MW. Diamond Energy is also in the process of developing Australia's first wave farm in Port Fairy, Victoria. Once it is operational, Diamond energy will manage the grid connection and market the energy produced there, as it does with a number of the wind power generation units in its portfolio.
Further information:
For further information and enquiries, contact Diamond Energy at customerservice@diamond-energy.com (ref: Solar Choice) or call one of their Australia-based consultants on 1300 838 009.
© 2012 Solar Choice Pty Ltd
(All images via Diamond Energy)

James has been working as analyst and online development manager for Solar Choice since 2011. He holds a master's degree in Environmental Management from UNSW, and a bachelor's degree in Philosophy from Bridgewater State University in his native Massachusetts.

Latest posts by James Martin II (see all)