New data has shown that another 125MW of small-scale rooftop solar was installed on Australian homes and businesses in the month of September, taking the total for calendar 2018 to 1.09GW.
The month's installs, included in the latest data from by industry statistician SunWiz, puts 2018 ahead of the 2017 total, with three months left in the year.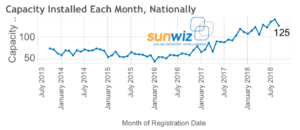 They also delivered the fifth-best month on record, despite September marking a slight slow-down in the pace of PV uptake.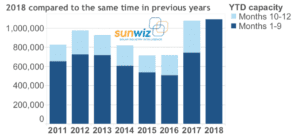 "In the first 9 months of 2018, we've already exceeded the volume registered in any previous year," SunWiz director Warwick Johnston noted. "We've also doubled the volume installed by the same time in 2016."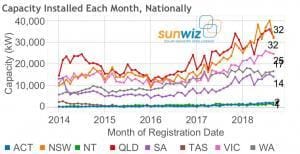 On a state by state basis, Queensland resumed its position at the top of the market in September, with just over 32MW, ahead of NSW and and Victoria (26GW).
WA now has 990MW and is likely to surpass 1GW during the month of October, becoming the fourth state to reach that milestone after Queensland (now 2.2GW), NSW (1.7GW), and Victoria (1.4GW).
South Australia is not far behind, with some 938MW installed by the end of September.

Latest posts by Giles Parkinson
(see all)