Bosch is a 125-year-old German engineering company with a globally recognised name. Known mainly for its  automobile parts and power tools, Bosch has also been involved in the solar PV industry since 2008 as Bosch Solar Energy, bringing its reputation for excellence to bear in the production of high-end solar panels.
The Bosch Solar Panel range in Australia
The Bosch solar panels currently available in Australia all use monocrystalline silicon cells. Bosch Solar Energy also manufactures a range of polycrystalline silicon and amorphous thin-film silicon solar panels; however, these are not available in Australia at the time of writing.
For residential solar power systems–
–Bosch Solar Module c-Si M 48: 185-200 watt panels with 48 cells
Download the spec sheet: Bosch Solar Module c Si M 48
–Bosch Solar Module c-Si M 48 S: An all-black version of the c-Si M 48
Download the spec sheet: Bosch Solar Module c Si M 48 S
For residential & commercial-scale solar power systems–
–Bosch Solar Module c-Si M 60: 225-255 watt panels with 60 cells
Download the spec sheet: Bosch Solar Module c Si M 60
–Bosch Solar Modules c-Si M 60 S: An all-black version of the c-Si M 60
Download the spec sheet: Bosch Solar Module c Si M 60 S
Bosch Solar Panels: Points of difference
-Bosch solar panels boast 'excellent quality assured through the best European standard components', through excellence in processing for long-term solar panel reliability and higher power yields over their lifetime. Bosch routinely sets quality standards for its products that go above and beyond the required minimum; the same goes for solar PV modules.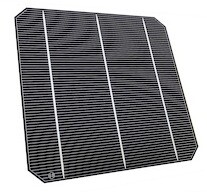 -With vertically integrated manufacturing, Bosch closely controls all aspects of the production and value chain of its solar panel to ensure quality: from silicon wafer manufacture to the assembly of the panels themselves, using only high-quality glass, frames, and wafers.
–Ongoing investment in product innovation and research and development (R&D)
–Positive power tolerance of -0%/+4.99Wp: Panels will perform at least at their nameplate capacity (in standard test conditions) or greater (up to 4.99 watts greater). Compare this to an industry standard of +3%/-3%.
–Salt corrosion resistance-tested (standard IEC 61701): Modules are built to withstand corrosion due to salt spray, making them ideal for installations near the ocean.
–Ammonia resistance-tested (standard IEC 62716): Regular exposure to ammonia can compromise the long-term production of solar panels. Bosch's panels have been built to perform well even in high-ammonia environments, such as agricultural properties.
–Excellent weak light performance, capturing the sun's light earlier in the morning, later in the evening and producing more power throughout low light (cloudy) conditions, ensuring that Bosch panels demonstrate industry-leading performance in terms of ongoing annual yield production.
–Bosch c-Si M60 panels have recently been tested by an independent test facility in Australia to the highest standard 'Cyclone Testing', ensuring the robust high quality panel from Bosch is fit for the worst mother nature can dish out.
Certifications
-All models of Bosch solar panels are certified by the Clean Energy Council (CEC) of Australia, and are on the list of CEC-approved components
–PV Cycle– Bosch Solar Energy is a member of the PV Cycle program
–CE mark– Bosch solar panels are compliant with European Union regulations
-Claims made by Bosch about their panel specifications have been independently verified by TUVRheineland
About Bosch Solar Energy – 15 years Solar Experience
Bosch Solar Energy is the solar wing of Germany's Robert Bosch GmbH. In 2008 the Robert Bosch Group purchased controlling shares of Germany's largest PV cell manufacturer, ersol Solar Energy AG (ersol was formed in 1997), with the change of name into Bosch Solar Energy AG in 2009. In 2009 Bosch Solar Energy also became majority shareholder of the German premium module manufacturer, aleo Solar AG. In 2010, Bosch Solar Energy built a complete module manufacturing plant in Arnstadt, Germany, providing headquarters, research and production under one roof. Bosch Solar Energy (Australia) provides Sales and Marketing as well as Technical Support for the PV Modules, with headquarters located in Clayton, Victoria.
Bosch Headquarters
Bosch global headquarters: Gerlingen, Germany
Bosch Solar Energy global headquarters: Erfurt, Germany
Bosch Solar Energy Australian headquarters: Clayton, Victoria
Bosch solar panel manufacturing facilities
Bosch Solar Energy has manufacturing sites in Germany, France, Spain, and China, and sales offices on all inhabited continents. The panels available in Australia are manufactured in Germany and France (c-Si M 60, and c-Si M 48, respectively).
Images and spec sheets via Bosch Solar Energy AG
© 2012 Solar Choice Pty Ltd

Latest posts by James Martin II
(see all)