Fulcrum3D is an Australian technology developer whose innovative CloudCAM technology allows solar farm developers and operators a high degree of granularity in predicting solar energy yields thanks to its sophisticated ability to anticipate cloud movements. In November 2014, the company received a grant from the Australian Renewable Energy Agency (ARENA) to develop the product that has now been installed at multiple sites in the Northern Territory, including the 4.1 megawatt (MW) Uterne Solar Farm outside Alice Springs and numerous diesel and off-grid locations.
Addressing solar predictability
Solar panels are more prolific than ever in Australia, now sitting atop more than 1.5 million homes and thousands of businesses. Solar power looks destined to become a major source of Australia's electricity generation, and although there are only a small number of larger-scale solar farms yet in operation, by most accounts that won't be the case for long.
Australia will eventually come to rely – at least partially – on large-scale solar projects to meet grid electricity demand. Currently, the main downside of solar PV is the fact that its ability to generate electricity is dictated by the whims of the weather. While night and day are easy enough to predict and plan for (as are summer and winter), changes in solar irradiation at a specific site and throughout a given day are not. How much would the instantaneous power output drop, for example, when errant clouds cross between the sun and one flank of a solar farm?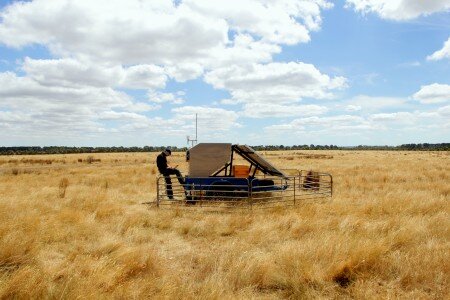 There are really three possible approaches to address this issue.
The first is to have large amounts of redundant 'spinning reserves' at the ready to make up for the loss. In many cases, however, this will dampen the two main benefits of generating electricity with solar panels: non-existent fuel costs and zero-emissions generation (as the reserves will often be gas-fired power plants in grid-connected systems). Fuel costs are especially important for off-grid plants which rely on expensive diesel or other transportable fuel.
The second would be solar smoothing – where batteries fill in the 'gaps' in power output when clouds block the sun's rays, thus 'smoothing over' sudden drops in output. But battery technology remains expensive, and increasing the overall capital cost of a solar project is something that developers would prefer to avoid; price-competitiveness for solar farms is vital in a field frequently dominated by lower-cost fossil fuel alternatives.
The third approach is to design a system to make more accurate and precise prediction of the movement of clouds through the sky. This reduces the need for large amounts of spinning reserves and also helps solar farm developers to keep their capital outlays or project finance costs low by minimising the need for costly storage solutions – allowing them to remain competitive but agile at the same time.
Fulcrum3D has taken the third approach, developing a remote sensing tool that uses a camera to predict the movements of clouds and forecast solar output accordingly. The CloudCAM hardware is backed up by analysis software also developed by Fulcrum3D, allowing it to deliver formidable – and verifiably accurate – predictive power for solar output anywhere from 30 seconds to 15 minutes in advance.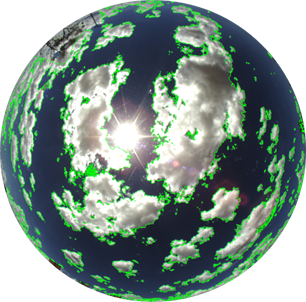 Viewing the sky through Fulcrum3D's CloudCAM, whose analysis software can distinguish between clouds (highlighted in green), the sun and even dirt on the camera itself.
"The Fulcrum3D solar monitoring systems are fully automated and stand-alone, designed to operate in the remote and harsh environments common at solar power station sites and designed with the high accuracy required by engineering experts in the industry," says Fulcrum3D project manager Ken Graham. "The highest class instruments are used in combination with a robust logging system to maximise data quality and verifiability."
Key benefits of CloudCAM
Fulcrum3D's CloudCAM is not the only device for predicting solar output on the market, but the company says that it presents numerous advantages over other devices that aim to deliver the same service.
The only fully-integrated solar monitoring system capable of both remote monitoring and solar data management as well as weather and cloud parameters
Superior performance over competitors in complex cloud environments (e.g. multiple cloud layers)
Demonstrated performance in harsh, remote sites in central Australia and north Queensland both on and off grid
Fully integrates into SCADA systems
Australian-designed & manufactured – support is also Australia-based
Applications
Real-time cloud detection for both project planning and operation
On-site solar irradiation and cloud movement forecasting for predicting solar farm output 30 seconds to 15 minutes in the future
Solar power ramp rate control
Spinning reserves control
Optimisation of energy marker bidding systems
Storage management based on future solar output predictions
Satellite data feeds provide longer-term forecasting (15 minutes – 48 hours) to complement short-term forecasting
Contact Fulcrum3D
CloudCAM will be available for your site from Q1 2016
Ken Graham, Project Manager

Phone: +61 2 8456 7400
Email: info@fulcrum3d.com
© 2015 Solar Choice Pty Ltd