Germany's 2040 target of 65 per cent renewable electricity generation is looking more and more achievable, with the EU nation managing to hit 64.8 per cent just this month, in the week ending March 10.
The bulk of renewable generation over that period came from wind (48.4 per cent), with solar contributing 5.1 per cent, biomass 7.6 per cent and hydro 3.5 per cent.
Worth noting is that the amount of wind power generated throughout the week at no time dipped below the maximum output of either nuclear of brown coal.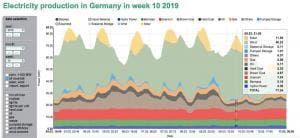 Nuclear power in Germany is due to be phased out by 2022, while brown coal will be phased out by 2038.
Germany has a 35 per cent renewable energy target for 2020 but has already exceeded that. In 2018, it generated 40 per cent from renewables and so far this year it has sourced 43 per cent of its gross electricity production from renewables.

Latest posts by Giles Parkinson
(see all)