HST Solar has brought a radically different installation approach to a range of ground-mounted PV platforms. HST systems are simple, foundation-less structures that deploy with only hand-tools and unskilled installer labor at a fraction of the installation time required for traditional PV systems. Backed by Kae Capital, Xander Funds and several prominent angels and energy fund managers, HST Solar has already commercially launched the HSync, a dual-axis solar tracking system for ground mounted projects that add higher system efficiency and breakthrough cost advantages to developers and IPPs.
The HSync, unlike any other tracker in the market, is entirely factory-packaged with foundation lattice structures, integrated with electronics and wiring, that open up and lie flush with the ground, and can be installed by two- or three-man crews between 5-10x faster than structures that require driven pile or concrete foundations. Due to the elimination of foundations and heavy machinery and the reduction in EPC and labor costs during the install process, HST Solar's products also provide higher margins for system integrators and installers who work for commercial, industrial and utility-scale solar PV project developers.
With the growth of large-scale ground-mounted PV market reaching numbers of 30GW+ in 2013, the demand for ground mounted tracking technologies has accelerated as BOS and construction costs have increased to ~68% of the total installed cost of solar. One and two axis solar PV trackers have been used for two to three decades in various applications, primarily to enhance system output by up to 40% (25% in the case of one axis trackers) and to provide broader "shoulders' on the power generation curves.
The tracking industry, while growing in volume, has remained limited to certain projects with higher PPA rates or low/high latitude sites. This has been due to prohibitively expensive installed capital costs, increased system complexity, and reliability concerns. Cost and reliability are therefore key drivers for project developers when they are selecting both fixed racks and tracking systems, much as they have been when they are selecting any piece of electronic or mechanical equipment.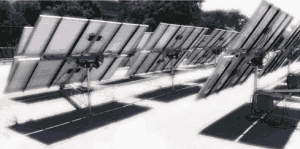 The HSync has been designed as a modular, affordable, mounting solution for the commercial and utility-scale solar markets that addresses both reliability concerns and cost. The technology deploys proven, durable stepper motors that have achieved third party validation from a Tier I engineering firm and have logged 4+ years of run-time in harsh desert environments with approximately 7.5MW of installed capacity in other solar applications. Addressing cost, the HST Solar team points out that the installed cost of the HSync field, including panels, have been validated as $0.02/W for US projects at utility scales, reducing the overall installed Capital Expenditure for a developer to the point where they would spend less than they would if they procured one-axis trackers that used traditional install methods. With a 10-15% increase over one-axis trackers in yield, and minimally increased O&M costs, the team claims this translates to a Levelized Cost of Electricity that is the lowest in the industry.
The HSync comes with a full racking platform with integrated tracking, A/C wiring, communications, and monitoring. That accounts for roughly one quarter of what needs to be procured (including labor) to build an entire solar project. Competition exists in the form of racking vendors and other tracker manufacturers from Europe, the US, and Asia.
HST Solar is currently in the process of establishing bankability through several months of operating data, testing and validations, industry certifications, and warranty insurance. To that end, HST Solar has commissioned a 25kW+ commercial system in the greater Los Angeles area to prove to 3rd party validation firms, channel partners, and EPCs alike that they have a reliable, durable system that can provide more than 25 years of consistent output. The firm has several commercial deployments that are to be online in the third quarter of the year in various high solar resource geographies.
Innovative, focused on cost execution, and backed by the right funders to help it disrupt the cost structure of the installation industry, HST Solar is proving that entrepreneurs can continue to help revolutionize solar industry costs in the journey towards grid parity.
Benefits & Points of difference:
Integrated mounting & tracking platform with a 'factory-to-field' packaged and modular approach, yielding 10x or more faster installation than traditional ground mounted systems

2-axis tracking at less than the cost of a 1-axis system.
Frames are engineered for maximum rigidity using less steel than conventional ground mounts. No ballast or major ground penetration is necessary. Can withstand winds of up to 120mph (190km/h) or more with anchoring with simple ground screws

Up to 40% improvement on electricity generation compared to conventional fixed ground-mounted solar systems, and up to 20% improvement on electricity generation compared to 1-axis tracking system
Infinitely configurable layout possibilities with lowest footprint in the sector with 4 acres/MW

Solar modular and inverter agnostic; and can be installed at sites which are not suited for concrete foundations or otherwise would require significant site preparation
2 motors per armature to ensure redundancy; motor and gearbox assembly tested to IP56
About HST Solar
Company headquarters: Los Angeles, California
Headquarters in Australia: Sydney, NSW (via Solar Business Services)
Manufacturing Locations: USA and Asia
History in the industry: HST's founding members were involved in the tracking industry prior to starting HST Solar.
Solar Choice Commercial: Commercial solar tender management
Solar Choice also develops its own medium to large scale solar farms, and has gained considerable experience in all relevant stages of project management, from planning approvals through to Power Purchase Agreement negotiations and grid connectivity. We also have a large portfolio of land owners across Australia looking to lease their properties for solar farming. If you would like Solar Choice's assistance to develop a solar farm from 2MW to 150MW, please contact Angus Gemmell on angus@solarchoice.net.au.
© 2013 Solar Choice Pty Ltd