Australian inverter and power electronics maker Latronic Sunpower has introduced a device that will make it easy for homes and businesses to retroactively install battery storage onto most existing grid-connected solar PV systems. The device, called the Solar Array Transfer Switch (SATS), could potentially be one of the most useful new gadgets in an installer's toolbox as Australia's battery storage market begins to take off.
According to a Latronics press release, the SATS is "a small box that can be automatically triggered to divert the power coming down from your solar array and send it between two different destinations: batteries or the grid inverter." The device can be configured to send DC power to different types of DC loads, but in most cases will likely be used to charge batteries with solar energy through an MPPT charge controller.
Once the battery bank is full, any excess solar energy can be exported to the grid. The batteries can then be used to power the home until no charge remains – at which point energy will be drawn from the grid. The household may choose to use the batteries to power the home during the daytime and/or night.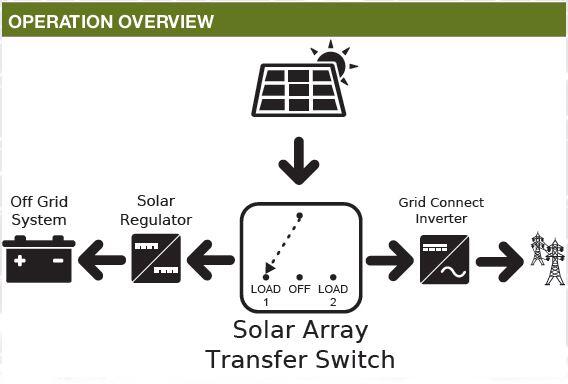 In essence, the SATS allows a home or business to function as if it were off the grid by intercepting and diverting the existing solar energy, but with the convenience of remaining grid-connected so that excess power can still be exported. The SATS makes it possible to squeeze the most out of an existing rooftop solar array by directing that power into batteries and then, once the batteries are full, out to the grid. A 48V DC to 240V AC (Latronics) stand-alone inverter would be required to run the dwelling from the charged batteries.
Uses beyond battery storage
Latronics say that the applications for the SATS could go beyond battery storage. The versatile nature of the device means that it can potentially be used in "a number of innovative and exciting new ways". Rather than diverting solar power into batteries, for example, the SATS may instead direct this power towards a DC pool or irrigation pump maximizer, or could be used to power a DC hot water booster or even an in-floor heating system. These are great ways to use more of your solar power directly as opposed to 'wasting' it by sending it into the grid for only 6-8c/kWh.
In addition to being simple and flexible, the SATS can also be safely and cost-effectively integrated into existing solar arrays. It is designed in accordance with AS 60947 and AS/NZS 3947.6.1, and all wiring terminals comply with the AS/NZS 3000 and AS/NZS 5033 wiring installation standard.
Download a spec sheet for the SATS (PDF)
Contact Latronic Sunpower
Dean Ervik: Technical, Sales & Marketing
Phone: +61 0754 120 473
Email: dean@latronics.com.au
© 2015 Solar Choice Pty Ltd