The 2015 International Technology Roadmap for Photovoltaics (ITRPV) was released last week and is now available for download on the ITRPV website. The report contains insights from leading PV industry manufacturers and organisations, providing a snapshot of where the PV industry is right now and the direction in which it will likely head towards in coming years. Contributing authors for the ITRPV have been sourced from companies including Meyer Burger, Applied Materials, Centrotherm, Wuxi Suntech Power, Canadian Solar, Hanwha Q-Cells, JA Solar and REC Solar, to name a few.
The 2015 ITRPV report lists a cumulative total for worldwide PV module shipments of 184GW at the end of the 2014 calendar year, slightly above the 177GW figure for cumulative installed capacity listed in the most recent IEA PV snapshot report. This difference can be accounted for in unsold inventory, storage and modules which have yet to be fully installed. The cumulative shipped PV totals, average module pricing and projected levelised cost of electricity (LCOE) has closely tracked predictions from the previous 2014 ITRPV report (5th edition).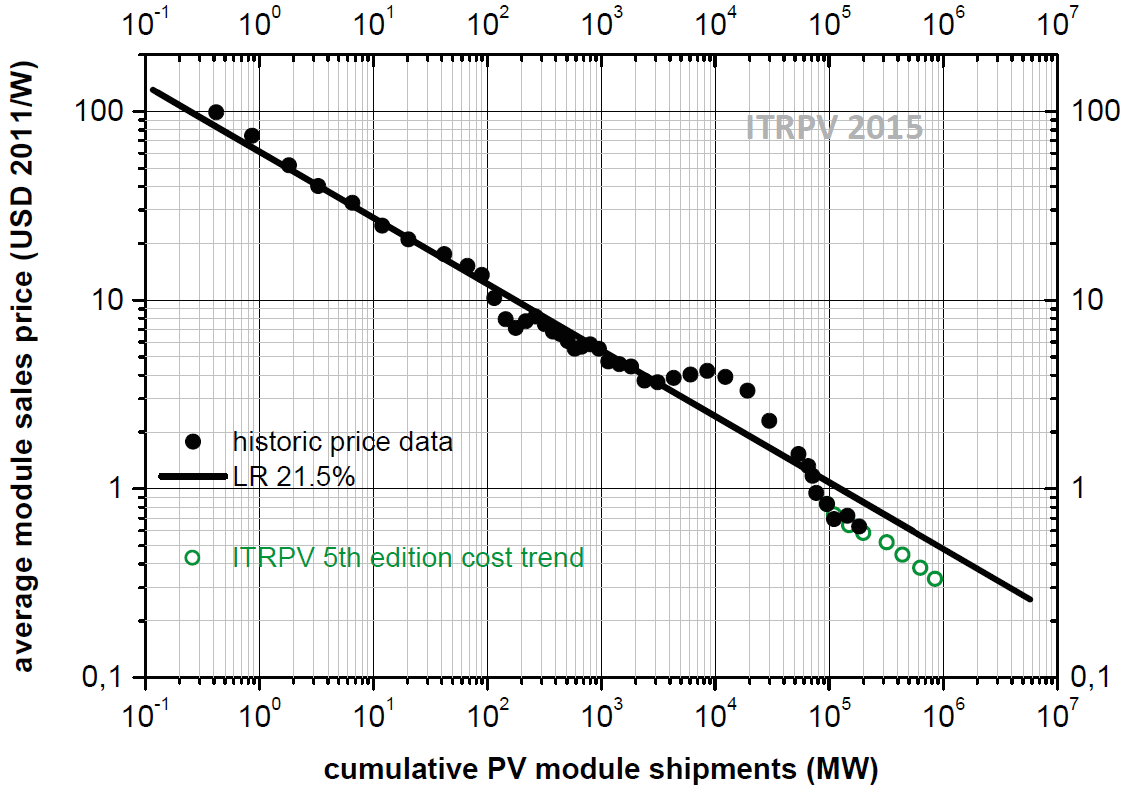 Updated learning curve of average module pricing as a function of cumulative shipments. [Image source: ITRPV]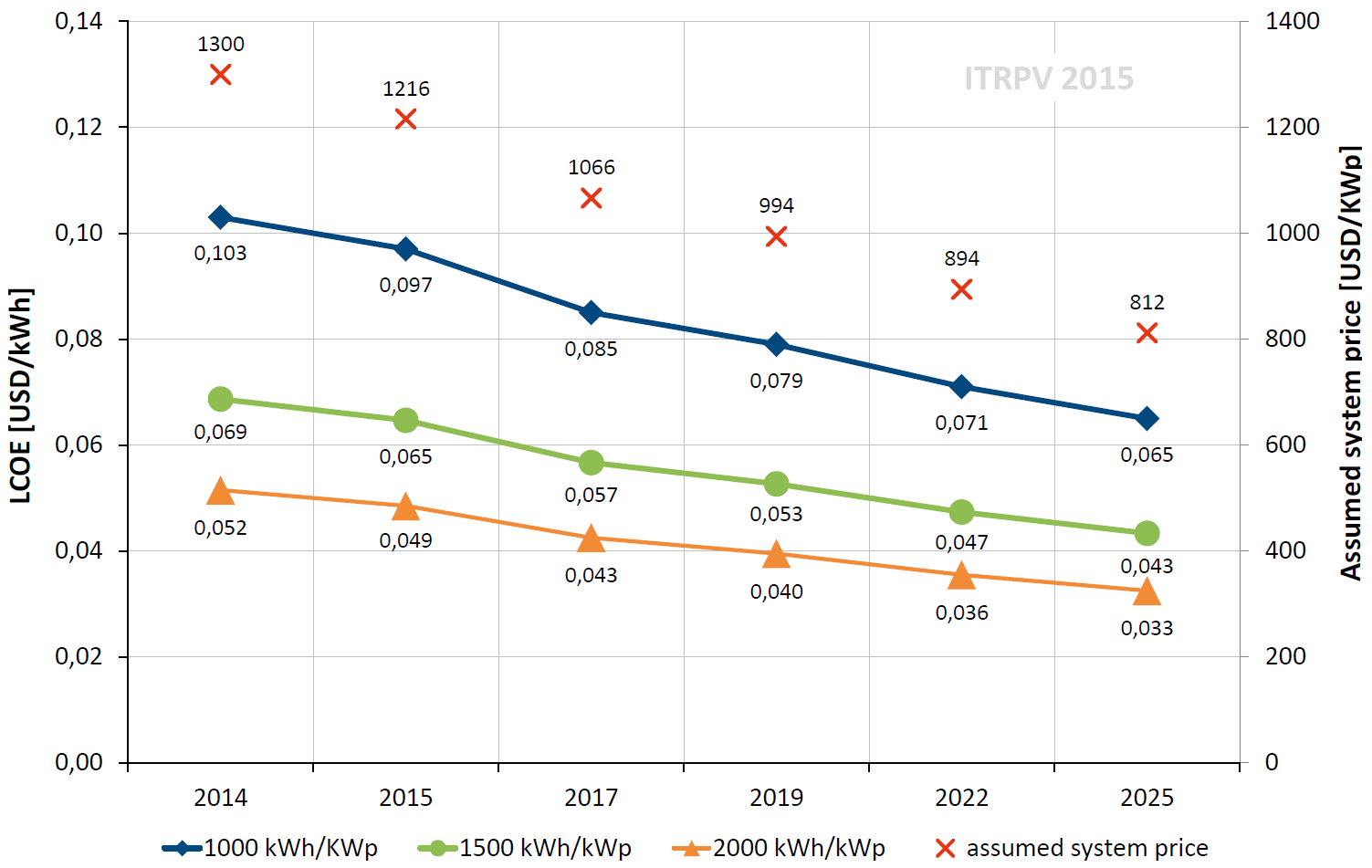 Calculated LCOE values for different solar insolation conditions (i.e. kWh/kWp) assuming 80% debt financing, 5% pa interest rate, 20 year loan, 2% pa inflation rate, 25 year usable system service life. [Image source: ITRPV]
The roadmap also provides the results of a simple logistic growth model which correlates IEA projections to 2050 with historical data from ITRPV, under the assumption that PV will account for approximately 16% of global electricity consumption – 4.7 terrawatts (TW) – by 2050.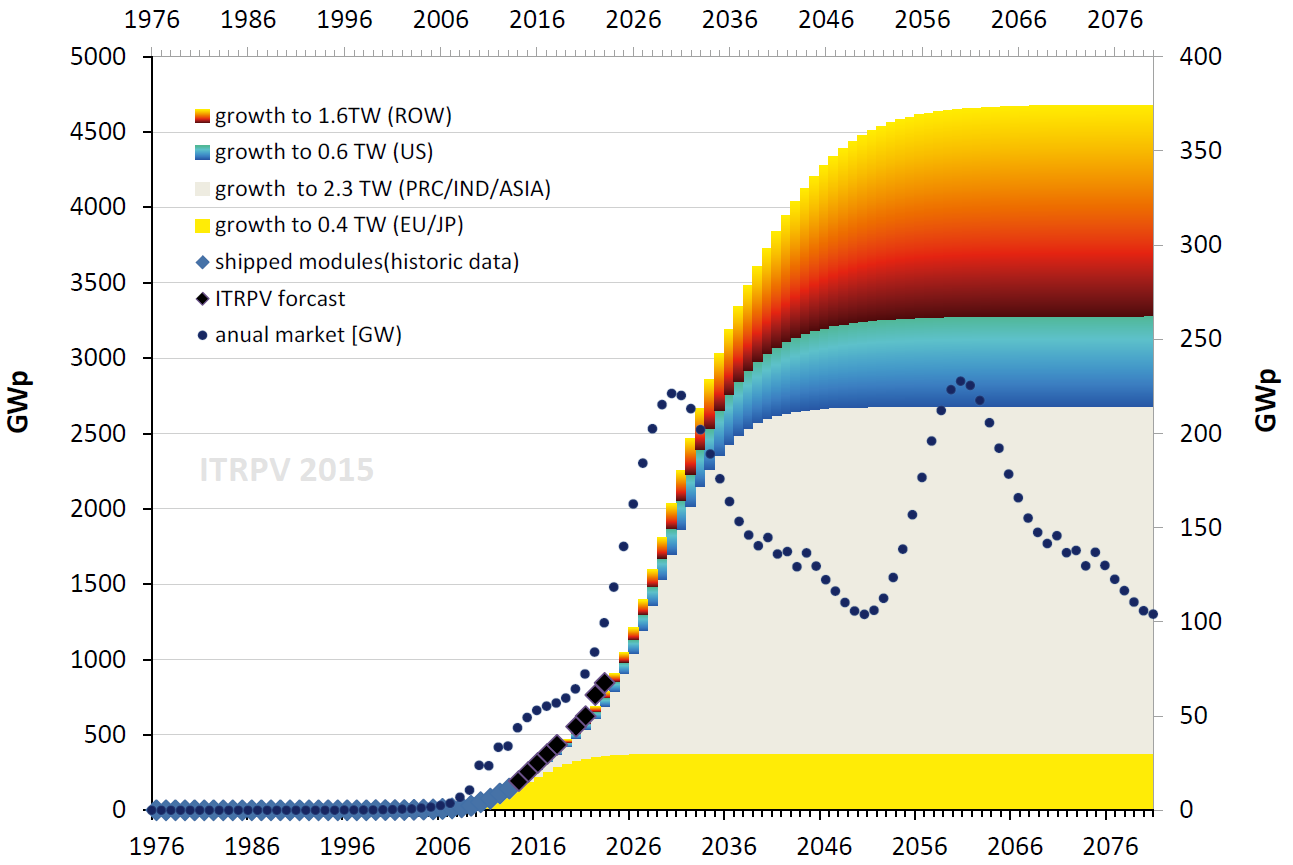 Cumulative installed module power calculated with a logistic growth approximation for various geographic regions – Europe-Japan, China-India-Asia, the US and the rest of the world (ROW). The figures are based on IEA prediction of 4.7 terrawatts (TW) of installed PV by 2050. [Image source: ITRPV]
The model suggests that:
1)      The global PV market will continue to grow towards a peak annual capacity of 220GW in 2030 (a figure 20% larger than global cumulative installed PV up to this point);
2)      Assuming global capacity plateaus at 4.7TW, there will be a 30‑year cycle around which the yearly demand will fluctuate, a figure based on the assumed service life of PV modules;
3)      There is massive opportunity for growth in China, India and Asia;
4)      The US is gaining steam and will outpace Europe and Japan combined by around 2040; and
5)      There is still room for expansion in Europe and Japan, however they will plateau first as two of the most mature markets.
Other highlights from the 2015 ITRPV report are also listed below:
Multiple busbar configurations will be a focus for manufacturers in coming years, with 'busbarless' technologies such as Meyer Burger's SmartWire technology likely to breakthrough within the next 5 years.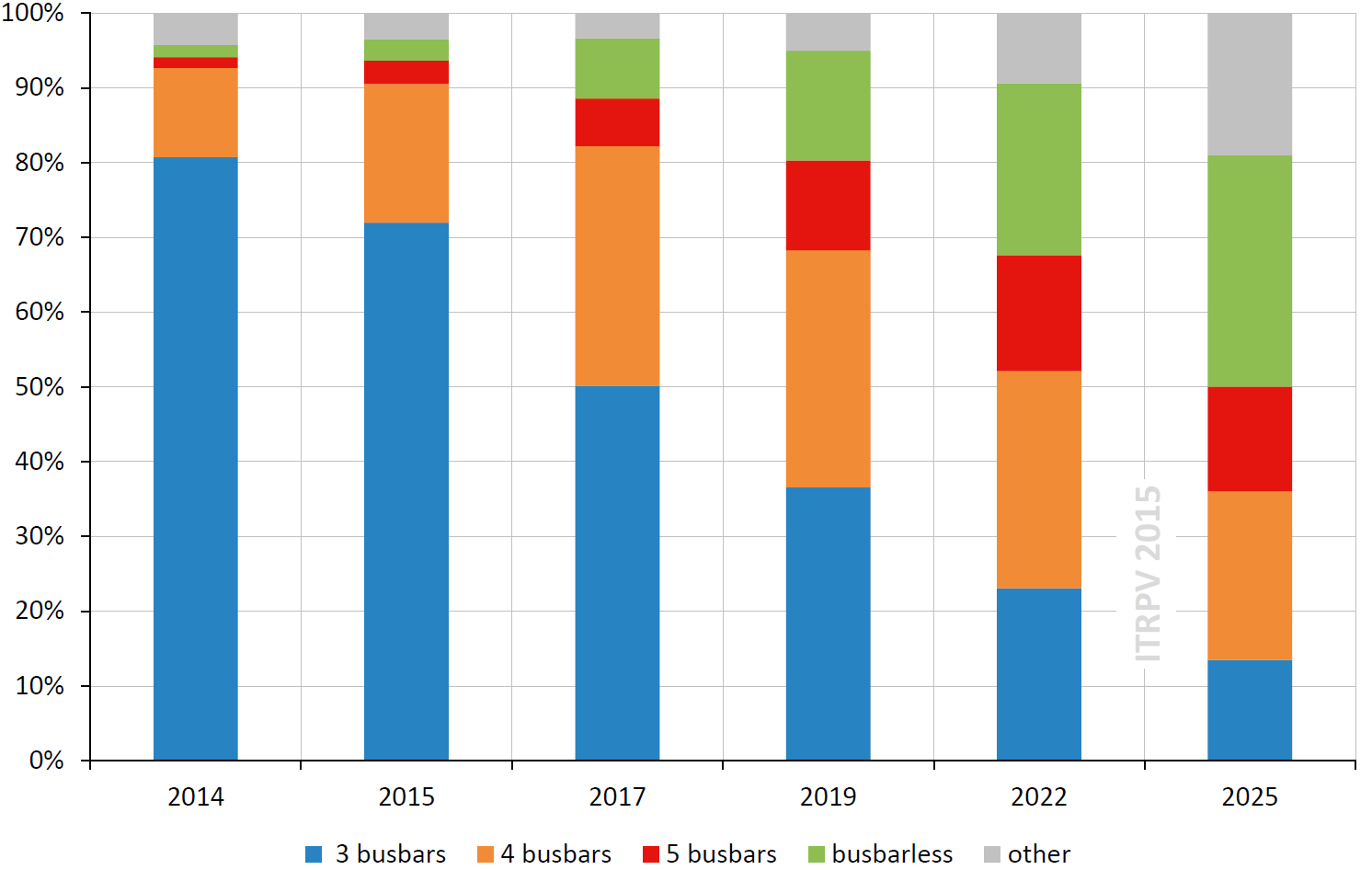 Projected market share of various busbar configurations. [Image source: ITRPV]
PERC cells are project to dominate the market towards 2025, outpacing standard screen printed cells (BSF) by around the 2020 mark. Manufacturers are also optimistic about the development of silicon-based tandem cells, expected to break into mass production by 2019.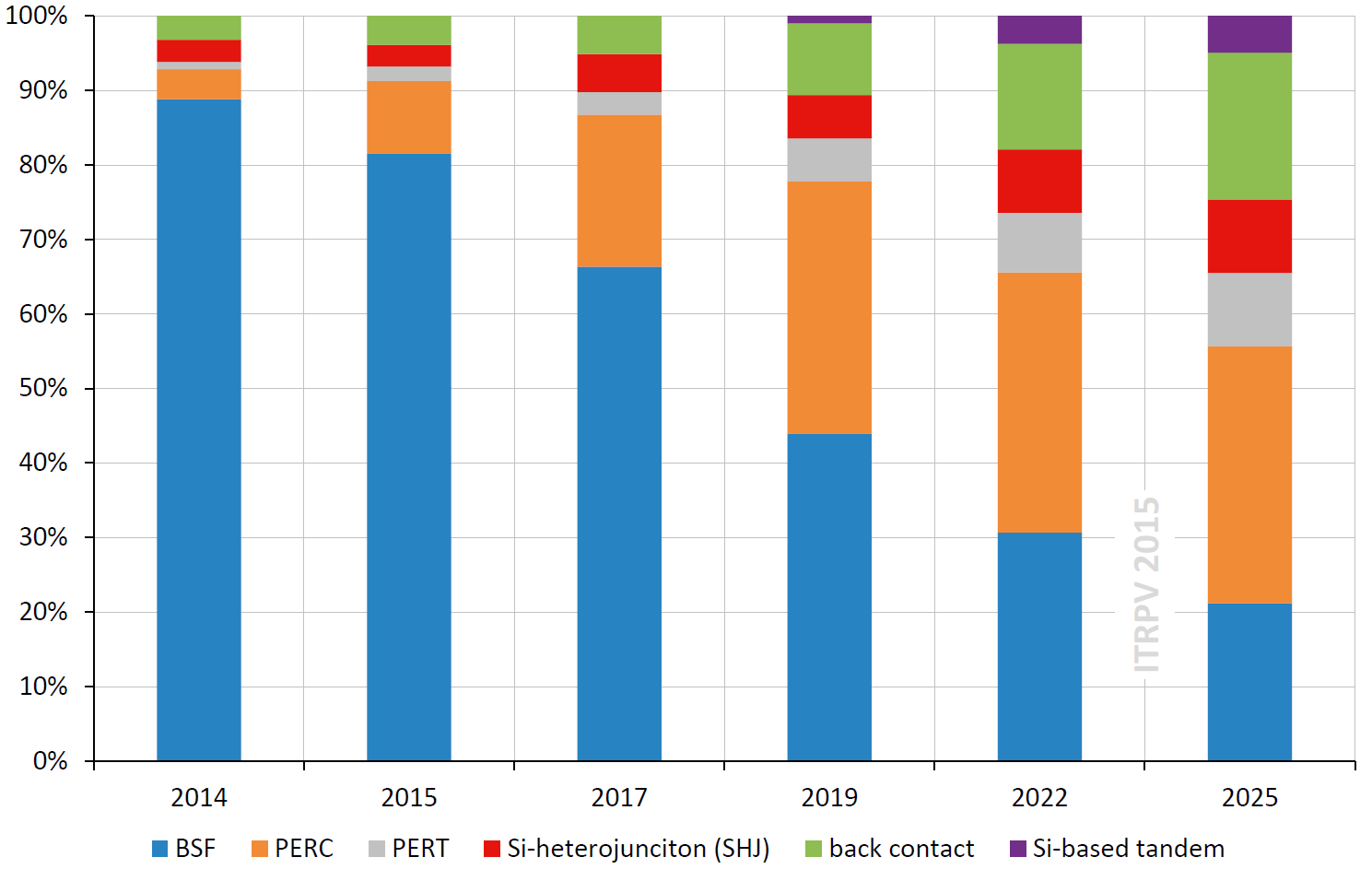 Projected market share of various cell architectures. [Image source: ITRPV]
Bifacial modules are expected to carve out close to 20% market share (~ 170GW) by 2025.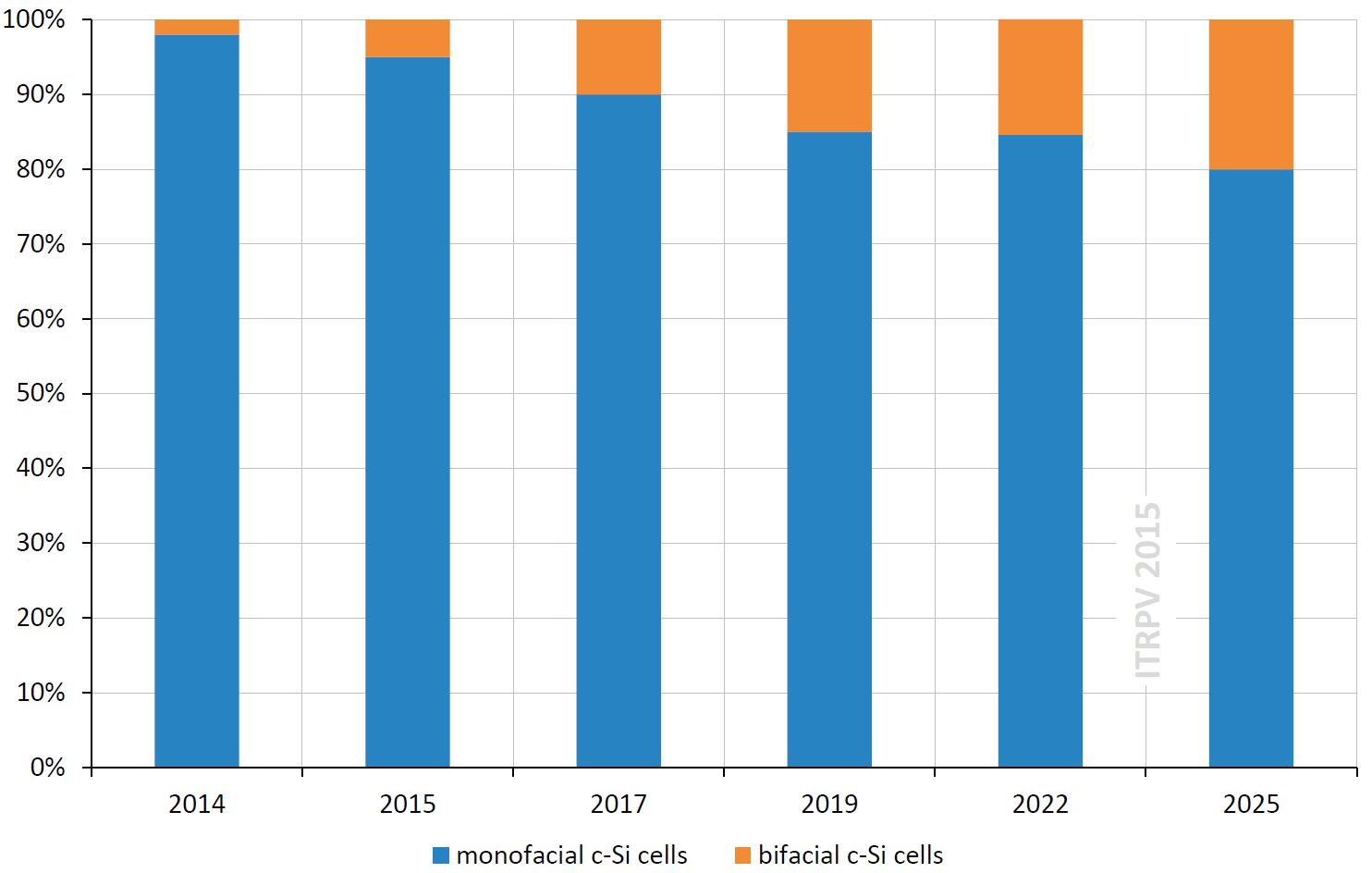 Projected market share of bifacial cell technology. [Image source: ITRPV]
Despite advancements in module-level power electronics, standard non-optimising junction box configurations will remain mostly unchanged over the next 10 years. The nearest rival will likely be integrated microinverters, accounting for 10% of global capacity (85GW) by 2025.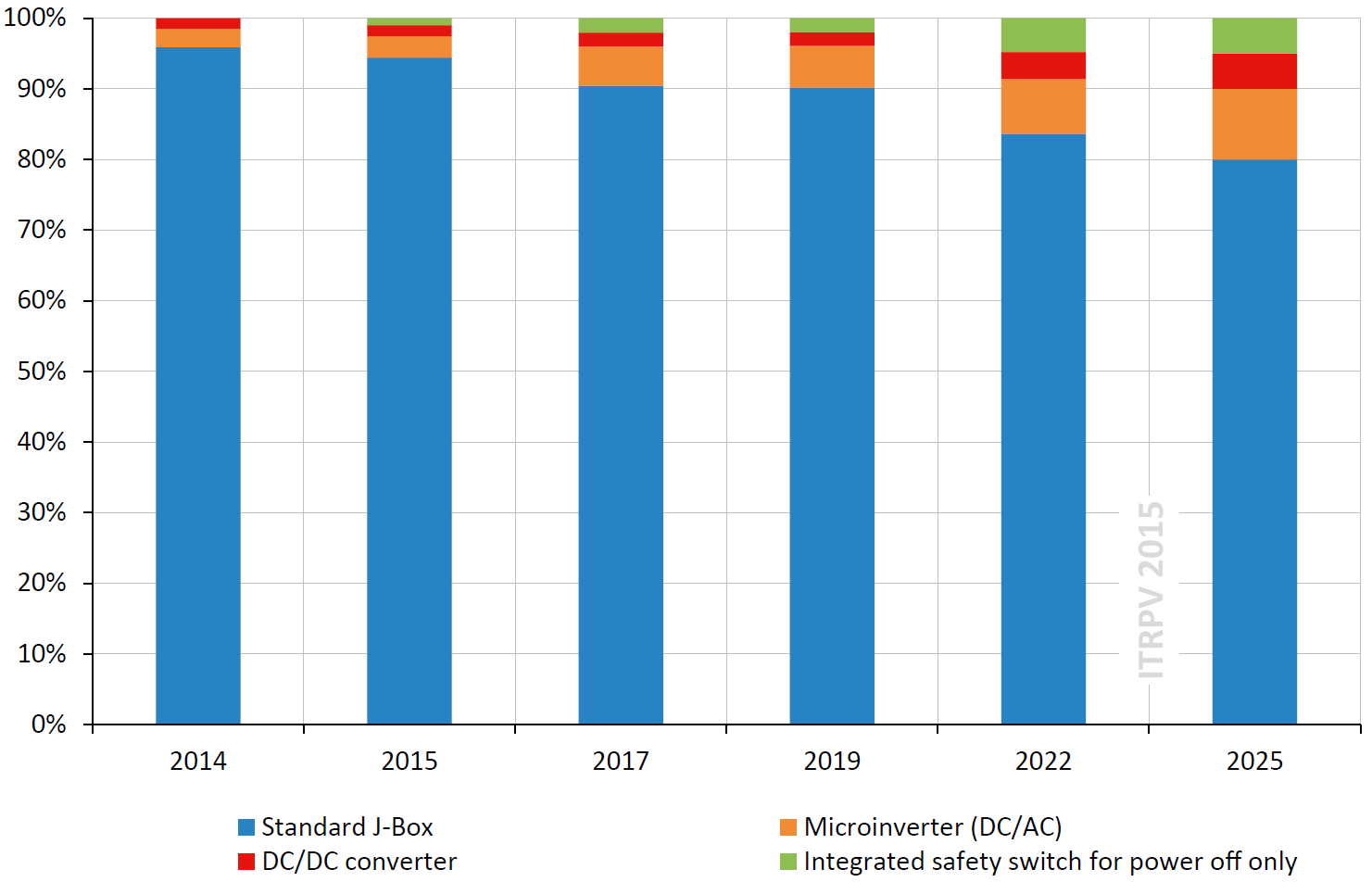 Projected market share of junction box configurations. [Image source: ITRPV]
Top Image Credit: ITRPV
© 2015 Solar Choice Pty Ltd

Latest posts by John Rodriguez
(see all)