Some 3,800MW of renewable energy capacity will need to be committed in Australia within the next 12 months if a shortfall in the renewable energy target is to be avoided, according to the latest research from Green Energy Markets.
But the report also noted that no new contracts had been written for new renewable capacity, despite the fact that much was needed by the end of 2016.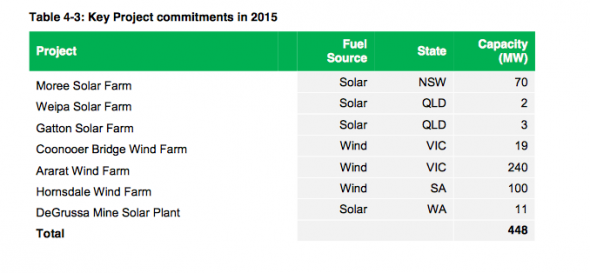 It noted that only those projects directly sponsored by the ACT government's auction program (where certificates are voluntary surrendered), or small solar projects (Degrussa, Uterne) co-funded by government agencies such as ARENA and the CEFC, were going ahead.
There have been no new commitments to other large-scale projects, despite the bipartisan agreement to cut the RET to 33,000GWh from 41,000GWh, and promises by environment minister Greg Hunt that there would be no change to the policy, and the retailers should end their "capital strike."
The price of renewable energy certificates  (LGCs) has now soared to a record high of $68.50/MWh, more than the "penalty price of $65/MWh ($93.50 after tax impact).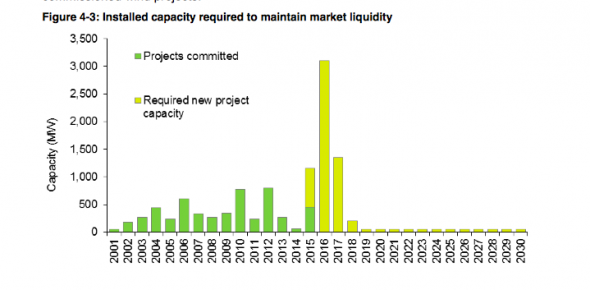 Green Energy Markets says that to maintain a "minimum" 5 million LGC surplus, some 3,800 MW of new projects need to be committed by the end of 2016. A total of 5,450 will be needed by 2020 to meet the new target.
If there are no new projects, then the surplus of LGC's drops from more than 18 million now to around 3.3 million in 2017.
"This level of surplus LGCs is not expected to provide sufficient liquidity to enable the efficient operation of the market," its says. "As a result new projects will need to be committed and start generating LGCs well before the end of 2017."
If there is a shortfall, obligated retailers will have to pay a penalty price of $93/MWh (after tax considerations). The recipient of this money is the federal government, although retailers will attempt to pass these costs to consumers.
© 2015 Solar Choice Pty Ltd

Latest posts by Giles Parkinson
(see all)