When it comes to emissions from internal combustion engines, cars and trucks are not the only offenders. Consider this department of environment statistic: "A two-stroke leaf blower used for one hour can produce as much hydrocarbons as 150 cars over the same time."
Like cars in Australia, the vast majority of power tools in the country are fuelled with petrol or gas. And like cars, hardly anyone is promoting low emission alternatives – lack of demand means some of them are still only available overseas – and there is absolutely no government incentive to switch from fossil fuelled lawn mowers, edge trimmers, whipper snippers or leaf blowers to the much lower emission electric models.
Sally Perini is working to change this. At her home in the foothills of the Blue Mountains, NSW, Perini has set up a not-for-profit business, Zeromow, which offers landscape gardeners the chance to trial her own battery powered garden tools – including a fully electric ride-on mower she had shipped from the US – for free. Her belief is that if people could only experience using electric power tools, they would be instantly converted, in the same way Perini herself was converted to electric cars – she currently owns four of them.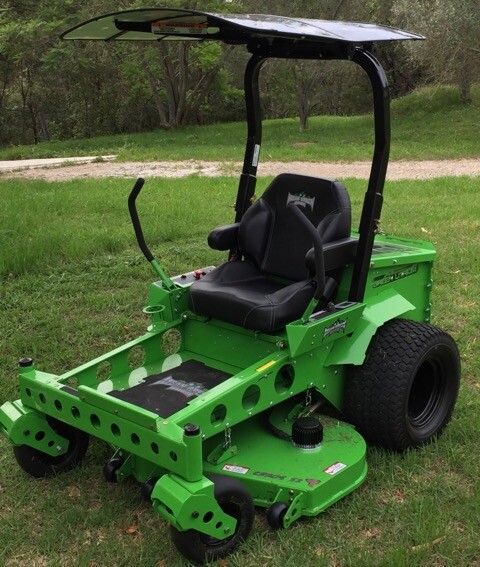 "I got the idea that I could be electric from vehicle to equipment," she said. "And then I decided if I really wanted to create awareness … and fast-track that transition, it would be better to get the equipment out to (other gardening businesses) so they could try it themselves.
"I am lending them out, for free to any landscape or mowing contractor, to let them try out the equipment for a few days on the job. We can also go and demonstrate to them."
If nothing else, she says, it starts the conversation: How much? What happens if the battery runs out mid-job? Can they do the same kind of work as fuel powered machines? How long do they take to recharge?
"If I can at least create awareness that (these) kind of machines exists … it's a start," she said.
"Zeromow is working towards creating awareness. Everything is electric and all powered by renewable energy, either the solar on my roof or green power."
Compare Solar & Battery Quotes
© 2017 Solar Choice Pty Ltd