A new report from Australia's principal electricity market rule-maker has sought to portray a utopian image where consumers believe they are getting value for money and face only one blight on the horizon – the Renewable Energy Target.
The Australian Energy Market Commission's Retail Energy Competition Review, issued on Tuesday, puts the level of customer satisfaction as gauged by Newgate Research at 74 per cent (up from 66 per cent) – with 61 per cent of customers of the belief they are getting value for money.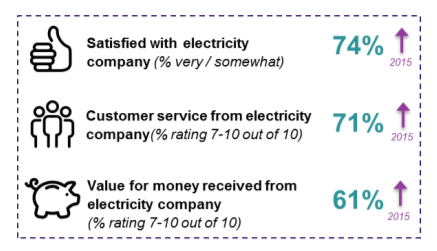 The findings are surprising, given the record high prices most customers are paying for their electricity, and in light of the high level of disconnection, and independent surveys showing trust in utilities at a low ebb.
And they appear to be contradicted by the report's own findings, elsewhere: that solar ownership is likely to nearly double in the next two years, from 20 per cent to 38 per cent, with 21 per cent of solar households looking to add battery storage.
The report goes on to blame the renewable energy target for much of the recent surge in wholesale electricity prices, saying the departure of large generators has caused less competition in hedging contracts and caused prices to rise, making no mention of the manipulation of wholesale prices by big generators.
The findings have been greeted with eye-rolling by consumer advocates, who point out that the ACCC assessment published on the same day describes a not-so utopian assessment of the electricity market.
"The AEMC's latest review of the retail market shows some much-needed in-depth consideration of the issues compared with their earlier reviews, and highlights key issues with the underlying components of the energy bill," says Craig Memery, an energy expert at the Public Interest Advocacy Centre.
"But it still reads like someone is scraping of the bottom of the red paint tin to produce a rosier image of the retail market than the rest of us are seeing."
Compare Solar & Battery Quotes
© 2017 Solar Choice Pty Ltd

Latest posts by Giles Parkinson
(see all)