AllGrid Energy made a big splash last year after it announced a home battery storage product – the WattGrid – which the company claimed would rival Tesla's much vaunted Powerwall. The company has gone from strength to strength since then, carving out a niche for itself in providing affordable electricity to Indigenous communities in remote parts of Australia. These communities more often than not rely on expensive – not to mention noisy and polluting – diesel energy generation. 
I had the opportunity to catch up with AllGrid Energy's Deborah Oberon at the Energy Storage Conference & Exhibition held in Sydney earlier this month and learn a bit more about what the company is accomplishing. In addition to staffing the AllGrid Energy booth at the Exhibition, Deborah also gave a presentation on her company's Oasis Strategy at the co-located Renewable Cities Forum.
Q: We heard a lot about AllGrid Energy and WattGrid when you announced the launch of the device last year. I understand you've been very busy – where have you seen the most interest and where have you installed the most systems?
We've been really focused on Indigenous communities – particularly remote ones. We've conducted an extensive feasibility study of several communities in regional NSW and our first installs in communities in remote Northern Territory have been completed. We are also in discussion with communities in South Australia and Western Australia. We see assisting communities to transition to renewable power sources as a core component of our work.
Q: We've also heard that you've come out with some interesting approaches to finance. Can you tell us a bit about them?
Much of our current work is being funded by IBA on lease-to-buy finance for the communities. Community ownership of the power sources is an important part of our process. There are some communities, particularly fringe of grid ones, which will be harder to fund through traditional funding methods, so we are also looking at processes like crowd-funding and establishing a high social impact/lower financial return fund for ethical investors.
Q: Can you tell us about some of your success stories?
As part of our Oasis Strategy, we provided two systems with 13.5kW of solar and about 20kWh of battery storage for the Aboriginal communities of Ngurrara and Kurnturlpara near the Barkly Tablelands in the Northern Territory, helping them reduce energy costs by 50%. You can read more about these projects on One Step Off the Grid and on the Fifth Estate.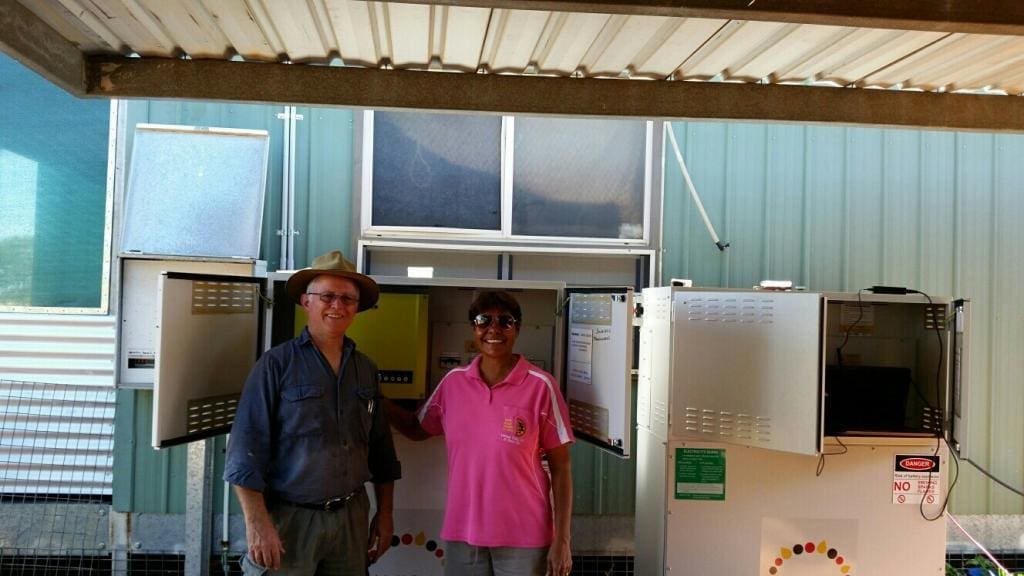 AllGrid Energy CTO Michael Berris with Barkly project resident Gina Smith Nampin.
Q: What are some of the challenges that you've run into in supplying to remote communities?
Distance and accessibility are obvious ones. It's also important to us that we engage effectively with the community so that we can deliver successful outcomes. We know we can't simply introduce technological solutions and then walk away. Community buy-in and engagement is essential so culturally appropriate methods of ensuring this are important. To this end we look to partner with not-for profit groups where appropriate. If they have people on the ground and links with communities it's a great way of ensuring we can get a successful outcome.
Q: What updates have there been to the technology itself in the last year?
Our first system the WattGrid 10 is a tubular gel battery system. It now comes in 7kWh and 12kWh size. We have recently released a lithium variant system and partnered with Redback Technologies to incorporate their state-of-the-art inverter which will provide our customers with a complete energy management system.
In practical application, what this is means is that we are able to bring electrical loads that are typically met after dark, such as hot water services and pool pumps, to be met during the most cost effective period of any day. For example, if the sun is shining brightly and there is surplus solar power our system, the system will send that power to those loads at a fraction of the cost of grid power. On the other hand if it's a rainy, overcast day then the system will charge those from the grid using the lowest tariff time frame available. It will even put whatever solar is available into the batteries to off-set normal peak time of use activities.
In two years' time if the system notices that the air conditioner is using 20% more power than it did previously under similar climatic conditions, it will be able to notify you so you can organize servicing or replacement of that item. Any of the increasing number of items in your house with Wi-Fi, Modbus or any other communication method (like 'the internet of things') will be able to be monitored to maintain best efficiency, thereby keeping your power bills down and enabling your batteries to function with greater efficiency.
We have gone several steps further also with the capacity to retro-fit controls to existing appliances. This ensures genuine sustainability because you won't need to replace perfectly serviceable items simply because they don't have the latest interface technologies.
What we offer is a highly intelligent flexible system using algorithms which learn what the household usage patterns are typically like, communicates with the BOM database, and prepares itself for maximum benefit to the customer under all climatic circumstances. This facilitates much more efficient use of the grid, of the batteries and other household equipment.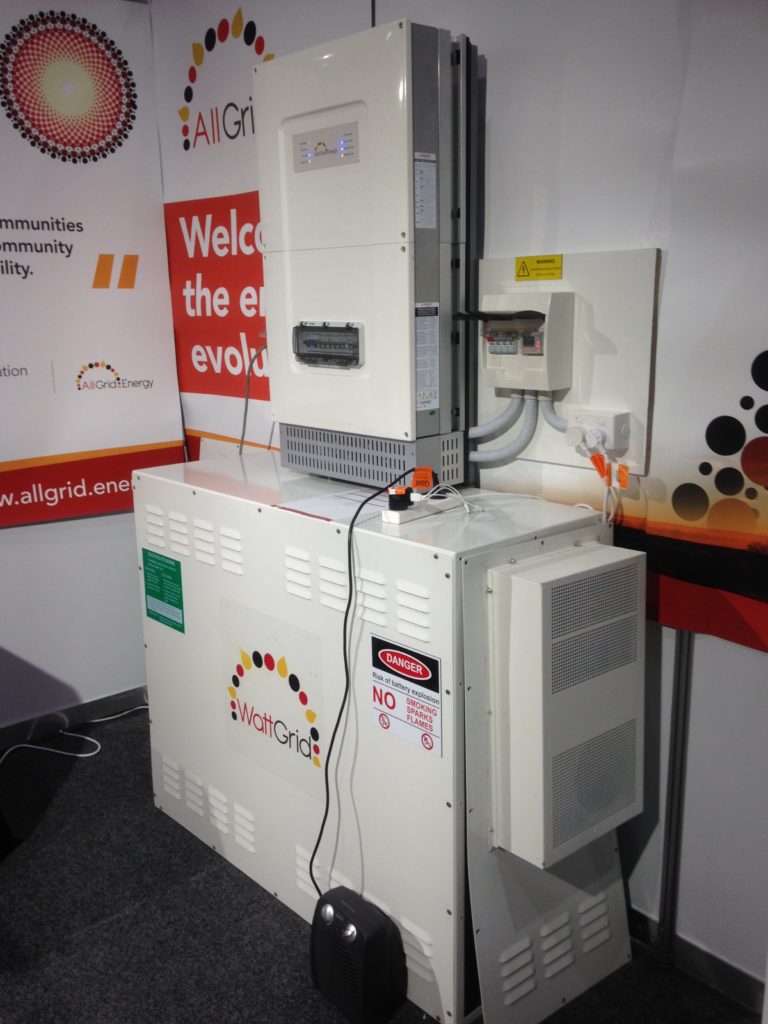 AllGrid Energy's WattGrid (Lead acid version).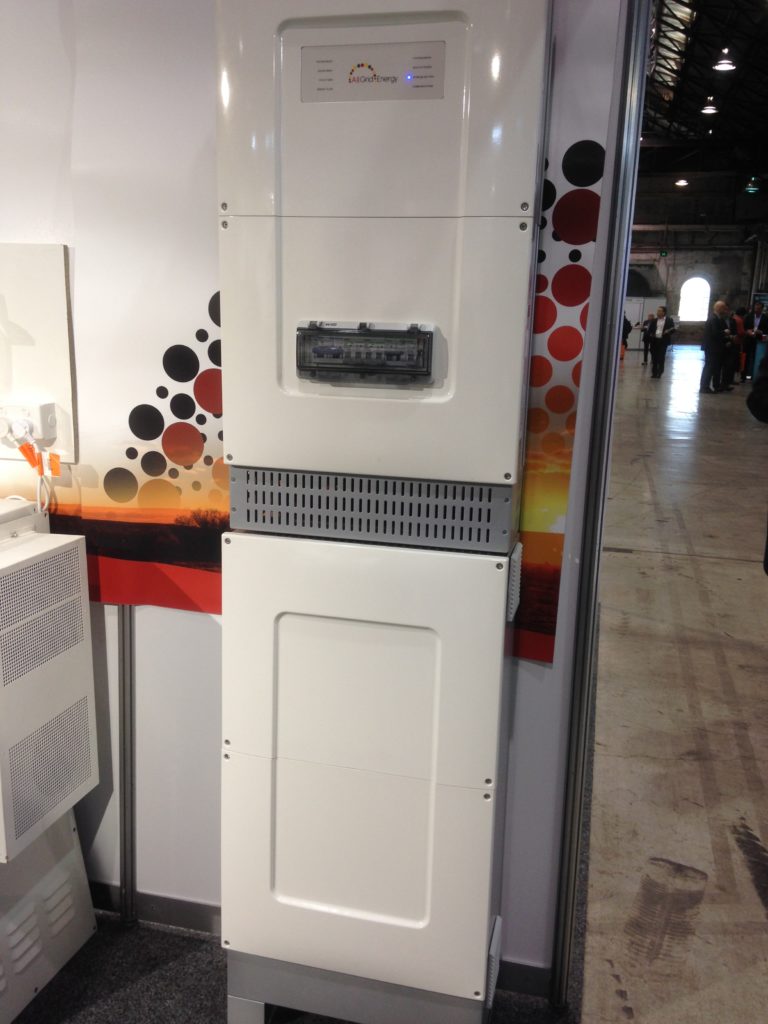 AllGrid Energy's WattGrid (Lithium-ion version).
Q: Much of your activity at the moment is in off-grid. What about the grid-connected sector? What's the value proposition of the WattGrid for grid-connected solar homes?
The value proposition varies enormously in every situation right across Australia. Our system has the ability to be programmed for 'time of use (TOU)' and therefore to save solar power into batteries to be used in expensive TOU periods. In many parts of Australia this means the system has the capacity to save up to 45c/kWh. The system's ability to customise itself to household usage patterns means that maximum value can be gained from the investment.
© 2016 Solar Choice Pty Ltd

Latest posts by Jeff Sykes
(see all)