Pennsylvania-based 'saltwater battery' manufacturer Aquion Energy has introduced a new product line for off-grid, autonomous operation with solar panels. The Aspen 24S comes in the same casing as the company's other S-Line units, but delivers 24V as opposed to 48V, lending to greater system design flexibility and making it a straightforward replacement option for lead-acid batteries.
According to a press release from the company, over 1.5MWh worth of capacity of the new battery has already been deployed:
More than 700 Aspen 24S batteries are already operating in a demanding field environment in Thailand. In the first quarter of 2016, Aquion completed an installation at Bangkok International Airport's Sky Lane bicycle track. The project successfully demonstrates the 24-volt battery under real-use autonomous conditions, connected to solar panels and energy-efficient LED lighting. The Aspen 24S was an especially good fit for this application's requirements because it delivers long cycle life, deep cycling capability, and robust performance in high ambient temperatures and partial state of charge cycling conditions.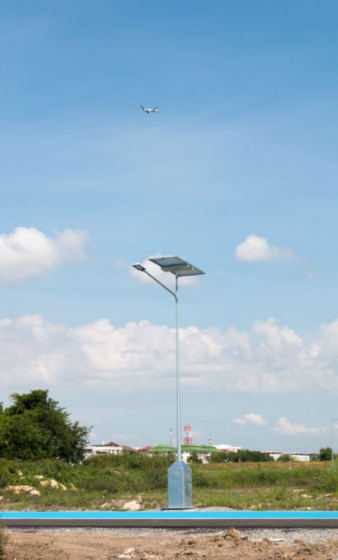 The LED-lit cycleway at Suvarnabhumi Airport in Bangkok, Thailand. The lights run on solar energy stored in Aquion AHI batteries. (Image via Aquion.)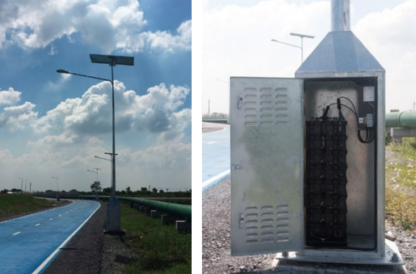 (Image via Aquion.)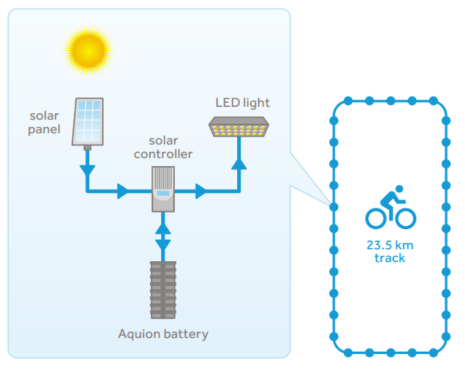 How the cycleway lighting system works. (Image via Aquion.)
Aquion's batteries have garnered substantial attention in Australia for their safety and their environmentally-friendly nature. Their characteristics make them a good choice for stand-alone power systems, but they may also be a good fit for grid-connected applications.
© 2016 Solar Choice Pty Ltd