The Australian Renewable Energy Agency has tipped 2018 to be a big year for large-scale energy storage, as the Agency focuses its efforts and remaining funds on the integration of large-scale solar and wind.
In an address to the Large Scale Solar and Storage conference in Sydney on Monday, ARENA investment director Dan Sturrock said that the agency had more than $700 million in its kitty at the end of 2017.
Much of this, he suggested, could be directed towards large-scale energy storage projects, including pumped hydro and grid-scale batteries, as ARENA works to bring down costs.
"In the same sort of way that we (used ARENA) funds to bring down the costs of large-scale solar PV, we hope to do the same for other technologies, including storage, in particular."
"We saw what was achieved in large-scale solar – that surprised many. Battery storage can do the same."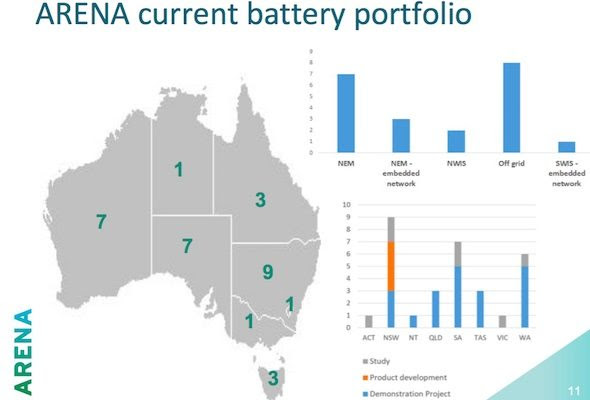 Sturrock said ARENA had so far tipped a total of $20 million into three large batteries projects, including $12m for a 30MW/8MWh lithium-ion battery in South Australia – part of the Energy Storage for Commercial Renewable Integration (ESCRI) project.
But he stressed that taking energy storage technologies down the cost curve could be "a bit more complex" than it was for big solar, particularly against the backdrop of continued policy uncertainty around the proposed National Energy Guarantee.
"It's a very complex technology, it's a very flexible technology, but… the business case (for energy storage) is also quite complex and very challenging to get it to stack up," Sturrock said.
"There are a number of financial opportunities and challenges, and ARENA working on all of these, he said," pointing to the NEG's reliability obligation as an example. "This changes things for PV, and raises opportunities for storage."