Australia's installed solar PV capacity is on track to double, jumping from its current total of 6GW to 12GW in 2020, 2.3GW of which is expected to come from large-scale solar projects, according to a new report.
The report – the Australian PV Institute (APVI) latest annual update for the International Energy Agency – says solar PV now accounts for 11 per cent of Australia's national electricity generation capacity and 3.3 per cent of total demand.
Interestingly, a lull in solar farm commissioning in 2016 meant that total PV installations in Australia fell for the year, coming in at 866MW, or 16 per cent below the capacity installed in the previous year.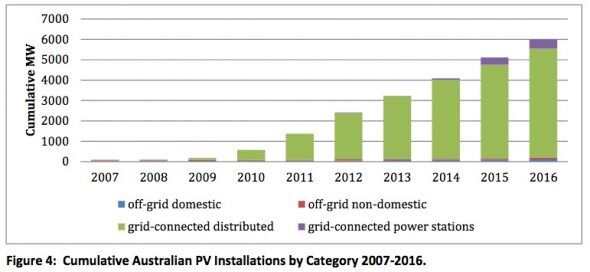 The rest of the market, however, grew substantially, taking the nation's total installed PV capacity to 5.8GW at the end of 2016, and past the 6GW threshold by Q1 2017.
A total of 123,000 new residential solar installations for the year took the total number to more than 1.6 million – a trend that is expected to continue throughout 2017 as power prices continue to rise and system prices fall.
According to the report, average unsupported small-scale solar systems prices were at $1.95/Wp, at the end of 2016, with STCs reducing this to $1.15/Wp.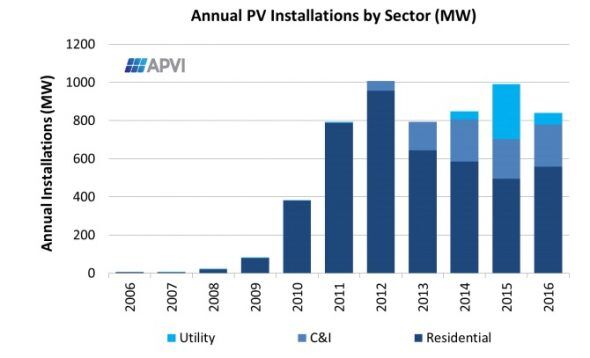 The report also points to "surging interest" in grid-connected systems with batteries, with installation volumes numbering around 6750 residential systems in 2016, with a combined total of 42MWh, plus a handful of projects worth a combined 10MWh.
The report also notes "significant growth" in commercial systems in the 30-100kW size range, complemented by a growing volume of industrial rooftop systems in the 101-5000kW range.