While support for Australia's shift to renewable energy can sometimes be split down party lines, new data has shown that support for one of the key enabling technologies, battery storage, enjoys strong bi-partisan support among the Australian public.
In particular, support is strong for the recently announced "world's biggest lithium-ion battery" project that the South Australian Labor government is undertaking with Tesla and Neoen, as a measure to increase network security and accommodate the state's large amount of grid-connected solar and wind power.
According to the graph below, published on Twitter by energy analyst Ketan Joshi, a huge 70 per cent of Liberal/National supporters think the battery is a good idea – even a very good idea.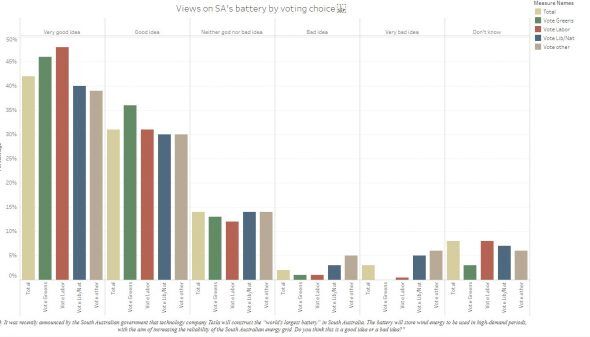 But that's not necessarily the impression they voters are getting from the federal Coalition, or, indeed, from conservative media commentators.
Federal Treasurer Scott Morrison has been mocking South Australia's Big Battery saying it is about as useful as the Big Banana in Coffs Harbour, or the Big Prawn in Ballina.
And energy minister Josh Frydenberg has cast aspersions on its usefulness by saying it could only store 1 per cent of the state's wind output. (Er, may be that's not what it is intended to do. Here's an explainer if you are still in doubt).
Perhaps public opinion will help change their minds.
Compare Solar & Battery Quotes

Latest posts by Giles Parkinson
(see all)