As rooftop solar continues to boom in Australia, a new report suggests household battery storage could soon follow suit, with uptake predicted to have tripled in 2017, and costs of the key technology expected to halve in less than seven years.
The report, published by the Climate Council on Thursday, puts estimates on home battery installations for 2017 at more than 20,000, a three-fold increase on 2016 numbers of 6,750 new installations.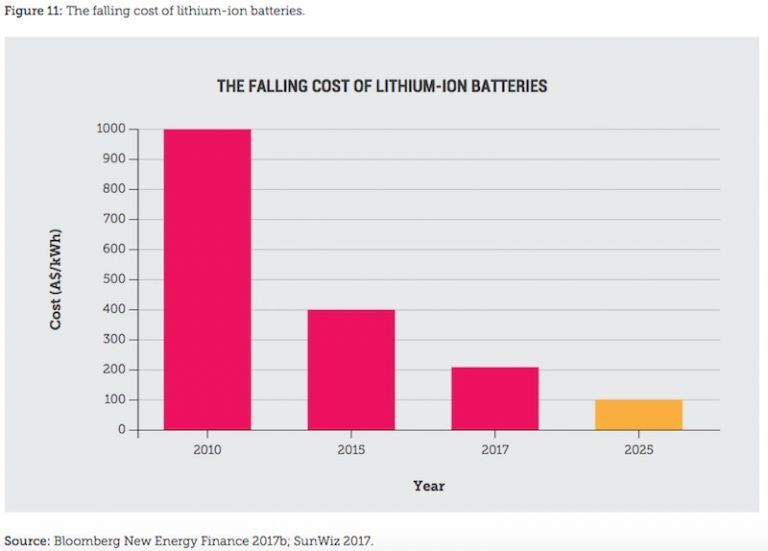 The 2017 installations will amount to a combined energy storage capacity of more than 170MWh, the report says – bigger than South Australia's Tesla-Neoen Big Battery battery.
The impressive increase in uptake, says the report, marks a "love affair" with clean energy and battery storage that is only just beginning for Australian households, as they discover how it can reduce their exposure to expensive grid supplied power even further, when added to their rooftop solar.
The report, titled Fully Charged: Renewables and storage powering Australia, notes that as the relationship between consumers and energy supply changes – a change that is being fast-tracked by soaring prices at the socket – the public's knowledge of energy storage is also increasing.
It cites its own September 2017 poll that found that 74 per cent of people surveyed across Australia expect household batteries to be commonplace in homes in the next decade.
The key motivation for this uptake of battery storage, according to more than half of respondents, was to further enable their rooftop solar to "reduce power bills."
Compare solar & battery quotes from companies in your area