The Federal Bureau of Resources and Energy Economics (BREE) has released its Australian Energy Technology Assessment (AETA) report (pdf). The report examines the current and future expected costs of 40 electricity generation technologies, including renewables, looking at each technology's 'levelised cost of energy' (LCOE) in order to accurately compare prices across technologies and over time.
The clear winners in the AETA report are wind power and solar photovoltaic (PV) technologies. "Estimated costs of solar photovoltaic technologies have declined dramatically in the past two to three years as a result of a rapid increase in global production of photovoltaic modules", says the report in the section overviewing the results of its investigation. The report also estimates that the price gap between fossil fuels and renewables will continue to close in the coming years, thanks in part to the introduction of the federal carbon tax, which will drive the price of fossil fuels up while renewable technology costs continue to fall.
RenewEconomy's Giles Parkinson points out that the price estimates for renewables technology are significantly lower than what they were in the Federal government's draft energy white paper, which was released in December 2011. The white paper virtually ignored rooftop solar PV as a generation source in Australia's future energy mix.
Clean Energy Council Deputy Chief Executive Kane Thornton welcomed the main conclusions of the report.
"While the recent public debate often oversimplifies Australia's energy choice as 'clean vs cheap', this report shows the argument is now desperately out of date. Renewables are rapidly becoming the lowest cost source of energy and, by building renewable energy now, we are able to create the diversity of sources we need to have low cost and reliable energy in the future," Thornton said in a media release.
He suggested that the report's conclusions should bolster the political will necessary to foster a transition towards renewable energy by continuing support for the Renewable Energy Target, whose role has recently been questioned by politicians and certain players in the electricity generation industry.
"Every government in the country has underestimated the ability of renewable energy to improve in efficiency and come down in price. This report goes some way towards addressing the balance. … The Renewable Energy Target is designed to deliver 20 per cent of Australia's electricity from renewable sources such as the sun, the wind, the waves, bioenergy and others by 2020 at the lowest cost to consumers. The scheme allows technologies to effectively compete against each other to drive down the cost of renewable power for everyone," he said.
The report highlights the unpredictable nature of the cost of solar PV, which only 4 years ago was nearly 4 times its current cost. The cost of solar PV is set to continue dropping into the future, however, as the report concludes.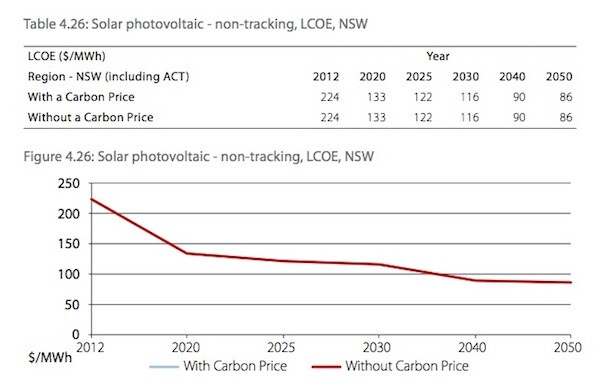 Top image via BREE.
© 2012 Solar Choice Pty Ltd

Latest posts by James Martin II
(see all)