The Australian arm of German solar giant Conergy has announced it will be building a 2MW solar PV plant in New Caledonia – a project that aims to send a special message to the Abbott government.
Conergy Australia says the 7,888 German-made PV panels that will make up the plant – enough to power 750 homes – will be arranged in a heart shape, to mirror the "Coeur de Voh," an area of nearby wild mangrove vegetation that has naturally taken the shape of a heart.
The "Coeur de Voh" gained worldwide recognition thanks to the aerial photography of environmental campaigner Yann Arthus-Bertrand in the best-selling book, "The World from Above."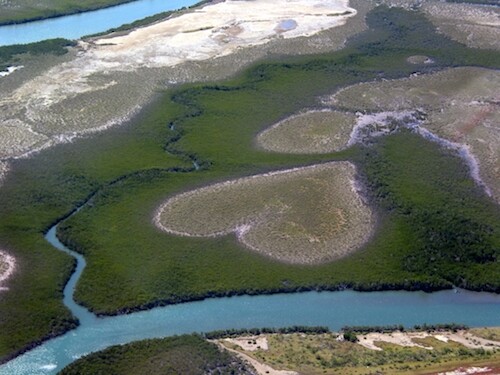 New Caledonia's Couer de Voh. Image via Wikipedia.
Conergy Australia managing director David McCallum is hoping his company's solar heart will at least capture the attention of the Australian government.
"In Australia and the Pacific Islands, solar is competitive to build and attractive to finance, since operating costs are low with no fuel dependency," said McCallum.
"With all of the uncertainty in the Australian market, the 'Heart of New Caledonia' project will be a giant heart-shaped message to the federal government that it's time to start loving solar."
Conergy Australia announced on Thursday it had decided to branch into the nearby Pacific Islands, due to continuing uncertainty in the Australian renewables industry, after the tabling of the Abbott government-mandated review of the Renewable Energy Target (RET).
New Caledonia is the latest member of the Pacific Islands community to embrace solar, with the 2MW plant to built in the community of Pouembout, on the formerly French territory's biggest island, Grand Terre.
Once completed, in the first quarter of next year, the heart-shaped solar plant will save an estimated 2,013,500 tonnes of carbon dioxide emissions over its projected 25-year lifetime, compared with fuel oil, gasoil and coal, which generate the majority of the islands' power today.
Top image via Conergy
© 2014 Solar Choice Pty Ltd

Latest posts by Giles Parkinson
(see all)