This coming Sunday 13th September is Sustainable House Day. Over 200 leading environmentally friendly homes will open their doors to the public this weekend and welcome thousands of visitors looking for green inspiration and innovative examples of great energy smart living.
Diamond Energy, an electricity retailer with a renewable and solar energy focus, is proudly supporting their customers who are participating in SHD. Diamond Energy is also offering Renewable Energy Reward prizes of up to $1,000 in value (see below for details).
SHD data suggests that energy usage counts for a major part of an ordinary home's environmental impact, with the average Australian home being responsible for 13 tonnes of greenhouse gas emissions annually.
This is why energy-efficient designs, devices and approaches feature heavily in SHD homes. The features adopted range from the plain-to-see (e.g. solar PV and solar hot water arrays), to the cutting edge (e.g. smart passive solar design and energy-efficient LED lighting), to the more subtle – like knowing where your retail electricity supply is sourced from.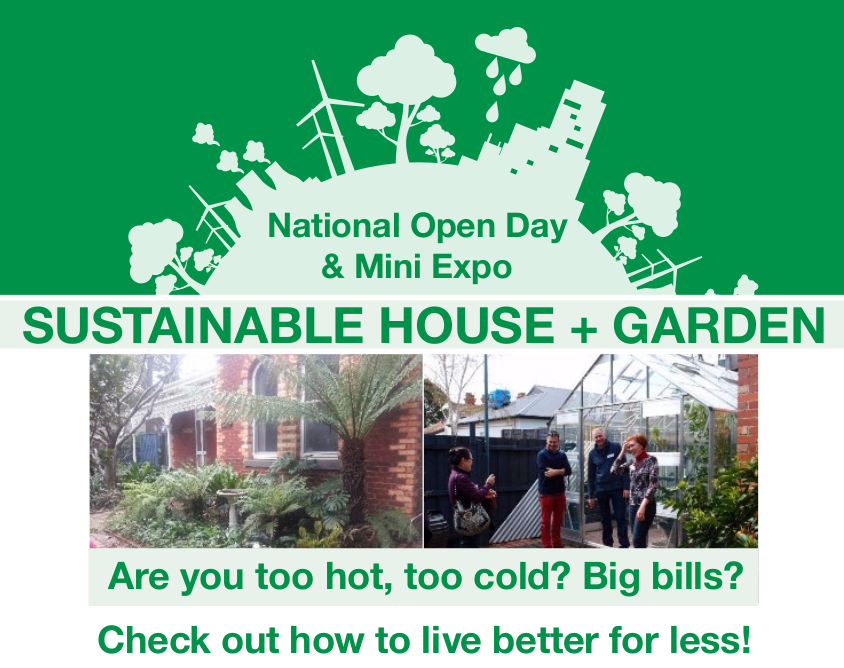 "Several of our customers are opening up their homes for SHD and wanted to work with us to help spread the SHD word," said Scott Black from Diamond Energy. "We thought it was a great idea and want to see as many people as possible participate this year." Diamond Energy customers who will have their doors open for SHD include:
Helen's House: 30 Clarence Street, Elsternwick, VIC, 3185 (More details – PDF)
Gilda and Brett's House: 3 Stella Place, Mount Gambier, SA 2590 (More details – PDF)
Kieth and Emma's House: 155 Cabbage Tree Lane, Mount Pleasant, NSW, 2519 (More details – PDF)
TS4 Living Lochiel Park House #2: 2 Mundy Mews Lochiel Park, Campbelltown, SA 5074 (More details – PDF)
Woy Woy Bay House: 4 Woy Woy Bay Road, Woy Woy Bay NSW, 2256
On the day, visitors will get great tips about how to get started on their own Sustainable House journeys as well as more innovative approaches to consider and thoughts regarding electricity retailer choices and impacts.
Helen's House in Elsternwick will also host Scott Black from Diamond Energy as well as Dayne Pratzky, AKA "The Frackman". Dayne is known as the accidental environmentalist and had a documentary movie made about his David-vs-Goliath struggle against CSG and international gas companies.

(For a full list of Sustainable House Day participating homes, visit the SHD website.)
In support of their customers who are opening their homes on SHD, Diamond Energy are offering a $1,000 Renewable Energy Reward prize to 1 out of every 50 customers who switch to Diamond before 30 Deptember 2015. There will also be a $500 Renewable Energy Reward given to a participant who requests a quote. These prizes will be paid in the form of an offset to the winner's electricity account (see here for further details – terms and conditions apply.)
© 2015 Solar Choice Pty Ltd