A new study from researchers from the Melbourne Energy Institute and RMIT in Victoria has highlighted the major role solar PV has played in reducing electricity demand in the last five years.
The study – titled Five Years of Declining Annual Consumption of Grid-Supplied Electricity in Eastern Australia: Causes and Consequences – reveals an overall decline (reflected in area 1 of the graph below), as a result of energy efficiency measures and behavioral change that apply during all hours of the day, as well as large-scale industrial closures, and constantly loaded embedded generation.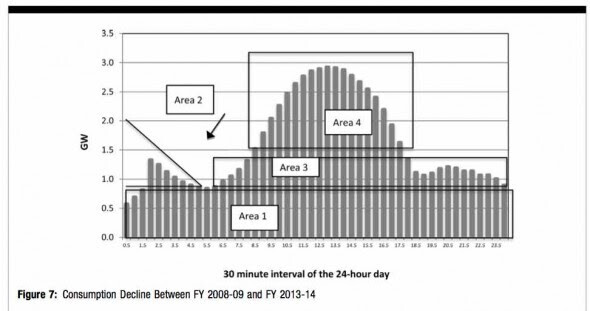 That accounts for around 1GW of reduction on average. In the early morning, from about 2am (area 2) there have been demand reductions of nearly 1.5GW due to the phasing-out and/or improved efficiency of resistive-electric ''off-peak water heaters''. Remember, these were introduced to keep the coal-fired generators busy during the night.
The biggest declines, however, come in area 4, where solar PV plays a major role. This has knocked up to 3GW off demand in the middle of the day.
Indeed, since the big push into rooftop solar PV by Australian households – there are now 1.44 million households with a total of 4.4 GW of rooftop solar – there have been no more "super peaks" in electricity demand.
The highest peaks all occurred between 2009 and 2011, and in the middle of the day or mid afternoon. These peaks are now covered by rooftop solar, which in most states has pushed the average peak into the evening. This is one of the unsung, and unrewarded, benefits of rooftop solar PV.
"One reason why no new records have been set since 2011 is because the deployment of rooftop solar PV has reduced maximum demand for grid-supplied electricity during midday hours," the authors note. "Solar PV has also shifted the time-of-day at which maximum demand might occur until later in the day."
In total, the authors noted that in the five years since 2009, annual electricity consumption in eastern Australia has declined by 7 per cent, even while the Australian economy grew by 13 per cent.
This is having major consequences for incumbents, trying to pass on excessively high prices (Australia's electricity costs are among the highest in the world), while new technologies such as solar PV, battery storage, and smart software offer cheaper alternatives.
© 2015 Solar Choice Pty Ltd

Latest posts by Giles Parkinson
(see all)