'GameChange' has developed a fast-rollout PV racking system, among the quickest of its kind in the industry.
The US-based company offers a 'pour-in-place' ballasted ground mounting system, especially suitable for large-scale solar farm installations. GameChange quotes an installation rate of just over 1,400 full size PV panels per week for a five-person team, which is approximately 400 kW of installed PV.
The simple components and ease of installation lead to reduced labour costs which contribute to projected cost reductions of just over 50% for panel mounting – US$0.32 per watt installed compared to an industry average of around US$0.65.
The aluminium and stainless steel racking components are aligned, linked together and individually levelled prior to casting the pour-in-place concrete ballasts. This configuration reduces labour by eliminating the need to move heavy, pre‑cast ballast components and allows for levelling to be done quickly and easily.
GameChange also offer quick‑connect rooftop mounts, ground-driven post mounts and PV carport systems.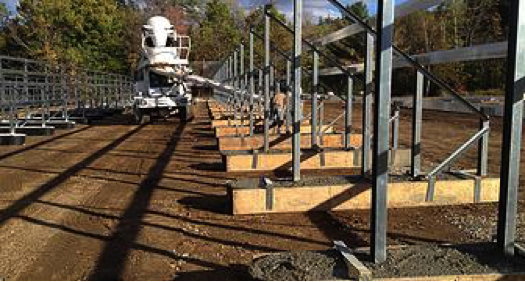 A truck pours concrete into removable ballast casts for pre‑aligned GameChange mounts. (Image Credit: GameChange Racking)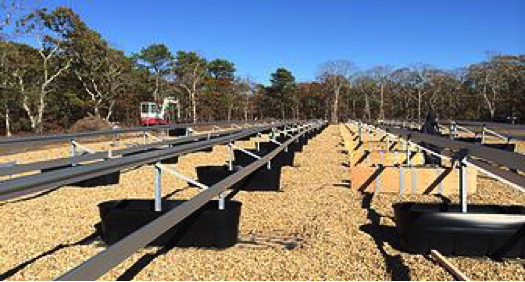 Aligned ballasts await a concrete truck to complete the racking installation. (Image Credit: GameChange Racking)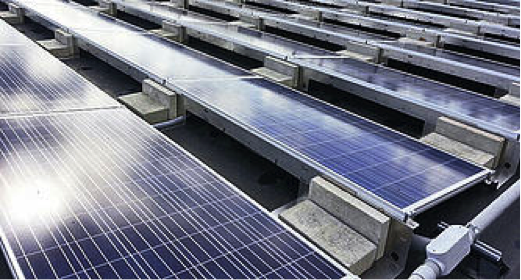 Aluminium sheets and concrete pavers – used as ballast – are visible between panels for a GameChange rooftop racking system. (Image Credit: GameChange Racking)
The racking systems have been extensively tested for wind and weight loading and come with a standard 25 year warranty backed by Baron Group Holdings.
Besides the obvious case where time is limited, GameChange's fast-rollout system adds value by enabling these cost savings whilst maintaining a high quality product, especially for large PV installs where a halving of racking costs adds up to a significant cost reduction.
The cost of PV cells has declined rapidly over the past decade, dropping to well below $1 per watt in many regions. Although it is a less popular topic in the PV world, reductions in the balance-of-system costs – such as mounting and auxiliary electrical equipment – can also have a dramatic effect on reducing overall systems costs. Moving forward, it is likely to be just as important as cell‑level improvements as our economies transition towards accommodating renewables.
Top Image Credit: GameChange Racking
© 2014 Solar Choice Pty Ltd

Latest posts by John Rodriguez
(see all)