The cost of large-scale solar has achieved a new low in the Middle East and north Africa region, after the latest round of solar auctions in Jordan confirmed the benchmark price at 6c-8c/kWh (US currency).
The second round auction – which is allocating contracts for four projects of 50MW – attracted bids 50 per cent cheaper than the first round, reflecting a dramatic improvement in the cost of solar.
The winning tender of 6.13c/kWh – from a Greece based developer – is within 10 per cent of the record-low tariff set in the auction of 200MW of capacity in Dubai earlier this year.
The Middle East Solar Association says that this suggests a tariff of 6-8c/kWh is the new benchmark for utility-scale solar projects in the Middle East.
"The results in Jordan will send a strong signal to other solar markets, notably Saudi Arabia, who are sitting on the sidelines of the region's solar market," the MESA said in a statement.
"Riyadh can now see that solar is extremely competitive compared to conventional sources of power generation. If they decide to follow in Amman's footsteps, we will see the Middle East solar market take off like never before."
Interestingly, it was a Saudi company ACWA that set the pace in the Dubai auction earlier this year, while another Saudi firm Abdul Latif Jamal provided finance for the third place getter Fotowatio in the Jordan auction and Saudi Ogier, a Saudi developer, placed second in the Joran round with a bid of 6.49c/kWh. All bids come without subsidies.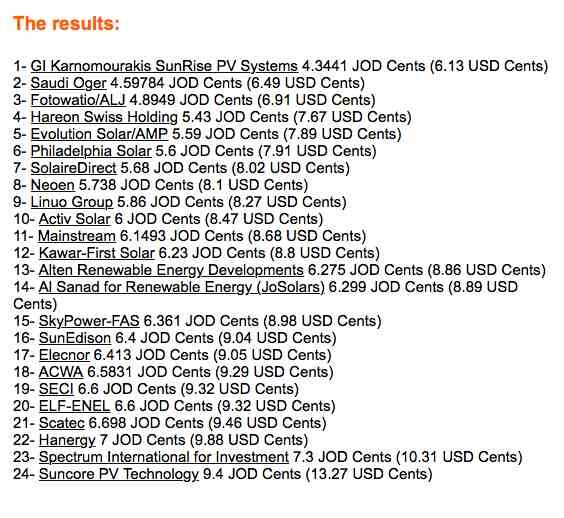 © 2015 Solar Choice Pty Ltd

Latest posts by Giles Parkinson
(see all)