The global renewable energy industry employed 7.7 million people, directly or indirectly, in 2014, according to a report released on Tuesday night by the International Renewable Energy Agency (IRENA) – an 18 per cent jump on 2013 figures.
According to the report, solar PV was the largest renewable energy employer for the year, with 2.5 million jobs worldwide, up from 2.3 million at last count; while concentrated solar power comes in last, with just 22 jobs last year.
Wind energy ranks third (see table below) – after liquid biofuels (1.8 million, up from 1.45 million) – with jobs in that sector passing the one million mark, up from 834,000 at last count; a 23 per cent increase, yoy.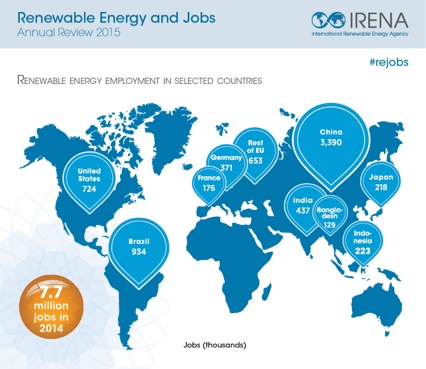 As IRENA notes, the 2014 7.7 million figure – and that's not counting large-scale hydro – is an 18 per cent increase on the 6.5 million jobs reported in 2013, which means another one million-plus more people were employed in solar, wind, and other renewable energy sectors in 2014.
And IRENA expects that number to more than double, to around 16 million jobs, by 2030.
"Renewable energy continues to assert itself as a major global employer, generating strong economic and social benefits worldwide," said IRENA Director-General Adnan Z. Amin.
"This increase is being driven, in part, by declining renewable energy technology costs, which creates more jobs in installation, operations and maintenance. We expect this upward trend to continue as the business case for renewable energy continues to strengthen."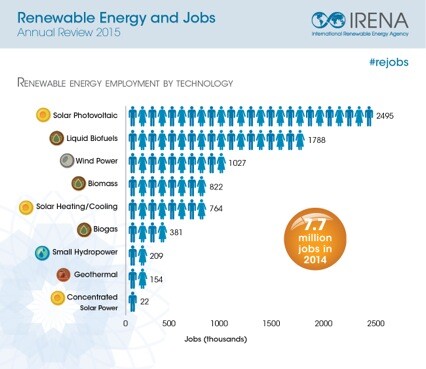 As for which countries benfitted most from this booming growth; China was the world's largest renewable energy employer, with 3.4 million jobs in solar PV, wind, solar heating and cooling, small and large hydropower, biomass and biogas.
Brazil was the leading employer in biofuels with 845,000 jobs, while its wind industry jobs increased 12 per cent to 35,800 from last count.
The US was also a notable winner in 2014, with its total solar employment surging 22 per cent from 142,700 to 173,800 and overall wind jobs increasing 43 per cent to 73,000.
The IRENA report also predicts that India, with its stated goal of installing 100GW of solar PV and 60GW of wind, will generate more than 1 million jobs if it follows through on this task.
Bangladesh also rates a mention in the report, for exemplifying "the tremendous potential for value creation in the expansion of electricity access in rural areas not served by power grids" (see table below), and for the jobs created in the process: 115,000 of them, not to mention the 50,000 jobs created in downstream businesses thanks to the availability of solar electricity in rural areas.
"If we continue to invest in renewable energy and its multiple economic, environmental and social benefits, employment in renewables will continue to climb," said Amin.
"IRENA's research estimates that doubling the share of renewable energy in the global energy mix by 2030, would result in more than 16 million jobs worldwide."
Whether Australia – which doesn't rate a mention in the 2014 report – will manage to tap into this growth on the Abbott government's watch remains to be seen.
"As one of the fasting growing industries (renewable energy) is living up to its potential as a worldwide jobs growth powerhouse," said Solar Citizens National Director Claire O'Rourke, in a statement responding to the release of the IRENA report.
"Yet our own government fails to see the benefits. Just last week the Abbott Government slashed our Renewable Energy Target (RET) which will hold back creation of jobs in their thousands."
"There is now no clear vision for the future of jobs in solar and renewable energy beyond 2020 – there is a real risk that without clear policy Australia will fall behind countries like China, India, Germany, Indonesia, Bangladesh and Colombia who have some of the highest employment rates in renewable energy."
"If the Abbott Government is serious about making job creation their top priority they need to look no further than solar and renewables."
O'Rourke said that a goal of 50 per cent renewables by 2030 would not only slash emissions and electricity costs, but would help create 20,000 jobs in the next 15 years.
"It's time the government listened to the community and put jobs in solar and renewables first." she said.
© 2015 Solar Choice Pty Ltd

Latest posts by Giles Parkinson
(see all)