Federal Labor's proposed 50 per cent renewable energy target for Australia by 2030 would require around $80 billion in investment, much of which would need to be spent anyway, a new report has found.
The report, the first in-depth analysis of the ALP's mooted RET, was released by global investment bank UBS on Monday, and challenges claims by the Coalition government that such a target would be economically reckless.
In various scenarios outlined in the report, UBS says that up to 20GW of wind energy would need to be built by 2030, and 26GW of solar (both rooftop and large-scale), along with around $10 billion in grid costs. Around $4.8 billion is expected to be spent on battery storage by networks, and nearly $3 billion by households.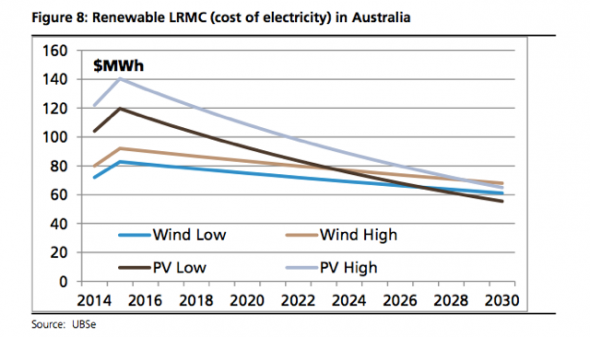 But it says this much of this will come from private investment, mostly from listed companies. And much of it needs to be factored in because it would be spent anyway to replace ageing coal and gas plants. And, UBS notes, all polls point to the popularity of renewable energy.
"A big part of the above cost will be incurred in one way or another as most of the thermal fleet in Australia is old and will need replacing."
The intervention of UBS comes at a critical time, with the the ousting of Prime Minister Tony Abbott, who was implacably opposed to renewable energy, wind in particular.
UBS says that the current target aims for around 7GW of wind and 6GW of solar, but it is not working anyway, because the policy certainty is not there.
Indeed, UBS suggests that a reverse auction process might be the best way to meet a Labor 50 per cent target – the same system adopted with great success in the ACT, and now by Germany and Texas and elsewhere (South Africa, UAE and Brazil also come to mind).
"Renewable energy suppliers and financiers want revenue certainty," UBS analyst David Leitch writes.
"Thermal suppliers want to be able to plan their future with confidence. We think capacity auctions meet both of these goals.
"A capacity auction could be run, say, four times per year for 1.25 TWh of new renewable supply per year over 15 years. That would lead to 60 TWh of new renewable supply in a predictable fashion."And, he notes: "The objective is to have the costs passed on to consumers, but to ensure that the renewable supply is actually built. That is in contrast to the present scheme, where costs are passed on but there is not necessarily any new capacity."
© 2015 Solar Choice Pty Ltd

Latest posts by Giles Parkinson
(see all)