The number of battery energy storage solution providers in Australia is growing, and as it does so does the range of battery technology options available to homes, businesses and industry. Flow batteries are among the newest and most exciting battery chemistries now available on the Australian market; Imergy's vanadium redox flow batteries are one of the small but expanding number of options currently available from this category.
Solar Choice recently caught up with Mario Cacchione of telecommunications company and Imergy distributor CoverTel to talk about their background – and why they chose to work with Imergy in delivering battery storage solutions.
We've come across a few telecommunications companies who have become involved in the energy storage space in Australia. What's the appeal?

Telcos are frequently required to ensure power supply for equipment in remote areas where there is no grid; some of these areas may also be quite inaccessible. In the most remote locations where power is hardest to supply (for example, Papua New Guinea and the Pacific Islands), this makes the coupling of primary power generation with energy storage particularly appealing.
Previously, telcos needed to deal with on-site diesel storage and the logistics of diesel supply to cover "non solar power" periods; with energy storage these challenges are either greatly reduced or removed completely. The benefits are threefold: better financial returns, improved reliability of power supply, and a higher level of safety.
This sort of experience gives those of us in the telecommunications field a good understanding of the applicability of various energy storage solutions. It also means that we're always keeping an eye out for more cost-effective solutions.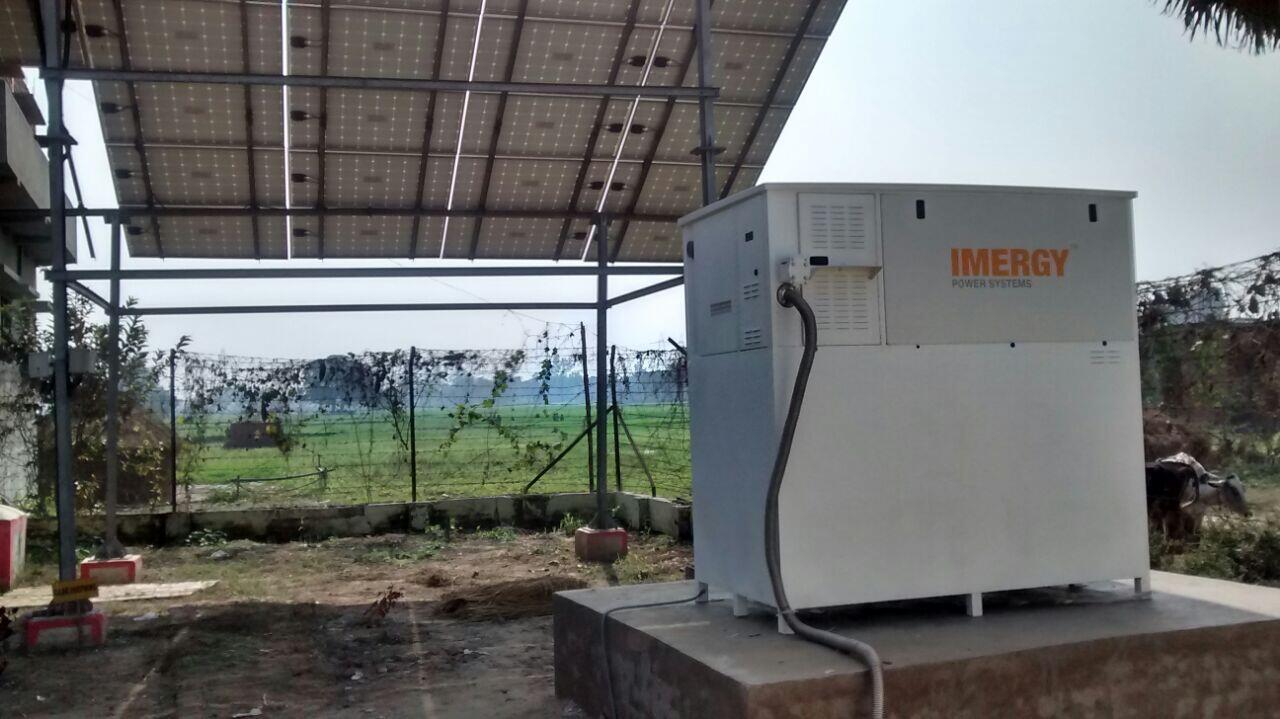 Imergy flow battery with solar panel array. (Image via Imergy.)
What is the overlap between telecommunications, residential solar PV and battery storage?
We see sustainable energy is an unstoppable train. So while the telecommunications market looks to combine solar and energy storage solutions to reduce reliance on diesel generator, we also know that the residential market is also very keen to take up sustainable energy options and apply them more efficiently and to reduce their reliance on grid power.
It's common knowledge that solar power can only be consumed directly for a limited time during the course of the day, so there's always a search for solutions that capture excess solar (and/or wind) supply for later use. Imergy's vanadium flow batteries do this job quite well.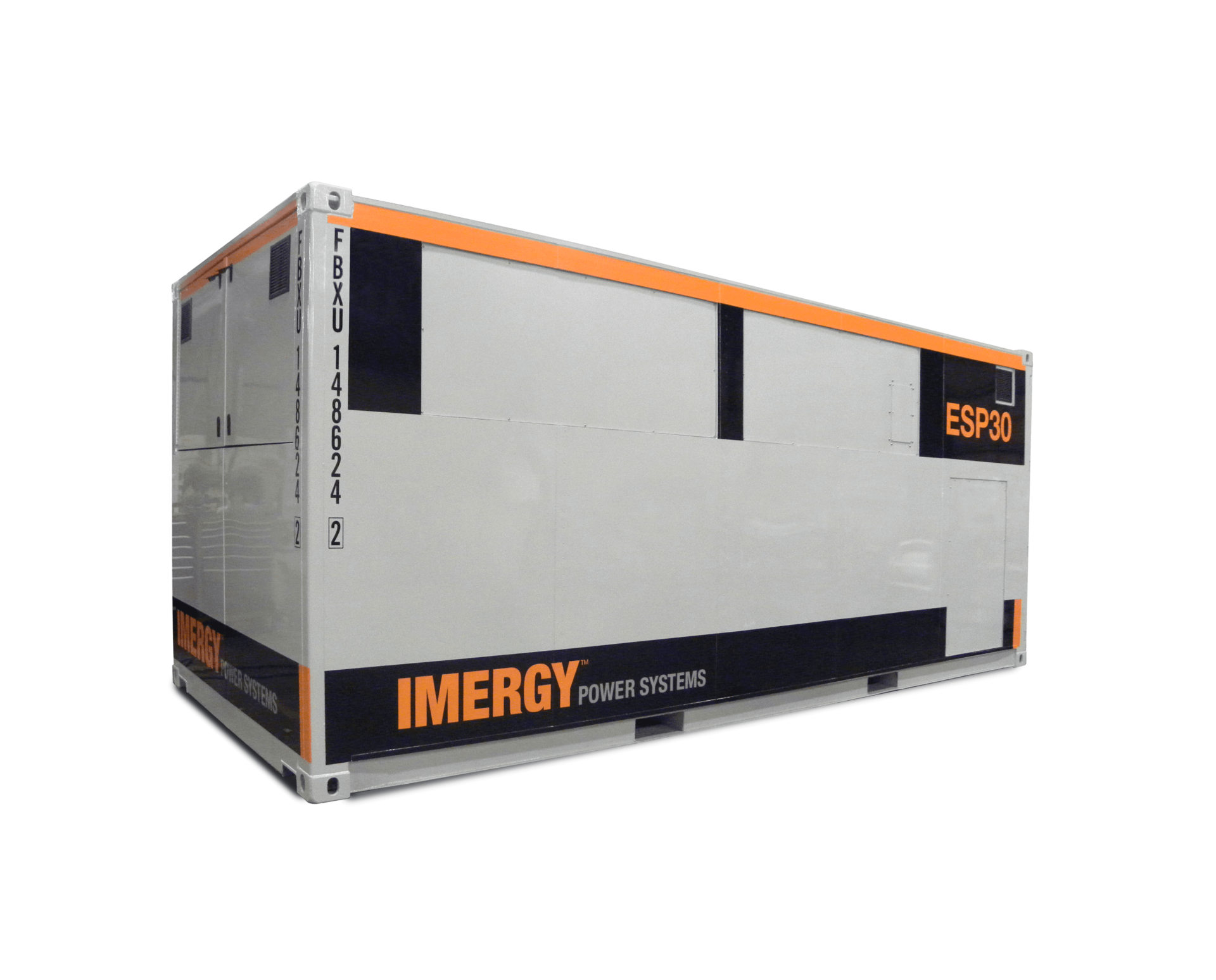 Imergy's medium-scale flow battery solution: ESP30. (Image via Imergy.)
What was CoverTel's specific motivation for getting involved in the energy storage space?
For CoverTel, our use of battery energy storage systems evolved organically through targeted reductions in reliance on diesel gensets, as well as lead acid and lithium-ion batteries. Underlying these trends is an increased interest in sustainable energy solutions. Flow battery technology, combined with primary production from solar and/or wind, is a great recipe for providing these solutions. However, the measure of each ingredient in the recipe will change on a case-by-case basis; they can be mixed and matched to accommodate any sized solution. In our experience, solar power is virtually always the cornerstone for these systems.
And while our recent focus has been on Imergy's flow batteries, Covertel also supports the use of hydrogen fuel cells for back-up power. The growth and development of hydrogen fuel cells globally suggests that it will also be a key element in the future of power generation. Together with solar primary power production and energy storage systems, fuel cells present another ingredient for effective and reliable power supply.
Why did CoverTel opt to start offering Imergy as a preferred solution?

CoverTel has taken very close interest in any flow battery technology – mainly due to environmental considerations and ongoing operational efficiency, as well as its advantages over diesel gensets, lead acid batteries and lithium-ion batteries.
Solar power (alongside wind power and to a lesser extent hydro power) plays a key role as one of the most important primary power producing agents. Imergy's vanadium redox flow batteries have flexible sizing, and are capable of capturing primary power in units ranging from 5kWh to 250kWh. They are also very close to plug-and-play.
It has been established that a combined solar PV/Imergy configuration can reduce the reliance on diesel gen sets from between 72% and 95%. This translates into fewer headaches managing diesel supply, as well as a reduction in genset maintenance costs. In addition, safety and OH&S come into their own when you compare diesel genset maintenance procedures to the simplicity and cleanliness of maintenance for PV/batteries.
We believe this technology is perfectly suited not only to the Australian telco market but also to the remote communities in Papua New Guinea and the Pacific Islands, where any form for low-maintenance power supply is in high demand.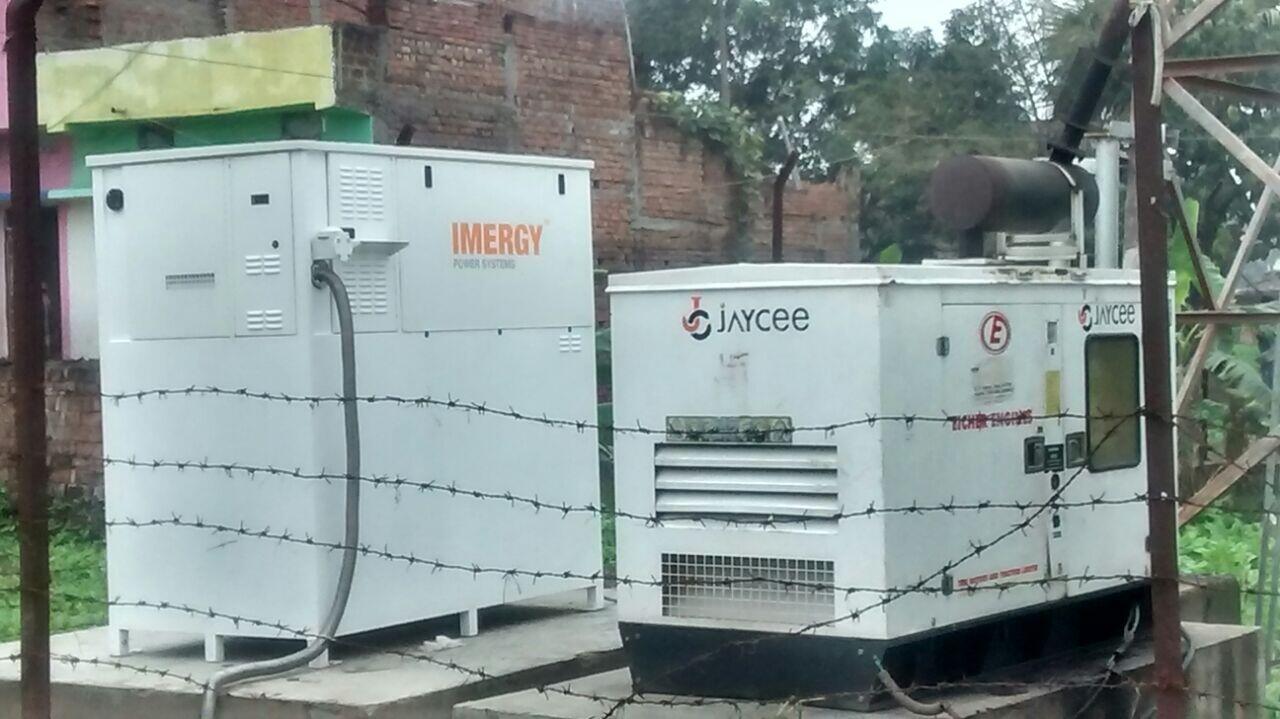 Imergy flow battery alongside diesel generator. (Image via Imergy.)
What sort of conditions do you need to provide power for? What's an example of one of the most difficult situations where CoverTel has had to ensure a steady electricity supply? What role does solar PV generally play in these situations?
The most difficult scenario to date is for a mobile base station situated in the highlands of Papua New Guinea, where diesel is banned by the land owners. Solar power generation combined with a 10kw wind turbine therefore became the cornerstone of the working solution. The primary power / battery configuration needed to be developed so that power is provided for critical communications as close as possible to 24 hours per day. In cases where this equipment is installed on hilltops, the terrain can be quite challenging so any footprint needs to be minimised.
On a side note, Imergy has recently teamed up with Sunedison to provide over a thousand units into the remote communities of India. These are to be installed progressively over the next 5 years, followed by another 250 units into communities in and around Kenya. Although the uptake in Australia will not be as large, the rural electrification projects in PNG and the Pacific Islands will be a prime target for the technology. In addition the presently heavy reliance on diesel gen sets experienced by mining companies around Australia means that they are looking closely towards this technology. The same goes for the Telcos.
What battery storage-related areas is CoverTel hoping to expand into in the future? Do you hope to be providing battery storage solutions to the residential and small commercial markets?
The Imergy units are already applicable to small commercial and residential markets. A suitable inverter will be required and although we do not supply inverters, we are able to make some suitable recommendations depending on the application dynamics.
Anything else you'd like to add?
We should also note that CoverTel is currently offering all Imergy units on a trial basis. At this stage, the most critical challenge for wider deployment of Imergy's flow batteries is the "technology hurdle". All Telcos are reluctant to take any risks whatsoever, so before any solution it adopted it is essential that real life applications are viewed and studied – hence the trial basis. From an end user's perspective, early adopters are rewarded by being offered commercial advantage in return for exposure of the units to the business community. Some early adopters have already applied solar power to their infrastructure, and all we need to do in these instances is connect our units to their existing systems. Others require solar PV with our units.
© 2015 Solar Choice Pty Ltd