Now available in Australia, PNG and the Pacific Island through CoverTel Telecommunications Group, Imergy's vanadium flow batteries are promising to raise the bar for energy storage system performance – while at the same time lowering operational costs dramatically over time.
California-based Imergy Power Systems has developed an exclusive process for producing high-performance flow batteries using recycled vanadium from mining slag, oil field sludge, fly ash and other forms of environmental waste. This achievement will have significant impacts on the growing energy storage industry.
First of all, by extracting vanadium from slag, Imergy will lower the cost of obtaining and processing vanadium (the principal active ingredient in many flow battery electrolytes) by 40% relative to competitors.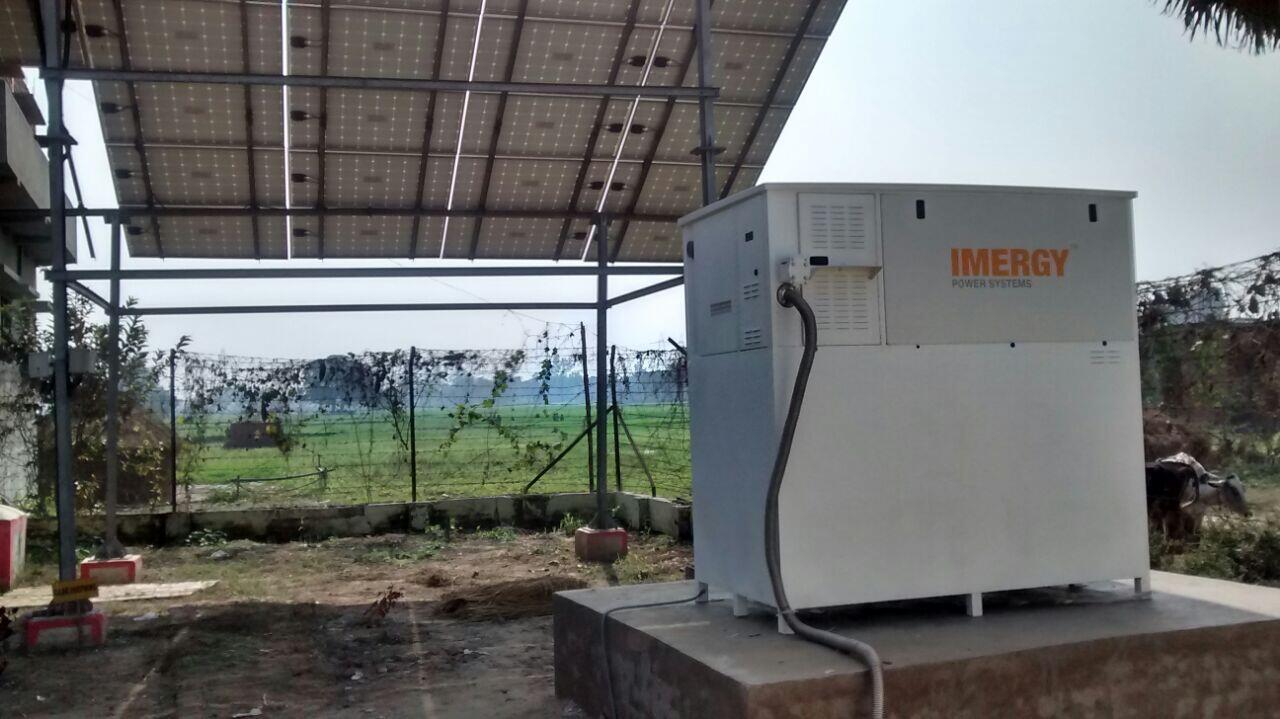 Imergy ESP5 flow battery system with solar array.
Imergy say that its flow batteries will also be capable of storing more than twice as much energy per kilogram as conventional vanadium flow batteries. This will give rooftop solar system owners, large-scale solar plant developers, microgrid owners and other customers more flexibility and capacity for managing outages, curbing peak power or reducing demand charges.
The technology is also advantageous from an environmental perspective: it takes an existing waste product with little or no market value and repurposes it into a device that has the power to reduce carbon emissions and other pollutants.

Imergy flow battery technology
Imergy's Energy Storage Platform (ESP) is based on vanadium redox flow battery technology, a cost-effective and reliable solution for energy storage requirements. Unlike many conventional batteries whose functional components (especially the electrolyte) are prone to degradation when the batteries are charged and discharged frequently or deeply, redox flow batteries can theoretically be cycled over and over again without limit – lending them to longer functional lives. This is thanks to the fact that the electrolytes in flow batteries do not break down over time in the same way that lead acid or even lithium-ion batteries do. (Read more about flow batteries here.)
There are many advantages to Imergy's flow battery, but one of the most important features is its ability to be discharged to 100% depth of discharge (DoD). "Most people make the mistake of comparing – for example – a 5kWh lead-acid battery bank against a 5kWh Vanadium system," says Covertel business manager Mario Cacchione.
"A 5kWh lead-acid battery cannot be fully discharged to 5kWh without killing it in a few hundred cycles. Furthermore, it cannot be run with rapid charging and it must be kept cool. The recharge time is also long, and life cycle is limited to about 1500 cycles even with a limit of 50% DoD. Imergy's vanadium redox flow battery, on the other hand, can be cycled to 100% DoD without impairing its ability to hold a charge.
"In practice a lead-acid battery bank needs to be twice as large as an equivalent Imergy system. That is, in order to get 5kWh of usable energy out of a lead-acid battery bank, its capacity must actually be 10kWh. This means that both costs and space requirements double. And that's not even counting the need for a battery management system – which is built into all of Imergy's devices."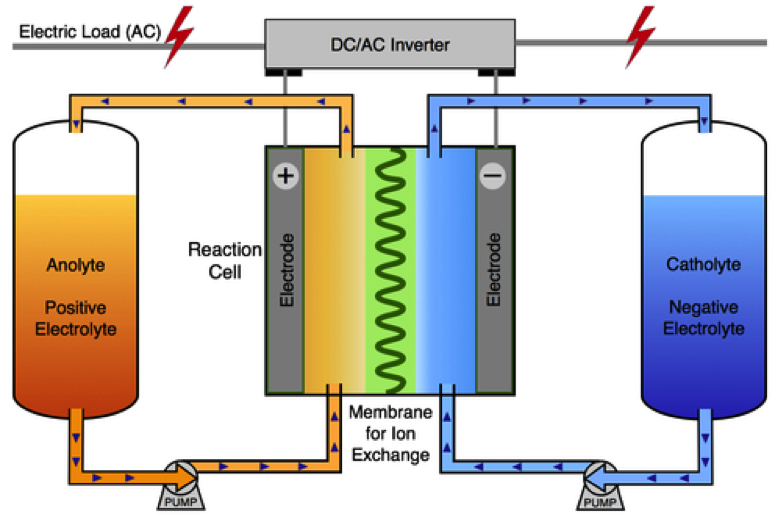 Schematic of a flow battery.  (Image Credit: University of British Columbia)
Advantages of the Imergy Power System
Key features:
High energy density vanadium electrolyte
Safe, non-flammable, non-combustible
High power density cell stack with fast-charging capability
Integrated state-of-the-art electronics for control and power conditioning
Remote control and monitoring option
Key benefits:
Theoretically unlimited cycle life
Reliable and consistent power availability enabled by fast charge and discharge capability
Customized, separate power and capacity specifications for different applications
Durable operations in rugged, remote outdoor environments up to 55°C ambient
Imergy product range
Imergy has a range of products which can be deployed in residential, commercial, industrial, utility and telecom applications.
ESP5 Series
Applications: Residential, telecom & off-grid
Output Power: 5kW
Capacity Range: 15-30kWh at 100% depth of discharge
Download a data sheet: Imergy ESP5 (PDF)
ESP30 Series
Applications: Commercial, industrial, off-grid
Output Power: 15 – 45kW
Capacity Range: 120 – 200kWh at 100% depth of discharge
Dimensions: 20 x 8 x 8.5 ft (20 foot shipping container)
Download a data sheet: Imergy ESP30 (PDF)
ESP250 Series
Applications: Utility, renewables integration, mining, off-grid
Output Power: 250 kW
Capacity Range: 1MWh at 100% depth of discharge
Dimensions: 40 ft. container upper / 45 ft. container lower
Download a data sheet: Imergy ESP350 (PDF)
Contact CoverTel
Mario Cacchione, Business Manager
Tel: +61 3 9381 7888
Mob: +61 400 940 511
Email: Mario@covertel.com.au
© 2015 Solar Choice Pty Ltd