The Australian Bureau of Meteorology has developed the One Minute Solar Data interface providing a range of solar statistics, including global, diffuse, direct and terrestrial irradiance and sunshine-seconds for 20 locations round Australia.
Olivia Coldrey, Investment Director at the Australian Solar Institute highlights the benefits to the solar energy sector.
"Together with work underway to improve solar energy forecasting techniques, project developers will be better able to understand the solar resource and the likely power plant output at prospective sites, helping them to optimise plant design and ultimately secure financing."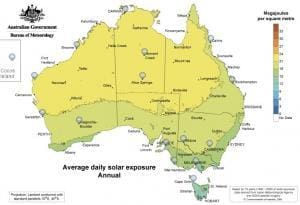 The $100,000 project, funded by the Australian Solar Institute, heralds an important development for solar power project developers and researchers who now have the means to achieve a more complete understanding of how solar PV output may vary over time.
The ASI will release the data one month at a time, one station at a time in order to manage download capacity.
Once the user has selected the relevant station they are able to access supporting information about the area including location, instrumentation, skyline, nearby vegetation, and other information which may be relevant to the observed solar parameters. They can also change background map to provide a quick display of various solar-related climate parameters; specifically, global solar exposure, sunshine hours, 9am cloud, and 3pm cloud.
Image via the Australian Bureau of Meteorology
© 2012 Solar Choice Pty Ltd

Latest posts by Rebecca Boyle
(see all)