The City of Nedlands in Western Australia will make it compulsory to install at least 1.5kW of rooftop solar or other on-site renewable energy generation capacity on all new-build, or extensively renovated homes.
The well-to-do western Perth suburb's council voted in favour of the new legislation, introduced by Nedlands Mayor Max Hipkins last Tuesday (PDF), with a majority of six votes to five.
The law says that "All new development and at Council's discretion, substantial additions to existing development, shall provide on-site power generation by solar, wind or other means.For new dwellings, a rooftop solar or other energy system of a minimum capacity of 1.5kW must be installed. For non-residential developments with a value exceeding $1 million, the size of compulsory additional on-site energy capacity will determined by Council "with due regard to roof area and height".
As the close result of the council vote suggests, there was some opposition to the new rule, with one Councillor describing it as an act of "socialism."
"If they (residents) want to go ahead and put a solar panel or something on their homes, that's their business,'' Nedlands Cr Ian Argyle reportedly said. "Why do they have to be taking instruction from the government?"
But Mayor Hipkins called on wealthy landowners in the riverside suburb to "show leadership" in embracing renewable energy, arguing that the cost was on par with what the average Nedlands homeowner would spend on a dining-room table.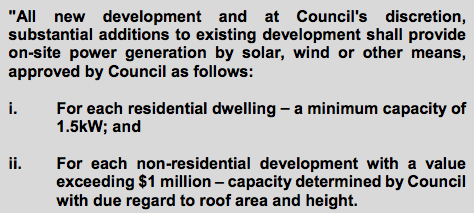 Top image: Seal of the City of Nedlands, via Nedslands.wa.gov.au
© 2014 Solar Choice Pty Ltd