New Scientist magazine has published an in-depth investigation into the battery revolution that is currently underway globally. The article, The battery revolution that will let us all be power brokers, covers the recent history of rechargeable batteries – and the implications it will have for how we live our daily lives.
A major focus of the article is the use of batteries – particularly lithium-based batteries – for applications like electric vehicles and home energy storage. "Better batteries would enable the democratisation of electricity," says Jeff Chamberlain of Argonne National Laboratory in Chicago, who is interviewed in the article along with a number of other battery experts.
The investigation points out that lithium-ion is the battery chemistry making the greatest advances in recent years – not only in terms of efficiency, but also cost and uptake. A number of the major players in the energy space are placing their bets on lithium-ion – Tesla's Powerwall, for example, will use Li-ion batteries produced in the company's yet-to-be-built Gigafactory.
Much as was the case with with the use of silicon in solar photovoltaic (PV) panels, improvements to manufacturing processes and falling material costs are expected to bring significant cost reductions and efficiency gains for lithium-ion batteries in the coming years. These are just some of the reasons that investment in lithium-ion battery technology -now about about $15 billion globally – has nearly caught up with that of lead acid batteries for the first time.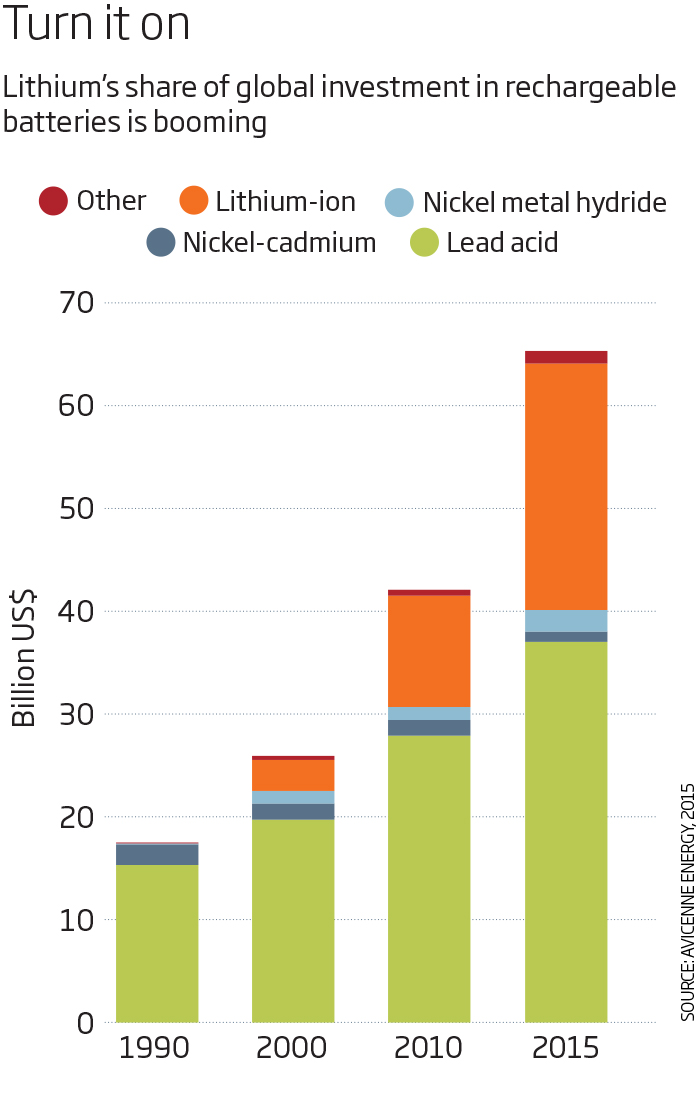 Image via New Scientist.
While other battery types have yet to make such such significant strides as lithium-ion batteries have, that doesn't mean they are not being developed or that could not possibly catch up in the next decade or so. The New Scientist article mentions flow batteries – still largely non-commercialised – as a potential future competitor with lithium-ion on cost, efficiency and longevity for home and grid energy storage applications.
Where will the battery revolution land the ordinary electricity-consuming household? Besides the obvious benefit of greater energy self-reliance, households that store energy could even end up selling it back into the grid during at premium rates during periods of high demand – effectively becoming players in the electricity market. In fact, this is already happening in California, parts of Europe and soon even here in Australia.
From New Scientist:
Chamberlain says it's hard to predict what changes the world will undergo if the battery revolution comes off – just as the consequences of the information revolution would have been hard to predict a decade or so ago. But he expects a similar empowerment as individuals gain the ability to produce, store and use electricity at will. "Batteries are a linchpin that would enable democratisation of electricity," he says.

And as a growing global population demands ever more energy, the next generation of batteries can't come soon enough. "We are now at the edge of a new energy revolution," says [Rachid] Yazami [of Nanyang Technological University in Singapore]. "We know fossil fuels are not a good solution. But without energy it's the end of the story."

…

[Philipp] Grünewald [of the University of Oxford] agrees. "If we don't want fossil fuel based electricity in 2050, then storage will be absolutely vital," he says. "That starts today."
© 2015 Solar Choice Pty Ltd

Latest posts by James Martin II
(see all)