Half of all future distributed solar installations could come in the form of "shared solar", according to a major new report released by the US National Renewable Energy Laboratory this week.
Shared solar models allow consumers who wouldn't otherwise be able to install solar to share the benefits of a single PV array, by jointly owning or leasing systems to offset electricity bills.
The NREL report estimates that at least 49 per cent of US households and 48 per cent of businesses are currently unable to host a PV system.
But if policy factors were addressed, it says, shared solar could lead to another 11GW of distributed solar over the next five years in the US, an investment of more than $16 billion.
"Options such as shared solar can enable rapid, widespread deployment by increasing access to renewables on readily available land and rooftop sites, lowering costs via economies of scale, and fostering innovation," the report says.
"Fundamentally, these models remove the need for spatial one-to-one mapping between distributed solar arrays and the energy consumers who receive their electricity benefits.
"The output of offsite solar arrays can be shared among residential and commercial energy consumers lacking sufficient unshaded roof space to site an array.
"Solar developers can construct arrays in optimal locations on marginal lands or unused rooftops and offer community members the opportunity to participate directly and benefit.
"Shared solar arrays sited on apartment buildings and shopping malls can provide stable electricity bills to landlords and tenants. Retailers and municipal buildings that host shared solar systems can provide electricity and other benefits to the community and generate goodwill.
"Utility-sponsored shared solar programs can reach large numbers of energy consumers."
There are other benefits too. In the event a shared solar customer moves, his or her solar share can be transferred separately from his or her residence to a new home within the same utility service territory or sold to another entity.
"Shared solar arrays allow for increased siting flexibility: strategic placement on sites such as commercial rooftops, brownfields, and municipal land can aid local economic development," the report says.
"With utility input, strategic deployment can also aid grid integration. For utilities, shared solar arrays can function as a more streamlined and visible electricity-generating source than many smaller systems."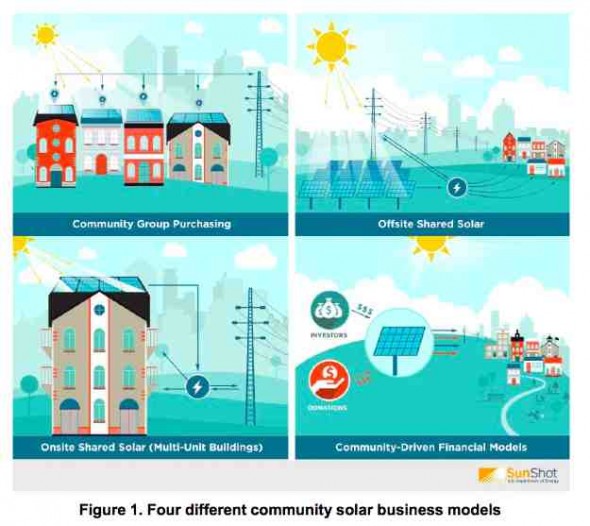 The concept of community ownership is not new. It has driven the huge investment in renewable energy in Denmark and Germany, in particular. In Australia, there are scattered examples such as the Hepburn Wind Farm, the Albany wind farm, and community owned solar projects such as this one in the Shoalhaven and the planned installation on the new Sydney exhibition centre.
But there is growing interest. Councils are becoming increasingly focused. In Byron Bay, they are testing the idea of "virtual net metering", where the output of solar electricity from one building is credited to the consumption of another. In other words, the output is shared. A community-owned energy retailer is also being put together.
© 2015 Solar Choice Pty Ltd

Latest posts by Giles Parkinson
(see all)