Not everyone can own a solar PV system – particularly if they don't have a roof to put one on. Canberra-based SolarShare is one of the first companies in Australia looking to change this by introducing a 'community solar' model that allows anyone to reap the financial benefits of going solar – even if they rent their home or apartment.
What is community solar?
Community solar projects allow ordinary people to 'go solar' by co-owning a share of a solar farm instead of putting panels on their roof. This makes community solar a great option for renters or those who live in a unit in a block of flats. While still new to Australia, the concept of community solar itself is not completely novel; in Denmark, for example, community ownership of wind turbines is fairly common, and in the US community solar farms are growing rapidly in number and popularity.
The basic idea is this: rather than having a solar system installed on their roof, someone purchases or subscribes to a share in a solar farm constructed nearby – either on a plot of land or someone else's roof. The developers of the solar farm might be the community itself, a local council or an outside company looking to make a profit.
There are a wide variety of approaches to community solar, and an equally wide variety of business models for making them work financially. In the US, government support programs (such as 'virtual net metering' laws) are the driving force behind the financial viability of many community solar farms. Virtual net metering allows any solar farm shareholder to receive solar credits directly on their electricity bill – usually at the same rate that they pay for retail electricity from the grid.

A mockup of SolarShare's flagship project in the Majura Valley, ACT. (Image via SolarShare.)
How can community solar be viable in Australia? FiTs & PPAs
Here in Australia, however, programs like virtual net metering do not exist (yet). This makes it slightly more difficult for developers to make community solar economically attractive for participants, but where there's a will there's a way, and SolarShare is endeavouring to do so.
In the absence of of virtual net metering, the energy produced by a solar farm must be deemed to be of value to a third party. In most cases this means either a company or other organisation who is willing to purchase it for their own consumption (a power purchase agreement, or PPA), or a government that requires a utility to pay a set rate for each unit of solar energy sent into the grid (a solar feed-in tariff). SolarShare says that it will use both of these approaches to pass through value to their solar farm participants.
The company is certainly in a good place to launch its activities: the ACT – SolarShare's home territory – is one of the only jurisdictions in the country where solar feed-in tariff entitlements still exist, thanks to the Territory's incentive programs for medium & large-scale solar. Furthermore, the ACT has some of the most ambitious renewable energy goals of any state or territory government in Australia, with a target of 90% renewable-sourced energy by 2020.
The company's flagship project, located in the Majura Valley, is applicant to a 1MW solar feed-in tariff program carve-out earmarked for community solar projects; this incentive is crucial for ensuring the project's viability. However, SolarShare founder Lawrence McIntosh says that future projects may take the PPA approach. "We are are hopefully not too far down the track from announcing further projects of a rooftop variety, where the solar energy is sold behind the meter," he said in a recent interview.
PPAs can be set up on behalf of any type of local institution or organisation – whether it be a school, church or community group. "It could be anyone that's been there for a while and plans on being around for a while to come," said McIntosh. The main ingredients that are required are 1) a roof to put panels on and 2) a client to purchase the energy that they produce. In most cases, the panels will be installed on a community-owned building, but it's also possible for them to be installed on a business. In either case, the client purchases the solar energy at rates lower than the retail price, and the investors – local community members – see a return.
How does it work and how do participants benefit?
Before building a solar farm, SolarShare scopes out locations and interest in the local community – anyone can express their interest in a project by registering (obligation-free) on the SolarShare website. From there, the registrant is sent an information package which discloses the actual terms of the investment, from which point they can decide whether to invest and become a full-fledged 'member'.
Members pay to own a share in the project, with a minimum investment of $500. Under current arrangements, members are paid an annual dividend – an amount 'at least' comparable to that from a high-interest savings account. So instead of directly benefiting from the energy produced by the panels, a SolarShare member receives their returns as an investor.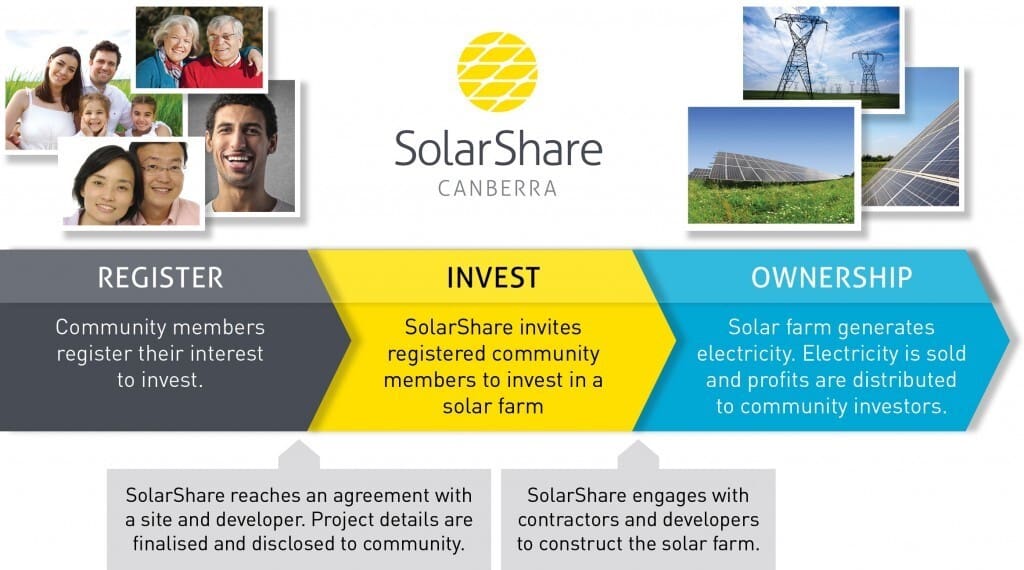 For those who wish to partake in the clean energy cause whilst benefitting financially – but don't have a roof of their own on which to put panels – this makes joining up with a SolarShare solar farm an attractive option. It's also a great way to build community. Says McIntosh: "Many of our members are interested in having a stronger connection to their energy choices and the impact of those choices on the environment. For other members, it's about being able to to see a physical connection to where they are investing their money."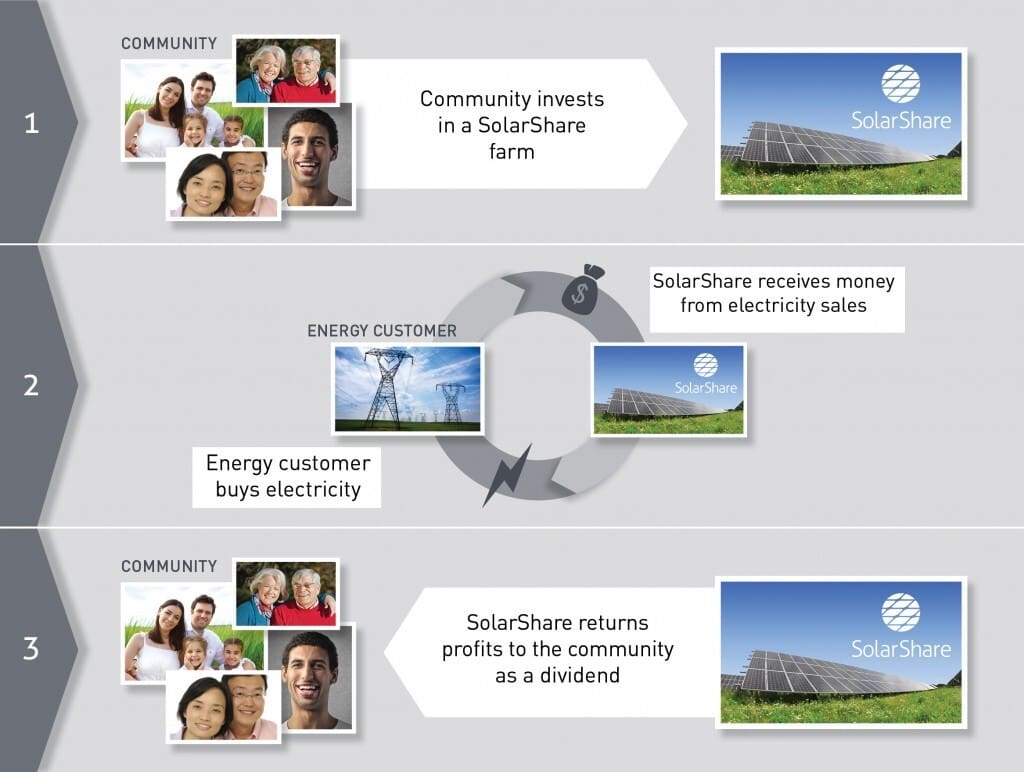 What projects are currently underway, and how can you sign up?
At the moment, SolarShare has one project accepting registrations – the 1MW solar farm in the Majura Valley. Anyone interested in joining can register their interest here. Registration is free, confidential and does not entail a commitment to purchase shares in the project. The solar farm is expected to be commissioned by early 2017.
SolarShare also has a number of other rooftop projects in the pipeline which it will be announcing in the near future. Those interested in receiving updates about these projects can sign up for the SolarShare newsletter on the SolarShare website.

© 2016 Solar Choice Pty Ltd