After 2 years of dramatic hikes, NSW electricity prices are likely to start to cool off, according to a draft report by the Independent Pricing and Regulatory Tribunal (IPART). IPART is responsible for setting the average amount by which regulated retail electricity tariffs for residential and small business customers may be increased. Customers on regulated tariffs comprise about 40% of the market in the state.
Why are prices increasing?
Regulated electricity price increases for 2013/2014 will be mild compared to those of the previous 2 years–18% and 16% for 2011/2012 and 2012/2013, respectively. IPART attributes the sudden deceleration in price increases to significantly decreased network infrastructure costs and the fact that the introduction of the federal government's carbon price in July 2012 was a once-off increase. The costs of other 'green schemes' have also settled, it says, so that their impact will not manifest themselves as strongly in electricity bills. The major driver of electricity price increases for the coming year is instead projected to be increasing retail operating costs.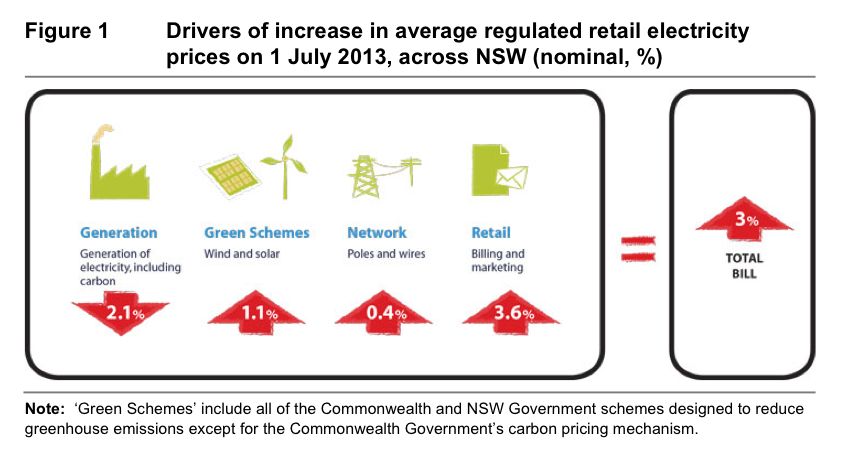 Skyrocketing electricity prices have led many NSW homes and businesses to consider having a solar photovoltaic (PV) system installed in order to save money. Even in the absence of a generous solar feed-in tariff incentive, electricity prices have become so high and solar system prices so low as to make going solar in NSW a good investment for the right home or business.
Despite their soaring popularity (Australia now has over 1 million solar homes), solar panels and other renewables sometimes become the scapegoat for rising electricity prices. It has been pointed out, however, that subsidies for such technologies are not as costly as they seem, given the benefits they afford the grid. This is thanks to a phenomenon known as the merit order effect. The merit order effect (particularly with regard to wind) is seen as one of the reasons that electricity prices have fallen in South Australia; solar panels are seen as one of the reasons that electricity demand has fallen. Such benefits are usually unaccounted for in official calculations of the cost of renewable incentive schemes.
How much will NSW electricity prices rise?
The rate increases will not affect all NSW electricity customers equally. Depending on the network in question, the increases will be felt to varying degrees. If the recommendations of the draft are carried into the final version of the report (a likely scenario), Energy Australia network customers on regulated tariffs will see the highest jump–at 4.3%–whilst Origin Energy/Essential Energy customers will see average rises of only half of a percent. For the average home, this would translate into annual price increases of $83, $57, and $11 for residential customers on the Energy Australia, Origin Energy/Endeavour Energy, and Origin Energy/Essential Energy networks, respectively. Small businesses will see slightly higher increases.

All NSW electricity customers are encouraged by IPART to shop around in order to find the best deal possible on electricity. To this end, the body has created the MyEnergyOffers website, whose aim is to bring transparency to the market and make comparisons easy. The website also allows customers to compare the solar feed-in tariff rates that different retailers offer.
IPART chairman Dr Peter Boxall expects future increases to be along the same lines as the ones recommended in this draft report, if not lower. "The electricity price pressures caused by rising network costs and the introduction of carbon pricing are moderating. While we haven't set prices beyond 2013, at this stage we expect electricity prices to fall behind inflation in 2014 and reduce in real terms by 2015."
The IPART draft report also makes recommendations for the regulated price of gas, which is set to see a much more significant rise at 8.5% on average, with network infrastructure costs being the main driver. Dr Boxall cited the volatility of gas prices as a cause for uncertainty about future increases. "The situation for future gas prices is less clear [than electricity]. There are continued increases in network costs. However, with significant uncertainty about future wholesale prices, we are recommending a periodic review before setting the price changes for 1 July 2014 and 2015," he said. Gas price volatility could have an impact on the cost of retail electricity as well, with Australia's generation portfolio expected to become increasingly reliant on gas for baseload power as ageing coal plants are closed.
A final determination is expected from IPART in late June or July.
Read more: IPART Review of regulated electricity retail prices 2013-2016
All images via IPART.
© 2013 Solar Choice Pty Ltd

Latest posts by James Martin II
(see all)