The Essential Services Commission of South Australia (ESCOSA), has recommended decreasing the 'Solar Feed-in Tariff Premium' for next year from 11.2c per kilowatt-hour (kWh) to 9.8c/kWh in order to reflect the falling cost of wholesale electricity in the state.
The Solar Feed-in Tariff Premium–only one part of SA's generous feed-in tariff incentive–is a rate paid to solar system owners on top of the 'base' feed-in tariff that they are eligible for (44c/kWh or 16c/kWh, depending on sign-on date). For customers who sign up after 1 October 2013 (the application deadline for the 16c/kWh base rate), this means that the feed-in tariff rate on offer will be only 9.8c/kWh. Those who sign up before the deadline, however, will receive 25.8c/kWh until 2016.
Previously, it was widely assumed that SA's Solar Feed-in Tariff Premium (otherwise known as the 'minimum retailer contribution') would continue to increase indefinitely. The Solar Feed-in Tariff Premium rate is intended to reflect the 'actual value' of solar power to electricity retailers, and is closely linked to the wholesale price of electricity.
Recent happenings in the South Australian energy market, however, have resulted in a reduction in wholesale and retail electricity prices that bucks the national trend of rising electricity prices–thanks in part to the state's ambitious support for renewable energy. This has led ESCOSA to argue that the Solar Feed-in Tariff Premium rate should also fall.
The chart below is an overview of the rates that will be on offer under the proposed changes. If the changes are not adopted (i.e. the 11.2c/kWh FiT Premium rate is kept), the feed-in tariff rate totals will be 55.2c/kWh, 27.2c/kWh, and 11.2c/kWh for Class 1, Class 2, and Class 3 customers, respectively.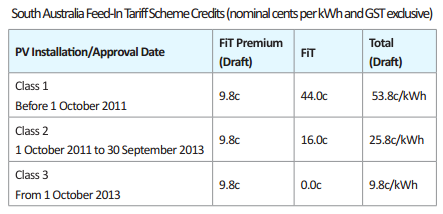 Although ESCOSA's determination is not final (the body was accepting comments on the draft report until 22 April), if the experience in other states such as NSW are anything to go by, it is unlikely to change significantly in the final version. The Clean Energy Council (CEC) has nevertheless submitted its own comment (pdf) on the issue, arguing that the reduced rate fails to account for many of the benefits that solar photovoltaic (PV) systems afford the electrical grid and its customers. These include, according to the CEC, lower wholesale electricity prices, reduced network losses, and a 'flattening of net system load profile'.
A final determination is expected sometime in late June or July.
Read more: ESCOSA-Determination of 2013 Solar Feed-in Tariff Premium
© 2013 Solar Choice Pty Ltd

Latest posts by James Martin II
(see all)