Solar power is the preferred energy source of more than 80 per cent of Australians, a new survey has found.
In its latest Climate of the Nation report, The Climate Institute found that 84 per cent of Australians preferred solar to be in their ideal energy mix of three sources, followed by wind, at 69 per cent.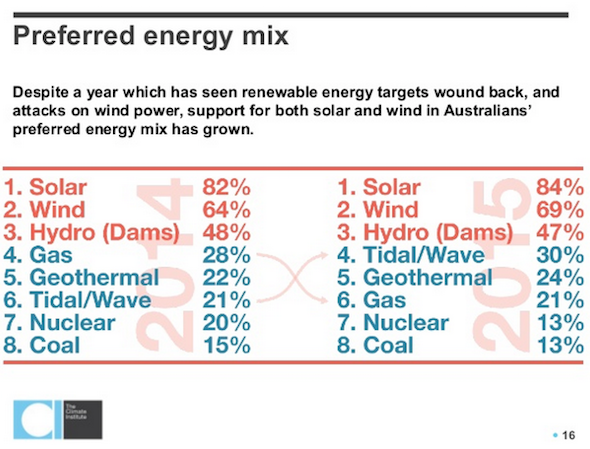 Another 65 per cent of respondents thought that cutting investment in wind farms and household solar – the new government issued mandate for the Clean Energy Finance Corp – was the opposite of what was needed; and only 11 per cent disagreed with this view.
"Despite a year which has seen renewable energy targets wound back, and attacks on wind power, support for both solar and wind in Australians' preferred energy mix has grown," said TCI chief John Connor.
Gas and nuclear, meanwhile, were found to be favoured by only 21 and 13 per cent of survey respondents, respectively, with nuclear and coal now tied as the least preferred energy source.
"The government and the opposition have an opportunity to join mainstream Australian attitudes with climate commitments and policies which can limit carbon pollution, encourage renewable energy and clean up our energy system," concluded Connor.
As well as strengthening support for renewables, the report, based on a survey conducted by Galaxy Research in July, also shows an increasing awareness about the cause and impacts of climate change and carbon pollution regulation, and a greater call for government action.
© 2015 Solar Choice Pty Ltd