Generating enough off-grid electricity to power our most used electronics devices may be easier than we think, thanks to recent innovations such as the 'Solartab' and 'Solargami' portable solar PV systems and 'Go Kin' electric generator, which charges as you walk.
The Solartab portable charging system consists of a 5 watt panel and a 13 amp-hour lithium polymer battery housed in a tablet-like casing designed with aesthetics in mind. At less than 500g, it is light and portable enough to carry daily and can charge electronic devices multiple times at full capacity. The Solartab was successfully funded through Kickstarter and is set for release to backers this month.
For something more powerful, the Solargami portable and lightweight solar PV generator consists of a foldable 25 watt PV module and a detachable 92 watt-hour battery. It is fitted with four USB ports, which can charge up to four mobile phones or two tablets at one time at charging speeds equal to wall plugs. It is designed to be mobile, weighs less than 2 kg and folds to the size of a tablet. The Solargami system is designed by Giga Solar, a leader in producers of lightweight PV modules, however the company has released only a working prototype at this point.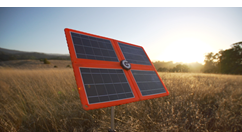 Image Credit: PR Web – Giga Solar
In a similar vein, Go Kin backpacks generate usable electricity as you walk. The backpack is fitted with a generator and battery at the base, powered by two lightweight cords attached to the user's legs. The motion of the user while walking briskly generates up to 12 watts of electricity. There is also the option to attach a small solar panel, rated between 5–15 watts, to the backpack for added electricity generation. Go Kin is currently asking for pledges through Kickstarter for the launch of its product and is aiming for shipping dates towards the end of this year.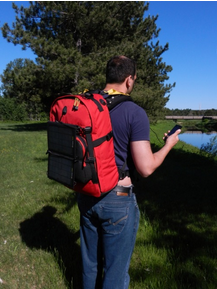 Image Credit: Kickstarter – Go Kin Backpacks
The most obvious applications for these devices are for camping, outdoor activities, and inclusion to emergency kits. But with the use of mobile communications on the rise in Australia, portable generators can extend their impact to everyday use.
We have one of the highest rates of mobile phone use per capita in the world. At over 30 million mobile phones for a population of just under 23 million (as of 2013), we can't deny that our mobile devices are collectively using a massive amount of electricity. With mobile devices becoming more and more central to everyday life, these portable generators make sense and keep up with the needs of a mobile generation.
The portable devices may be considered by some as just a gimmick but the usable electricity they produce is far from fantasy. They are a great starting point for those who are solar-curious and looking to dip their toes into the water. If solar PV can power our electronics, it can also power our other household appliances!
Top Image Credit: Kickstarter – Solartab
© 2014 Solar Choice Pty Ltd

Latest posts by John Rodriguez
(see all)