Best known for its work helping Indian slum-dwellers replace kerosene lamps with solar lights, Pollinate Energy's latest solar lighting project has a slightly less practical purpose.
The Australian founded not-for-profit clean energy company has created a seven metre tall solar powered sculpture, which will be on display alongside Sydney Harbour as part of the city's four-week Vivid Light 2014. And its name is Ray.
Initiated by Pollinate in conjunction with designers Amigo and Amigo, interactivity designers S1T2, Wildwon and Southern Cross University, Ray is made up of strips of multi-coloured light, or vines, connected to charging pods which, when pulled on by passers-by, send coloured light shooting up to the top of the sculpture. This action charges Ray, who, when fully charged, will "overflow in a surge of sound, light and colour."
For Pollinate, it's a project embodies the company's vision of positive change through sustainable and renewable energy.
The NGO's normal course of business, for which it has won awards, focuses on training members of off-grid Indian slums to distribute and install solar lighting systems as micro-entrepreneurs, or "Pollinators."
So far, it has provided solar systems to 10,000 housholds in 250 of Bangalore's slum communities, in turn saving 40,000 litres of kerosene and 100,000 kilograms of carbon emissions.
"(Ray) was born out of our willingness to showcase our progress so far, and a metaphorical touch to the impact one light can have on an entire family living in energy poverty," Pollinate says on its website.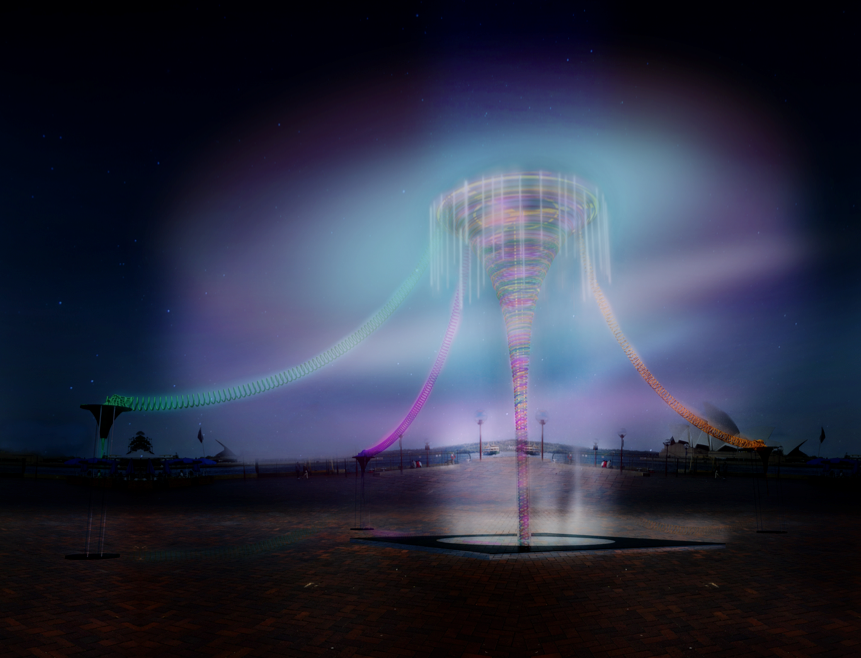 Designer's vision of solar Ray at Vivid at night
For the Southern Cross University team, led by Barry Hill, creator of SCU's Sunflower solar generator, it is a chance to test the technology – which is still in development, but has been used successfully to power stages at music festivals such as Bluesfest and Womex Brisbane, and at the Byron Bay Writers Festival – in a new and very different way.
"Ray has meant that we can showcase how we are making the Sunflower generator highly interactive," said Dr Hill on the Pollinate website.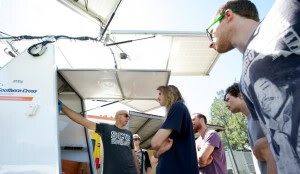 SCU's Dr Barry Hill taking students through the inner workings of the Sunflower rig
"It is a project that has allowed us to test a new data communication system that we have designed to allow solar generator data to be used in the creation of audio visual works. In a sense we are making the Sunflower generator into a musical instrument by using the data gathered from the power generation and discharge cycle to send data to the Hi Ray website and control aspects of the graphic design and audio soundscape."
© 2014 Solar Choice Pty Ltd

Latest posts by Giles Parkinson
(see all)