Australians love the idea of battery storage, in the much the same spirit with which they embraced rooftop solar – as another way to cut electricity bills, gain control over their own power, help save the environment, and/or stick it to the man. But they don't quite get it. Yet.
That is one of the major conclusions of a new report – The role of Energy Storage in Australia's Future Energy Supply Mix – commissioned by Australia's chief scientist Alan Finkel and published on Monday.
The report, funded by Finkel's office and the Australian Council of Learned Academies (ACOLA) finds that battery storage offers a relatively cheap and easy way ensure grid security and reliability with high levels of renewables.
But like a Bloomberg New Energy Finance report also published this week, it notes that by 2030, most of the nation's battery capacity could be installed behind the meter, in the nation's homes and businesses.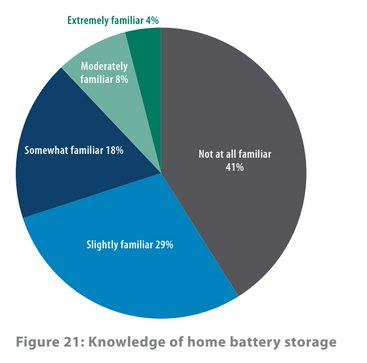 But there are a few hurdles to clear first. One of the biggest? The knowledge gap
"This report clearly shows the two sides of the coin – that energy storage is an enormous opportunity for Australia but there is work to be done to build consumer confidence," said the chair of the ACOLA expert working group, Dr Bruce Godfrey.
So what is it that Australian homes and businesses need cleared up before they'll start making the plunge? To start with, the question-mark over policy.
"Under certain conditions, Australians would be willing adopters of home-based batteries for energy storage," the report says. "These conditions include policy and market certainty that allows households to calculate the costs and benefits of domestic scale storage, given that it requires significant initial outlay."
Another major knowledge barrier is around safety: "Households would also like assurances that safety standards for batteries are in place and adhered to, and that battery systems are installed safely," the report says.
And then there is just a general lack of understanding of the technology. According to the report, a majority of respondents – 38 per cent – surveyed said they felt they did not know enough to make an informed decision about buying battery storage.
"What is evident is that most Australians do not understand much about energy storage and how it relates to energy generation more broadly," the report says.
But the interest is definitely there: "Overall there was significant interest in information about the various options available to consumers when purchasing a battery – whether that purchase would benefit them financially or whether there would be a reasonable payback period.
"They also indicated they would actively seek out information from trusted sources that included friends, family and others in the community whom they expected to be knowledgeable on the topic."