Renewable energy technologies like solar and wind are now cost competitive with fossil fuels in many parts of the world, a new HSBC report has found, and will play a critical role in helping meet climate targets to be negotiated in Paris later this year.
The report, "The Rise of Renewables," says solar and wind energy are becoming mainstream, boosted by a shift away from "green idealism" – that underpinned many renewables subsidy schemes – to "hard economics", where the costs of the technology will win out over fossil fuels.
The report is a follow-up to HSBC's recent assessment that fossil fuels investments risk being stranded as a result of climate change policies, changing economics, including plunging commodity prices, and the impact of new technologies such as solar and storage.
"The two key drivers of a low-carbon future are energy efficiency and a scale-up of renewable energy," the HSBC analysts write. They say the fall in the oil price was perceived to be bad for the scale-up of renewables but, like Citigroup analysts and others, conclude this will have little impact.
The report also says renewables should get a further boost from action resulting from the Paris climate change talks, because a transition to gas will simply not meet long-term temperature targets.
"In December, we expect a universal climate agreement to be signed in Paris as part of the drive to reduce CO2.
"Cleaner energy is fundamental to a low-carbon economy and while gas is cleaner than coal in power generation, our analysis shows that a shift to gas alone will not deliver the CO2 reductions consistent with keeping temperatures down. This supports the long-term case for renewables." The thick black line in the graph below indicates where emissions will trend in the so-called "gas transition".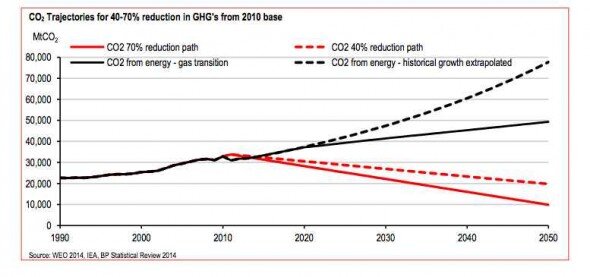 In addition, HSBC said China was moving its energy mix away from coal to improve air quality. In the US, 30 states have mandated targets known as Renewable Portfolio Standards (RPS), and EU policy is currently driven by the 20/20/20 climate and energy package (which targets 20% of renewables as part of the total energy mix by 2020).
HSBC says the deployment of renewables is being helped by reduced technology costs, and more funding sources as the risks around renewables are being better understood by investors and return criteria have fallen.
"We expect costs to fall further thanks to new design concepts, smarter technology processing gains and economies of scale," it says. Much of this will come from efficiency gains in solar modules and wind turbines.
Large corporations have also stepped up investments in renewable power in an attempt to reduce emissions (Apple, Google, IKEA and others all aim for 100 per cent renewables, and others such as Dow Chemicals are buying renewable energy to reduce costs).
Institutional funds attracted by the stable and predictable cash flows are also increasing their investments in renewable energy assets, with green bonds emerging as an attractive way to gain exposure to renewables. So-called "YieldCos" are also attracting investors in the equity markets, particularly those looking for yield in a low interest rate environment.
HSBC noted that the growth of renewables had proven remarkably resilient to market shocks and policy changes over the past decade. Even though global investment in 2014 was below its record high of 2011, it was now getting more "bang for its buck" because of the falling costs.
In 2009, global installations were 57GW, and by 2014 new global installations had doubled again to 110GW. "Arguably renewables have become an increasingly mainstream power technology," the HSBC analysts write.
HSBC said that an element of idealism or 'green ambition' spurred the first wave of renewables growth (wind in the 1990s and solar from 2005), which was driven by ambitious targets announced in the EU and US.
But now it sees a "fundamental policy shift" away from feed-in tariffs to auction systems, to drive the next state of growth in renewables. This was especially the case in emerging markets, such as South Africa, India, Brazil, but was also being taken up increasingly in developed countries.
© 2015 Solar Choice Pty Ltd

Latest posts by Giles Parkinson
(see all)