As solar manufacturers claw their way back from a two-year market slump, solar stocks are outshining all other sub-indices in the global market to deliver the best returns over the the past 15 months, according to the global solar index monitored by investment bank HSBC.
Driven by what HSBC describes as a combination of favourable policy initiatives in key markets, increased investment flows, and the stabilisation of panel prices – as well as a fall in manufacturing costs – the list of 32 solar stocks "took off" in mid 2013, gaining 65 per cent over that calendar year, and climbing another 23 per cent in value in the opening months of 2014.
All of these factors have also contributed to a supportive base for investors; so much so that 2014 return-to-date compares to 4.6 per cent for the HSBC Global Climate Change Index, and is a 30-fold multiple over the 0.7 per cent for the MSCI All Country World Index, one of the key global benchmarks.
The graph below shows the comparative performance over the last 15 months.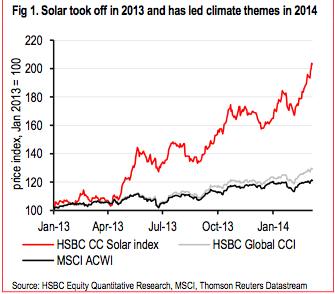 Image via HSBC equity quantitative research, MSCI Thomson Reuters datastream. (Click to enlarge.)
The over-riding theme driving the solar market surge  is that of grid parity – and not just at residential or behind the metre – but in utility scale electricity prices. This means that the technology is more affordable and viable with less support from governments. That means it can continue to grow even when subsidies are finally removed.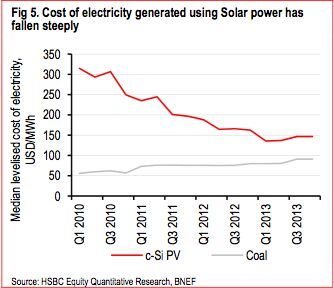 Image via HSBC equity quantitative research, BNEF. (Click to enlarge.)
Between 2009 and 2014, HSBC estimates, the difference between the median levelised cost of electricity (LCOE) of solar and conventional coal has fallen by around 80 per cent. (See graph to the right). This, it notes, is a global average, and includes regions with lousy solar resources.
"The difference in the cost of electricity generated using solar power and electricity generated through conventional sources such as coal or natural gas also varies across regions," it notes.
"HSBC equity research analysts believe that without considering the favourable effects of policies and supportive schemes, several states in the US and markets in Europe have already reached retail grid parity."
Despite all this, HSBC says solar stocks still look attractive – and on their modelling offers an upside potential of 61 per cent based on long term relative price. A key factor is that finance for the solar market and the deployment of modules is being supported by the issue of "green bonds" and the floating of numerous "yield companies".
Top image via HSBC equity quantitative research, MSCI Thomson Reuters datastream.
 © 2014 Solar Choice Pty Ltd 

Latest posts by Giles Parkinson
(see all)