The huge amounts of rooftop solar PV being installed on Australian homes and businesses is rapidly becoming one of the grid's greatest assets, but they could also represent one of its biggest risks.
Australian Energy Market Operator principal Dr Jenny Riesz has warned that if Australia's tens of gigawatts of distribute PV are not properly integrated and managed properly, AEMO could lose its grip on grid control, starting within just five years.
"We are seeing enormous growth in distributed energy resources in our grid," Riesz told the APVI Asia Pacific Solar Research conference in Melbourne.
Riesz said that rooftop PV, currently at about 6GW, was rapidly headed to around 20GW by 2030 – and quite probably sooner. And on a system with a peak demand of only 35GW, this could be tricky.
Modelling by Energy Networks Australia showed that by orchestrating the nation's distributed energy resource (DER), and coordinating the dispatch of it in a sensible way, network charges could be reduced by 30 per cent, annual savings delivered to households, and up to $1.4 billion in network investment avoided.
"However, I want to emphasise that this (research) applied to well coordinated DER," she said. "If we have poorly coordinated DER, you can have quite the opposite effect. Instead of being our biggest opportunity, DER can be our biggest risk and our biggest problem on the grid.
"If we start seeing aggregated action from these systems that is not coordinated in a way that helps system security, it could have a severely detrimental effect, and increase the need for centralised investment. So, really important that we get this right."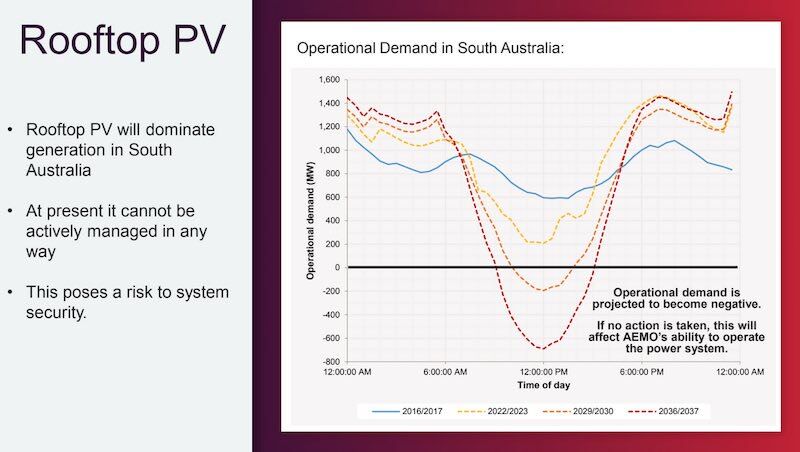 Riesz says that one of the major concerns around unfettered quantities of rooftop photovoltaics on the network is the excess energy that can't be controlled.
"At the moment there is no framework for moderating the feed into the grid from rooftop PV systems," she said. "We can turn down the large-scale wind and PV if we have to, but there is no way at the moment to control rooftop PV systems. If no action is taken, this will severely affect AEMO's ability to operate the system in a secure way at these times. So this is a risk to system security that needs to be managed."