Queensland's rooftop solar rush continues unabated, with the addition of 3,687 PV systems in May adding 16.2MW of new solar capacity to the grid. According to metering figures from Energex, solar uptake is now highest in the south-east of the state, as households seek to escape rising electricity prices. Energy analysts say the state's relatively high tariff of off-peak electricity (20c/kWh in the evening) is also encouraging maximum self-consumption of rooftop solar output.
The graph below shows the number of new systems metered under the 8c/kWh tariff – introduced by the Queensland government in 2012 – as well as the combination of that number, and those who have transferred from the previous 44c/kWh tariff. So far, 12,500 systems have come off the 44c/kWh tariff.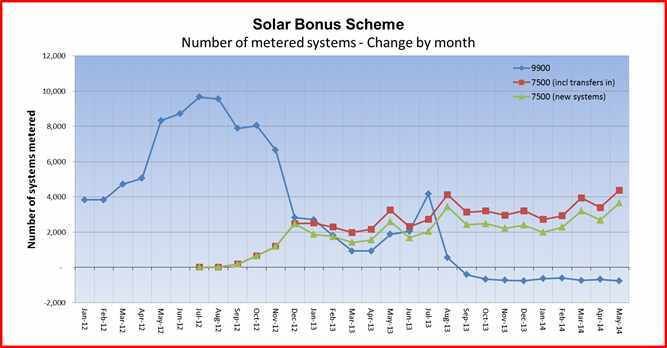 Click to enlarge. Image via Energex
Meanwhile, the state government has revealed plans to sell its generation assets, and tap the private sector to co-invest in transmission and distribution companies.
The outcome of the sale will be interesting, considering companies like Stanwell Corp have blamed the impact of rooftop solar on their inability to generate a profit last financial year.
© 2014 Solar Choice Pty Ltd