A new study has claimed that without Australia's more than 6GW of rooftop solar capacity, the aggregate cost of electricity would have been several billion dollars higher over the past year.
The study by Energy Synapse, commissioned by Solar Citizens, reinforces previous estimates of the broad benefits of the more than 1.7 million household and business rooftop solar systems.
It notes that by reducing demand at crucial times and challenging the dominance of the big generators in the wholesale market. savings in NSW alone were between $2.3 billion and $3.3 billion in the 12 months to April 2017.
Even though rooftop solar only provides 2 per cent of total generation, the study found it clipped prices by $29-44/MWh – up to 50 per cent higher than the actual price.
Energy Synapse's analysis shows that rooftop solar mitigates energy prices because of the "merit order effect" – by creating electricity at zero marginal cost, it moves the "bidding stack" to the left and lowers prices.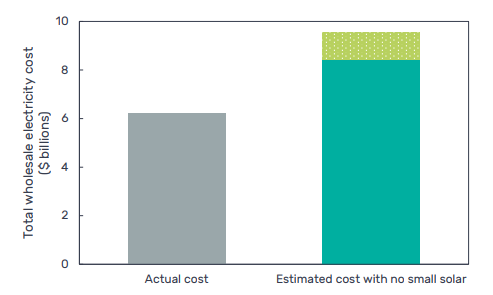 There is one potential gremlin in the system – around 6pm. The report explains:
"The other interesting point is that our lower estimate for the 6pm Trading Interval shows an average price reduction of -$12/MWh, meaning that small solar could have produced a higher price (and hence increased cost) in this interval.
"This is due to our adjustment of bid stacks at high levels of demand to account for peaker plants operating for more hours. Despite this one Trading Interval, the overall effect of small solar PV is to significantly reduce wholesale pricing."
Compare Solar & Battery Quotes

Latest posts by Giles Parkinson
(see all)