While nearly 1.7 million Australian home owners now enjoy the benefits of cheaper electricity from rooftop solar, an even greater number of households don't have access to the market – largely, because they don't have a roof.
According to data from the recent national Census, in nine council areas in greater Sydney, more than half of residents are "locked out" of rooftop solar because they are renters or live in apartment buildings. In North Sydney, almost three-quarters of residents can't access solar.
Of course, there are ways to get around this – and a growing number of companies are working to help people to do just that.
One of the newest among them is Sydney-based start-up SunTenants. The company was founded by Bjorn Sturmberg, a solar researcher and project manager who, in 2016, masterminded the installation of 30kW of rooftop solar and a 43.2kWh Enphase battery storage system at an eight-unit student housing co-operative in the Sydney suburb of Newtown – a first of its kind in Australia.
Sturmberg says SunTenants' business model works by paying landlords for every solar panel they install, and charges tenants a discounted rate for the solar power they use – generating attractive returns for landlords while saving tenants hundreds of dollars a year on their power bills.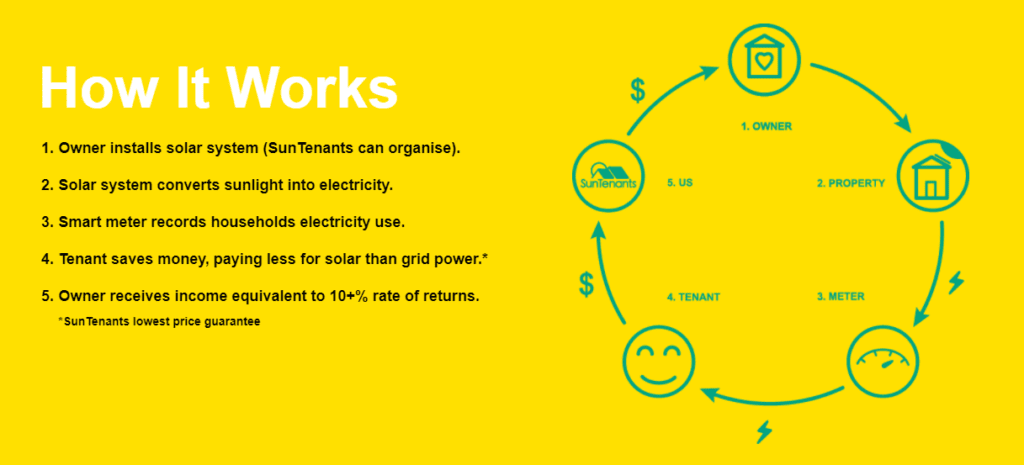 "SunTenants takes responsibility for the variability and maintenance of solar systems, which it manages using data analytics and our solar expertise," Sturmberg told One Step by email. "In this way we guarantee the income for owners and the savings for tenants.
"Owners receive $10/kW of solar per month ($50 per month if they install 5kW of solar) generating better than bank returns on investments. Tenants are charged 20 c/kWh for the solar power they consume and feed-in tariff rates for excess solar exported to the grid."
The company also offers a "lowest price guarantee", to ensure all tenants are better off with solar by matching or beat the tenants' retail rate. "With electricity prices skyrocketing, SunTenants creates a desperately needed win-win for landlords and tenants," Sturmberg said.