A three-year battery storage trial that will test eight leading technologies under Australian conditions was officially launched in the ACT on Wednesday, at the Canberra Institute of Technology's Bruce Campus.
Over the course of the trial, which is being conducted by ITP Renewables, lithium-ion battery chemistries and products will be tested and compared against claims made by manufacturers. Ongoing results of these tests will be displayed in real-time on a dedicated new website.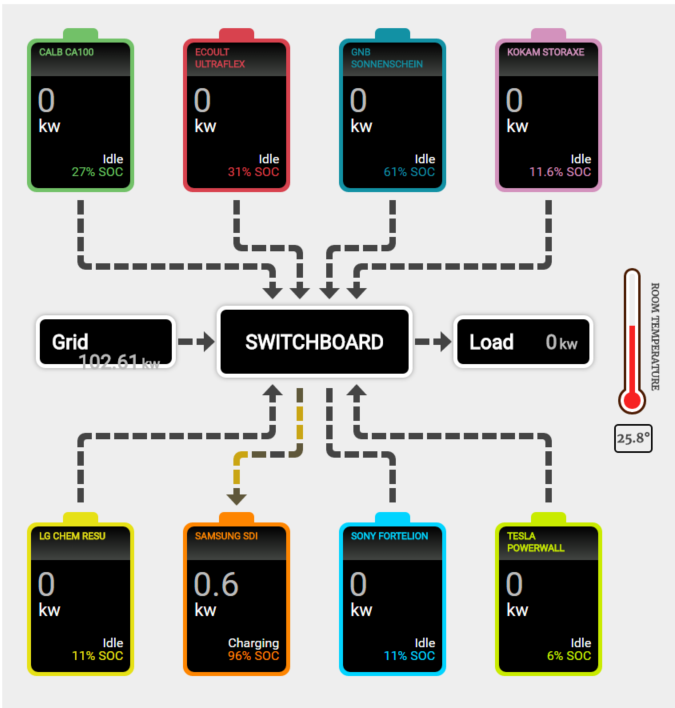 As well as Tesla's much publicised 6.4kWh lithium-ion Powerwall, the batteries being tested include:
the CALB CA100 – a 3.2V (320Wh) 100Ah cell by China Aviation Lithium Battery Company;
the Ecoult UltraFlex – a 14.8kWh battery bank & BMS described as advanced lead-acid;
Exide's Sonnenschein Solar Block – a 6V (1.8kWh) deep-cycle VRLA gel battery that currently dominates the off-grid sector;
the 8.3kWh Kokam StoraXe system – German smarts integrated with Kokam's South Korea made li-ion cells;
LG Chem's RESU – a 6.4kWh li-ion battery with an added expansion pack, taking capacity to 9.6kWh for this test;
the Samsung SDI AIO – an all-in-one PV and battery inverter, lithium-ion;
the li-ion LFP Sony Fortelion, which claims "high power, high safety and long lifetime."
As RenewEconomy reported here in May 2015, one of the main objectives of the project, which won $450,000 in funding from the Australian Renewable Energy Agency, is to measure the batteries' decrease in storage capacity over time and their compatibility with a range of renewable generation technologies.
Ultimately, it is hoped that the findings of the trial will help energy system designers, suppliers and consumers make informed decisions about the best renewable energy battery storage system for their needs, as the Australian residential battery storage market takes off.
"This is an important step in the journey towards embedding distributed storage as an important part of a renewable energy powered grid," said ACT environment minister Simon Corbell at the launch.
"By sharing the results and data in real time, consumers will be presented with key information on the performance of household batteries, allowing them to make an informed decision when purchasing batteries.
"The investment in energy storage will produce substantial cost savings associated with meeting peak demand and drive the development of new commercial opportunities and jobs in the region," he said.
© 2016 Solar Choice Pty Ltd